Today I took a look at 'Asura' [
GOG
,
Steam
] a brand new hack 'n' slash title that's inspired by Indian mythology. It's interesting to see a game inspired by Indian mythology, as it's not something often explored in games.
Disclosure: Key provided by
GOG
.
Here's a quick look at some Linux gameplay: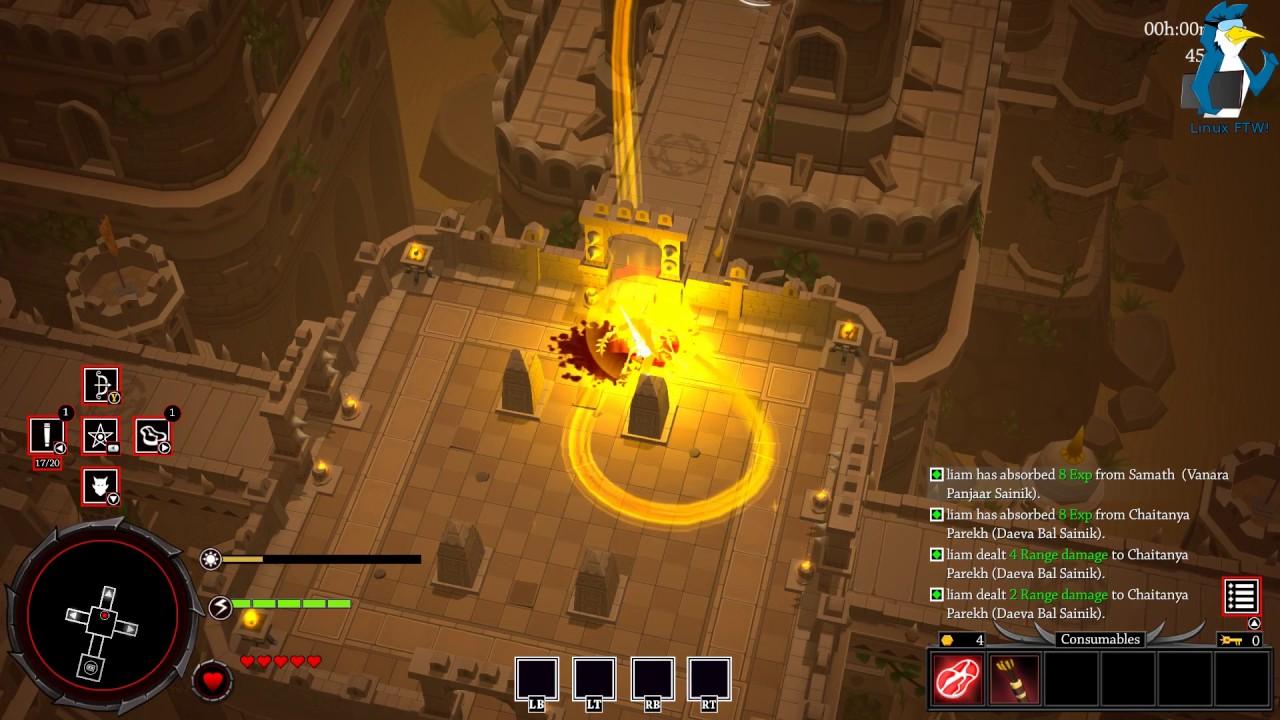 I must admit, I was a little wary going into this one, as looking over user reviews of which there aren't many, but one stuck out in particular. A user claimed on Steam (
here
) that there were fake reviews posted and it turns out it was true. The developer commented to state it was a publisher decision to do it and it has been removed. I don't like that, I don't support that and fake reviews annoy the crap out of me. Even with it being a publisher decision, the developer removing forum posts talking about it reeks of something foul here.
That said, I have given it a try and it is surprisingly good. I'm a pretty big fan of hack 'n' slash titles that throw in some RPG aspects and we don't have too many quality titles like it to play on Linux. The game is good enough for me to want to keep going back to it, so that says something about it.
It feels a little like Bastion in the controls and it's very responsive. I tested it using the Steam Controller with
SC Controller
hooked up and it works perfectly.
As you progress you earn XP for unlocking skills. The skill tree in Asura is randomised, so each run through will give you the possibility to unlock different skills, which has helped my numerous runs all feel rather different. Some of the skills are really good too, like unleashing a whirlwind or being able to recover some health back.
Skills aren't the only thing randomised, the level layouts are too. One thing I particularly like is that defeating a boss doesn't force you into the next level, since you might end up finding a boss quite early on due to the random generation. You can choose to go to the next level when you're done exploring your current location.
It's certainly not an easy game, since every main action you take reduces your stamina, so if you do too many attacks and dodges you're left wide open unable to attack. Enemies have a weakness to a particular weapon too, so melee enemies are weak against ranged attacks and ranged enemies are weak against melee. This gives the game another good bit of variety and challenge, since ammunition is limited for your bow you could find yourself in a bit of a pickle if you end up in a room full of melee enemies or a mainly melee boss.
Issues
One issue I did encounter in the game was that a spell (I don't remember which exactly) didn't work, it froze the game input to that spell and I had no option but to quit as the spell just wouldn't fire. It did only happen once though.
Another issue is that it is a Unity game, so it has poor multi-monitor support. It starts in the wrong resolution, but luckily their in-game resolution picker worked fine to reset it.
Ultimately the choice is yours here. While I like the game quite a lot, the developers attitude towards hiding criticism of the review issue and their publisher apparently being behind it, it's hard to outright recommend.
Some you may have missed, popular articles from the last month: