Set in Mesoamerica at the birth of the Aztec Empire, Aztez [
Official Site
] pits players against the many enemies of this nascent state. It blends together beat 'em up action with a strategy layer. I played the game and have a few thoughts to share about the experience.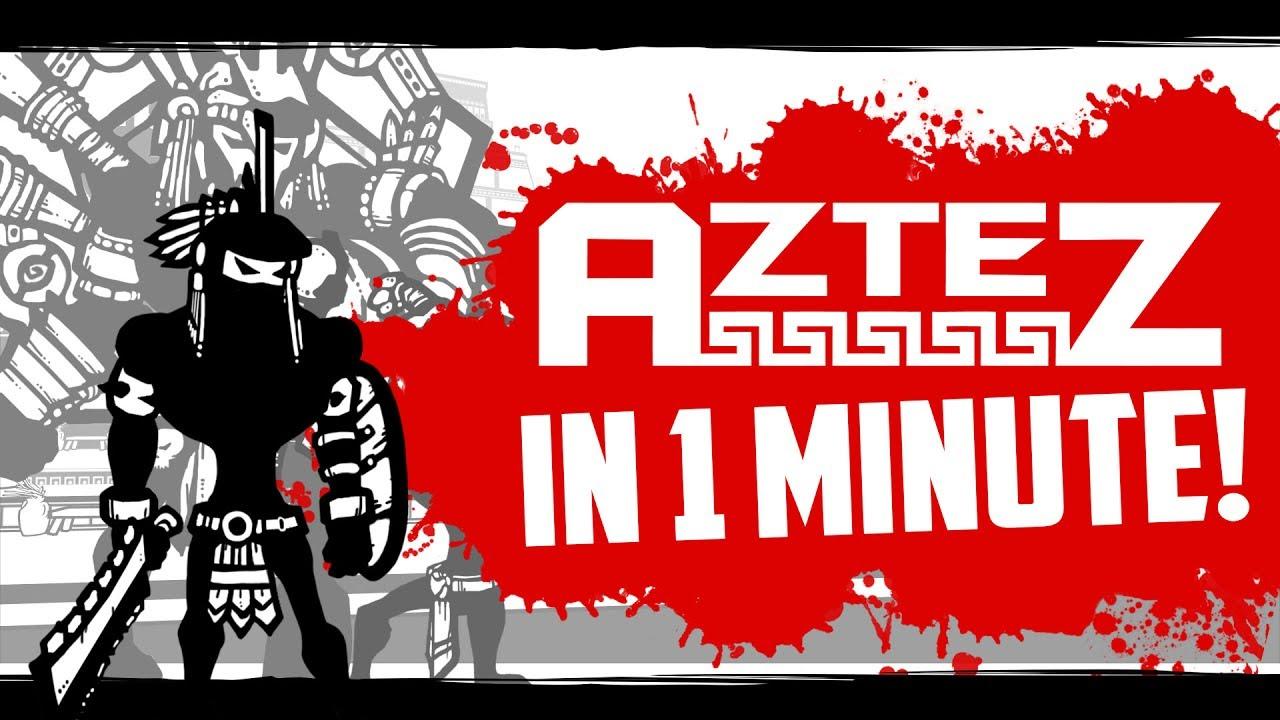 Note
: Key provided by the developer
First things first: Aztez is eye-catching. The visual style stands out and is extremely satisfying to see in motion. Every character, stage and detail is gorgeous in its own way and the more I played the game the more I could appreciate the effort and variety put into the game. The animation is fluid, the sprays of vividly red blood striking, and each item and character is distinctive at a glance. This is the sort of critique that is most the matter of taste, I'll admit, but it's something that I felt the game did remarkably well.
With that out of the way, the basic premise of Aztez is that players control a special order of characters called the Aztez, who are tasked with basically making sure that the empire thrives. This means recruiting neutral cities to the Aztec alliance, managing dissent, protecting against foreign threats and generally striving to ensure the prosperity of its people. This generally involves going on missions and beating up a lot of baddies, sacrificing them to appease the gods and eventually repelling the threat brought on by invading conquistadors.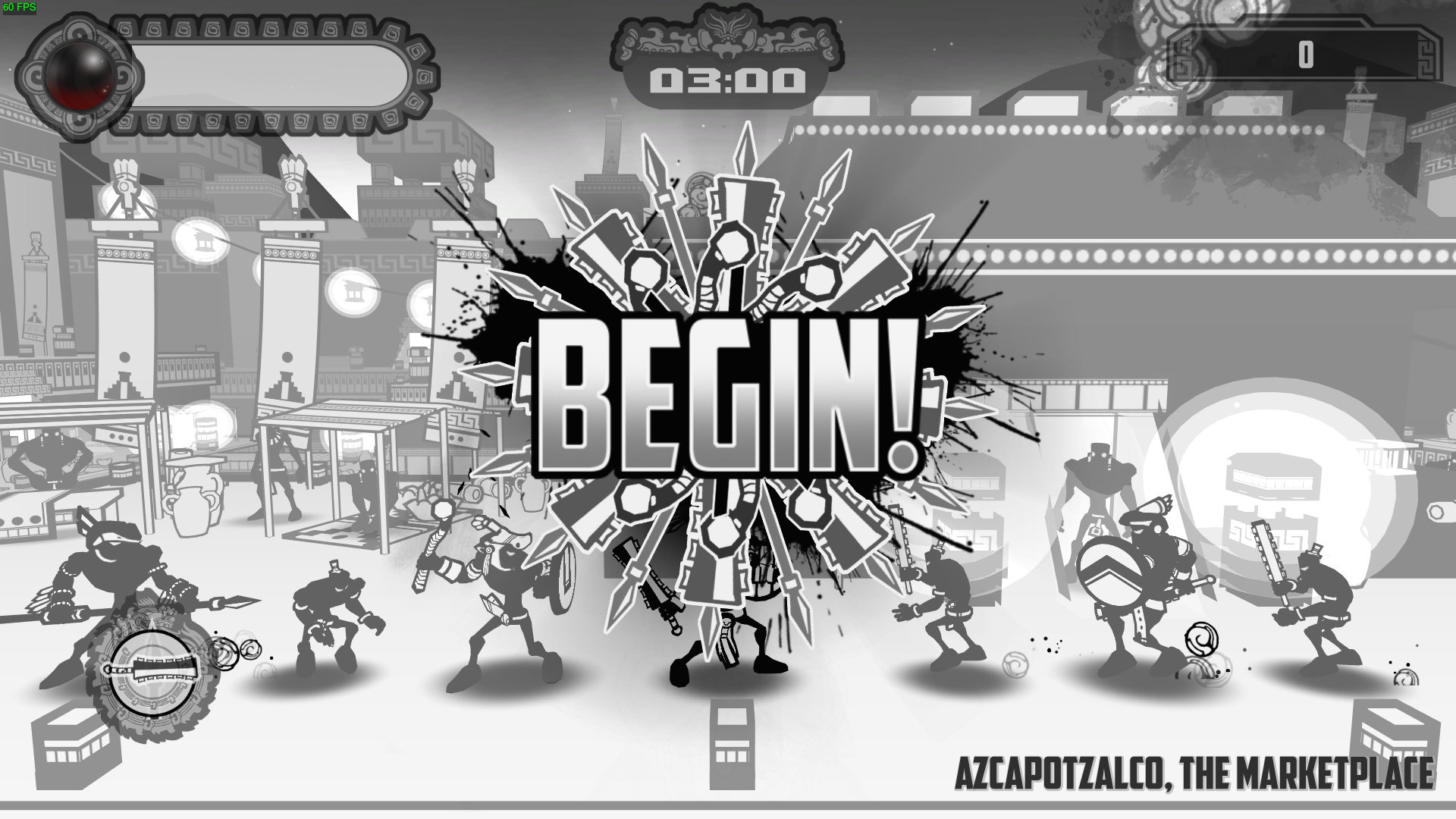 The meat of the game is found in its brawls. Players control one of the Aztez against (usually) a fair number of enemies and are tasked with defeating them before the time runs out. The controls are relatively straightforward—nowhere near as complex as a proper fighting game—but offer enough flexibility and depth to reward skillful players who learn how to fight effectively. The bonus objectives generally play to that extra amount of effort that you can put in and learning how to play well feels satisfying especially as difficulty begins to ramp up towards the middle of the game.
During each fight, players have the ability to absorb the blood spilled by their enemies in order to use a special god-summoning power that can help out with tricky foes. When enemies are hit enough times, they can also grab and hit them to rip out their hearts and sacrifice them, unleashing a big torrent of blood that rapidly fills up the meter if absorbed. Given that blood also restores the player's health bar slightly, this mechanic adds a bit of a tactical component to battles as it's generally worth it to always be able to use your special powers. The trade off to exposing yourself to do the sacrifice animation can be well worth it but can also leave you open to punishing blows by vicious opponents.
The various weapons that the player can unlock and use also have their fair shares of positives and negatives. Some of the later unlocks are innately more powerful and have fewer downsides but, for the most part, being able to switch on the fly between things like a quick-thrusting spear, a heavy bone club and even a conquistador's firearm can change up how you approach each encounter and enemy significantly. Aside from a few cosmetic alterations you can make to your character's appearance, your weapon loadout and your chosen god are the only things that you can change about your battle experience. It's important to figure out what works best for you as the end game battles are rather challenging.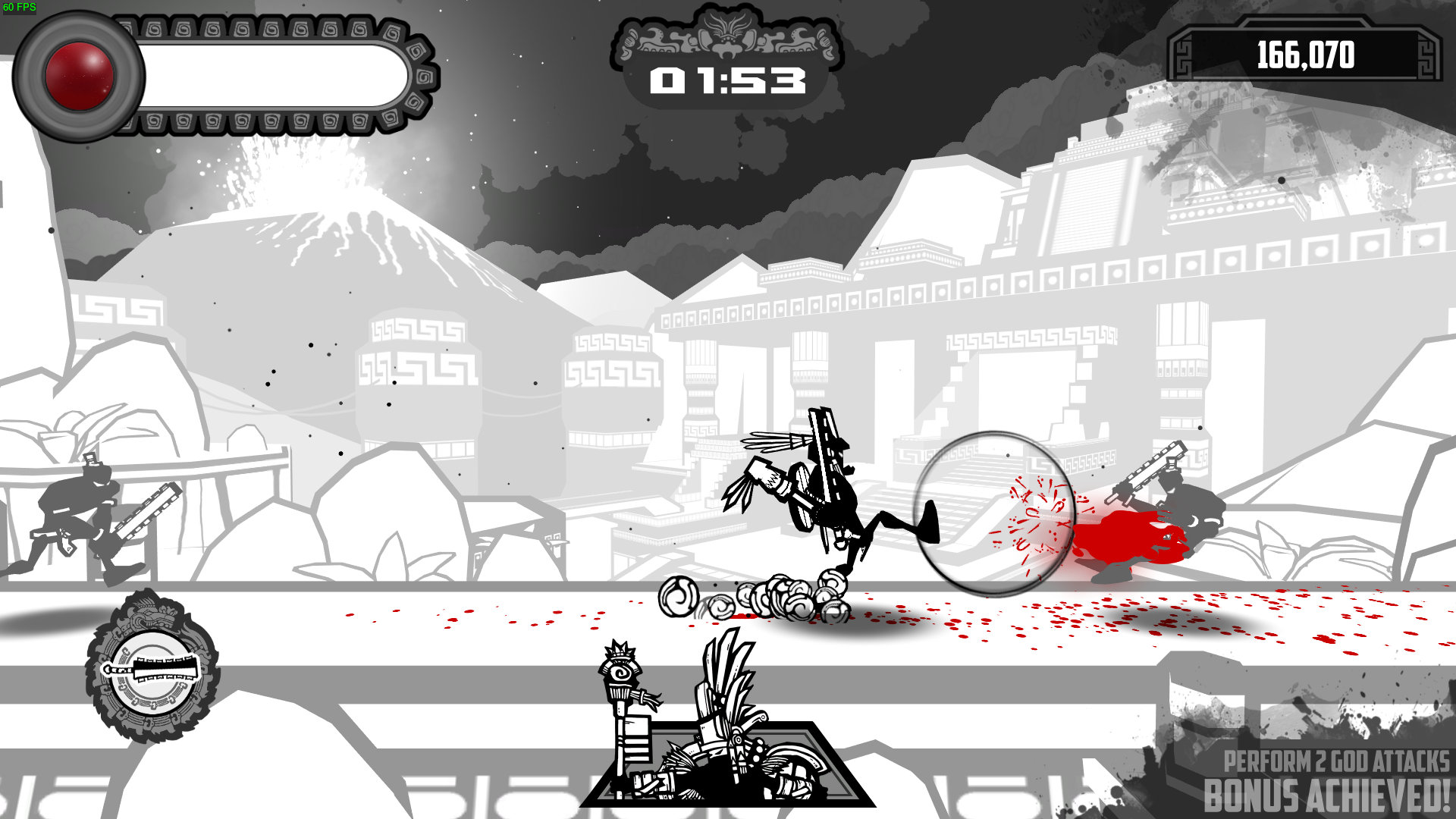 Outside of battles, the game is played on a strategic map of the Central Mexican region. Events happen each turn at different locations, with different effects if they're completed or ignored. Income is generated by the number of cities allied with the Aztec and it is needed in order to purchase items and agents that have various effects on the game state. In essence, players pick and choose what they do and what they focus on. The number of missions they can do per turn is limited by the number of Aztez they have available, essentially making the action dependent on a lives system.
I wanted to like the strategic layer, but found it hard to feel immersed by it. A big part of the problem is how the game chooses to ramp things up as the game goes along. Each turn is random and so each game plays out differently. The problem is that as action is limited by the number of Aztez, it becomes tough to get momentum going if you get a series of very challenging turns. Lose an Aztez and next turn you're hosed if there's an extra event you can't take that, say, makes you lose a large-population city. In a few sessions I found myself incredibly frustrated when the Spanish arrived and started moving around
in between
missions instead of turns, making it so that I had to keep committing to attack them to stall them without being given a chance to recover my lost resources or agents. As you can imagine, losing against them only would make things worse, eventually leading to a spiral where I lost the game.
Sure, that can be avoided if you have a strong start and play optimally from the very beginning of the game. I eventually did but part of that was because I was favored by RNG and some of the rewards I got for early missions helped significantly. At any point if I messed up, like I did in a few games, I knew that I'd spend the rest of the game putting out proverbial fires as hard events came up instead of making meaningful strategic decisions. Things like droughts occurring are out of the player's control unless you have items that cancel these events. And, yep, you guessed it, getting those types of items is random as you pick between a pair of drops after completing certain types of missions. You can be stuck with useless things totally unsuited for your game session, only able to sell them and use resources to gamble for more random drops.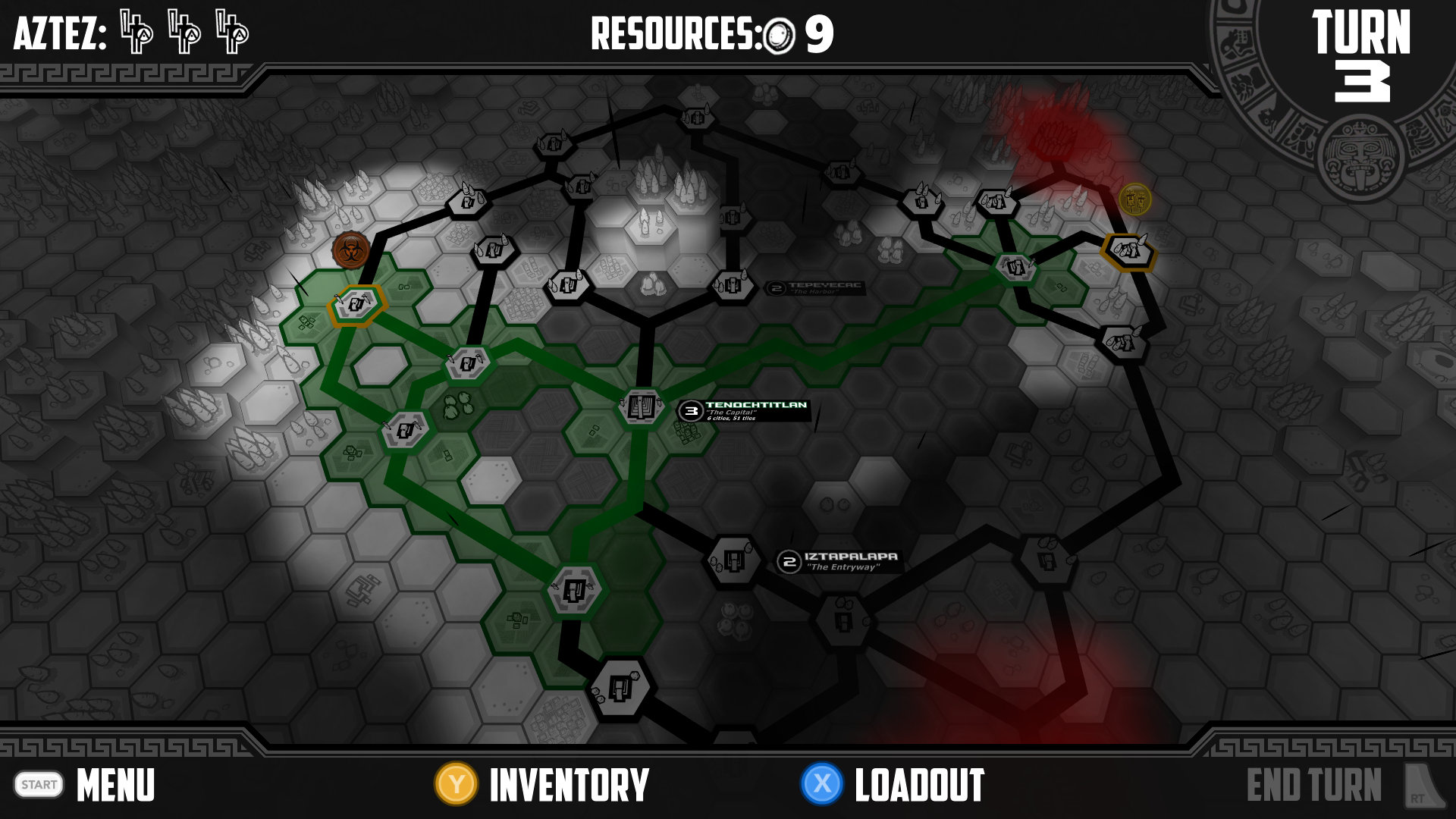 There's no satisfaction to expanding or containing dissent when you know that at any moment you could a good chunk of it just because of random luck and a lost fight. Even to get the proper ending of the game, you require a spot of luck, as you need a special item to summon a special boss in order to deal with the Spanish decisively. And you can lose to that special boss and he disappears from the map. Then you're out of luck since, as far as I could tell, the special item may not necessarily even drop in the same campaign again. The build up of power and influence that the player is responsible for should open up new interesting avenues of gameplay instead of just being something that you do just because it's there.
It's a pity that the strategic layer is ultimately mediocre. The various cities and areas that you fight in on the map are unique and you can see that a lot of love has been put into making each location stand out. Things like floating gardens, grand temples, crowds cheering on bloody fertility festivals are all a delight to witness. Even the special stages, their unique enemies and bosses are great despite their difficulty. The absence of linear stages and progression is a good thing, certainly, but lack of feeling of reward and building up of accumulated power hinders the game experience in the end.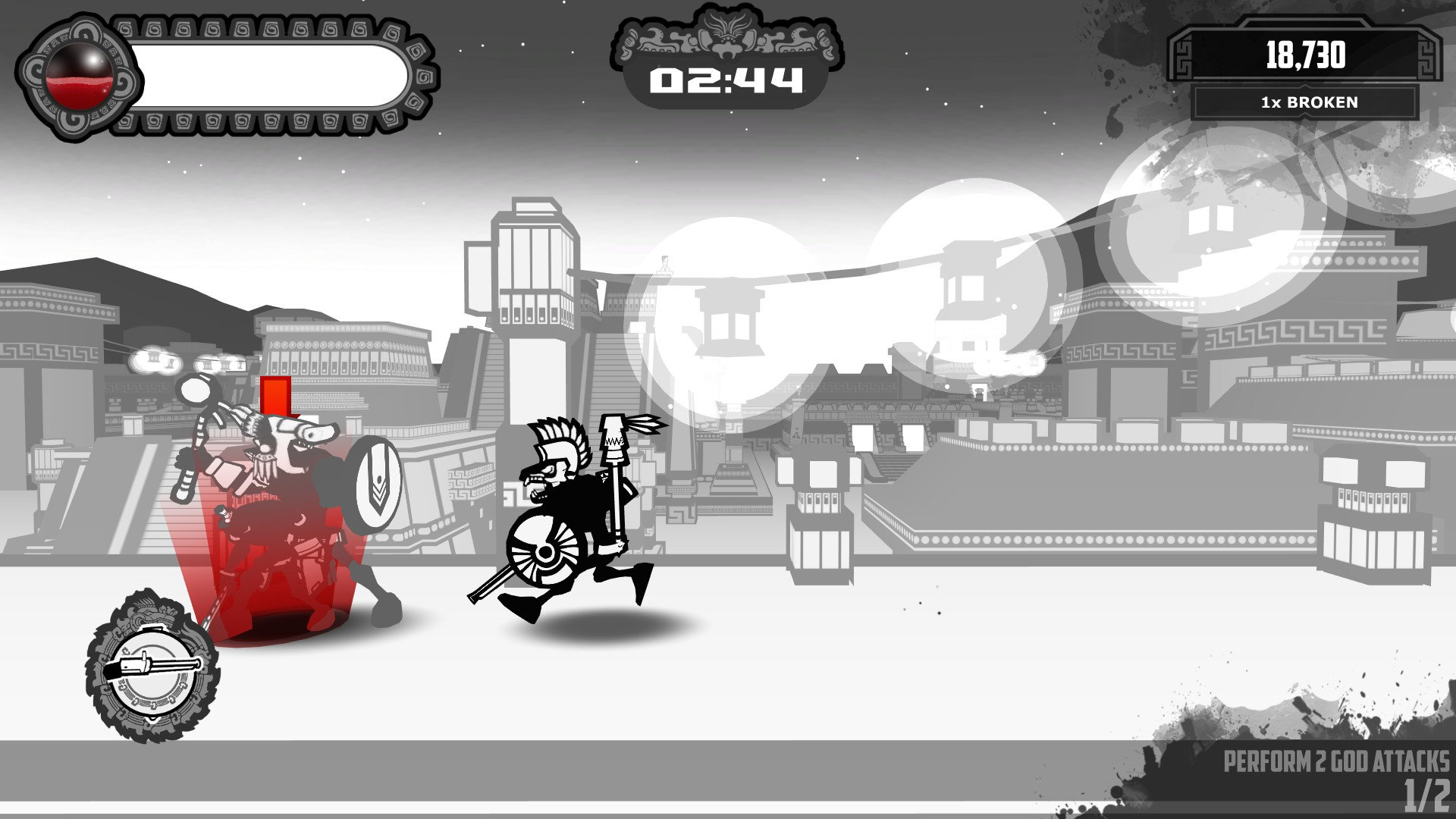 The difficulty of the game can be very uneven at certain points as a result of the randomness. Putting aside the strategic layer and the tendency to compound a single failure into a disaster, the fights themselves can be stupidly hard for no good reason. In particular some of the special boss encounters. But, on occasion, I got killed by enemies for just messing up once in a fight and getting juggled around by a bunch of enemies making their attacks sequentially. This wasn't a common occurrence but it happened a few times in the hours I played and there wasn't anything I could do about it. It was the perfect storm of the player being knocked back and not being able to recover as different foes unleashed their attacks. These few cheap deaths left a bitter taste in my mouth.
Thankfully, this unevenness is not that widespread and Aztez edges closer to the challenging but fair side of the spectrum. It asks the player to play well without being quite so merciless. For the trickier fights, the difficulty is offset by the inclusion of a practice mode that allows you to take on any enemy you've encountered before. Sure, I think that there still needs to be a bit more balance work done but skill progression in the actual battles develops naturally enough. It's just when you're punished by several tough events in a row that the game begins to lose its charm.
Overall, however, Aztez is a fun game. It challenges the player to play well and the Aztec-themed setting is fantastic. There's not much of a narrative if you're looking for a story but many of the events and descriptions do a competent job at world building. On the technical side of things, the game was a silky smooth constant 60 FPS and worked fantastically with my gamepad (yeah, you'll likely need one to play this game) and I experienced no noticeable bugs or issues. It's satisfying to beat up eagle warriors and conquistadors and that, in the end, is all that really matters.
You can grab Aztez on
Steam
or DRM-free on the
Humble Store
.
Some you may have missed, popular articles from the last month: