ONRAID is a self-proclaimed "challenging 2D shooter" that is heavy on the multiplayer component despite having a lot that you can do by yourself. It's recently gone free-to-play so I gave it a look to see if it was any good.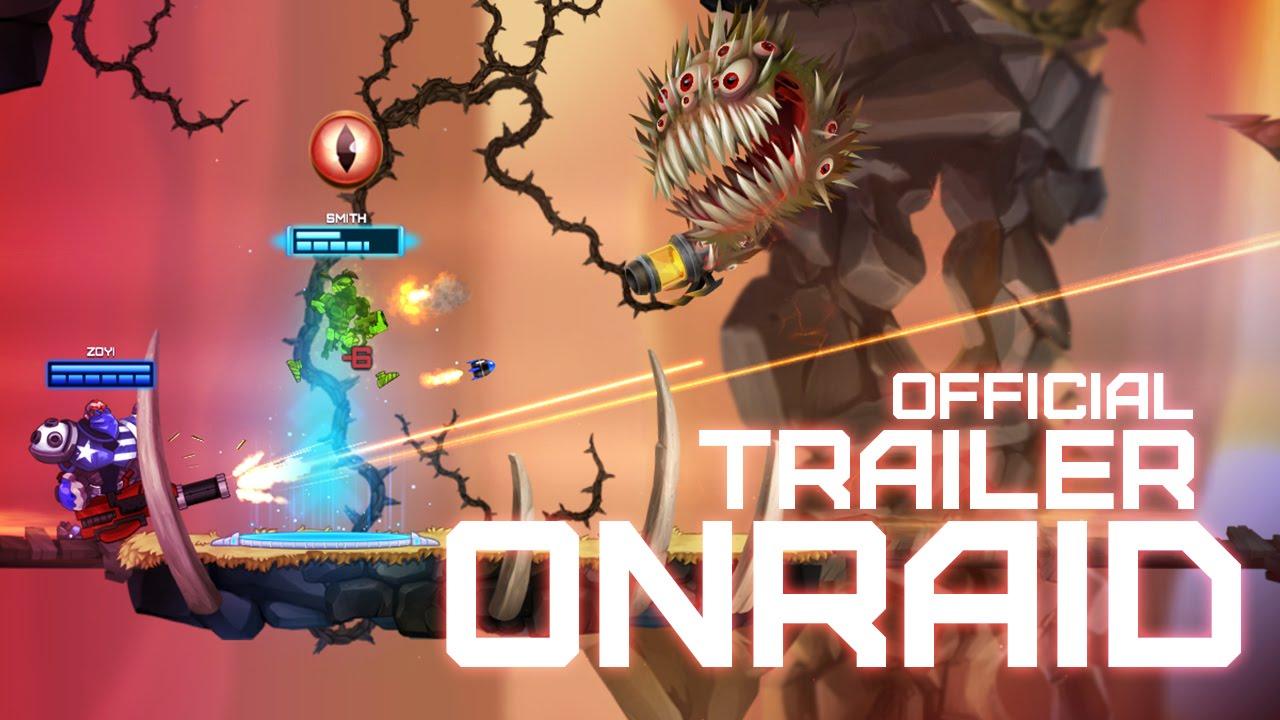 The premise of the game is quite simple: you choose a character, kit him out with abilities and gear and then go on missions and battles. You get your range of ranged and melee focused characters as well as those with support abilities. After completing missions or battle you gain experience which can level up both your character and account, giving you drops and other things that you can then use to customize your experience further.
Getting the elephant out of the room right away: the F2P model in the game is generally okay. The game started out as a fully paid experience but now you're able to purchase loot drops, skins and the like if you want. Unlocking these items otherwise isn't that big of a time investment. Playing with a single character, I managed to get most of my abilities, an alternate skin and two different weapons just by play for about two hours. Some of the rarer things seem like they could be a bit of a grind but since rewards scale up the more you play ranked PvP, it possibly isn't that bad. That said, there is still one big caveat.
An utterly stupid decision made by the developers was the inability to try out characters before unlocking them. When you start the game up, a few of them are unlocked for a limited time only but, even in practice mode, it's impossible to try out the others. This means that when you automatically unlock someone by leveling up your account, you're in for a crapshoot. And heaven forbid if you choose to pay money instead! Other F2P models such as the one in War Thunder allow you to try before you buy for most things, albeit not in actual matches most of the time, which is completely sensible. Why waste time and/or money on something with a play style you're not sure you'll like?
But the brunt of my criticism for this game has to be for the core gameplay itself. Shooting things, jumping and playing just isn't that fun. The controls feel, for lack of a better word, clunky. You aim with the mouse and move and use abilities with the keyboard, but more often than not I felt like these simple controls were fighting against me. When you're jumping or trying to hit an enemy that's closing in range or gone behind you, the aim tends to play against you and make you miss even if you're using a melee weapon. Simply put: the bullets don't always go where your reticle is pointed. And this isn't just a matter of getting used to a character as I found myself being imprecise with my movements and attacks even when switching to someone more melee-focused.
To add to this, the various missions you can play outside of PvP by yourself or with friends are utterly dull. They are all cave-like environments with a myriad enemies between you and your objective. And your objective is always a room where one or more waves of enemies and/or a small boss-like version of an opponent will spawn. Obviously and unimaginatively enough, you have to kill them until they're dead. I did the majority of missions and they are all like that. The only difference in difficulty is that the enemies take more bullets and there's more of them. Which makes the challenge almost wholly artificial. And the rewards just suck – a few worthless coins for each mission completed. You're better off doing PvP or just leveling up characters.
Oh, and did I mention that there's uninspired voice over work throughout? During missions you'll be yelled at by a generic mercenary contractor type and you'll hear the same dressings-downs over and over again. This is on top of the quirky quips your character may produce during combat which may be cute once or twice, but wear thin after a few matches.
Crafting is uninteresting as well. Most new gear is simply better than previous tiers and therefore a no-brainer decision. At best you'll get a random effect if you recraft something but they're small bonuses that really aren't worth the resources invested in them. And, in fact, you're likely just better off hoping for a random drop in a crate, since you can get higher tier gear right away without having to invest scrap into crafting.
But enough focusing on just the shortcomings! The better bits of the game are found in the PvP battles. That said, it's simple in execution with a few modes like capture the flag and hold-the-thing-to-make-your-team-get-points. It's here that the varied player classes get a chance to make an impact. The back and forth of using abilities and playing as a unit against another unit elevates the otherwise lackluster execution. Deciding what kind of abilities you have on you before a match can radically change your role in a team. And, surely enough, teams that work together tend to do much better than a disorganized group of lone wolves.
Even this mode has its constrictions, though, as the maps in play are vastly limited in variety and size. Sure, I had fun playing with bots and humans in both practice and ranked matches but after a few rounds it felt like I had seen everything that the game had to offer already. You can have more fun climbing the ranked ladder but it seems like such a slog and the rewards at this stage of development don't seem to be that high. The only other mode that offers any semblence of true variety would therefore be the boss challenges that rotate every couple of days and that requires having a group of friends - you can't just try it with random strangers.
I know that the game is still in Early Access and is subject to change, but going by the FAQ on the steam page, it doesn't seem like there'll be much in the way of drastic changes. The game is basically feature complete and the only things that aren't implemented that I can see are ancillary things such as achievements. New maps and things that add variety would help but the core of the problem is how the game feels during normal gameplay. The developers have
hinted at
future tweaking of PvP and campaign missions but have offered no concrete plans as of time of writing. I think that without some hard looks at the core gameplay and balance, ONRAID will continue to be an ultimately forgettable experience. As for the excuse that I'd likely enjoy the game more with friends? Sure, I probably would, but then again I'd enjoy a better game even more.
You can try the game out for yourself on
Steam
.
Some you may have missed, popular articles from the last month: