ProtonDB, the unofficial tracker for checking the status of Windows games played on Linux through Steam Play has another data-dump available. Here's a look for April 2019. Note: The data dumps often include a few reports past the end of the month, which aren't counted as we cover them in the next set of reports as we cut-off what we look over at the end of April.
Firstly, ProtonDB has hit a bit of a milestone recently with it hitting well over forty thousand reports from users. That's crazy but it goes to show just how popular Steam Play is becoming in what's a relatively short amount of time. Steam Play isn't even a year old yet!
As usual, let's start with a quick look at how many reports have been coming in per month: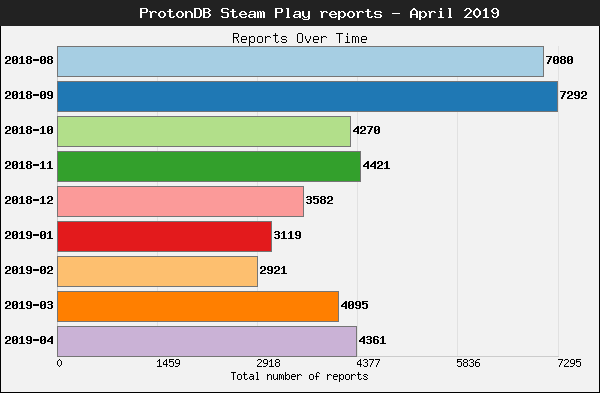 Interesting to see quite the reversal there, with it starting to fall-off from November and now we're seeing a nice up-tick in the reports once again. Likely due to new releases of Steam Play's Proton and new game releases recently.
That only tells us the amount of reports though, what about the status of the reports being sent to ProtonDB through April? Here's a look at that too: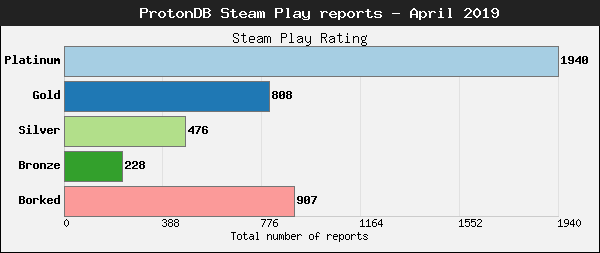 That's a pretty nice picture, tons of Platinum reports continuing to show how well Steam Play as a whole seems to be doing. Let's look in a bit more detail now, what actual games have seen the most reports in April, to give us an idea of what Windows games played on Linux are currently of interest.
No real surprises there, Risk of Rain 2 being a recent release that I also covered in early April. Some of the usual suspects remain popular titles people are re-testing often like Grand Theft Auto 5 and Sekiro continues to be very popular. However, that's only the number of reports. Let's take a dive into what games are getting Platinum reports, so these games should be click and play on Linux with Steam Play: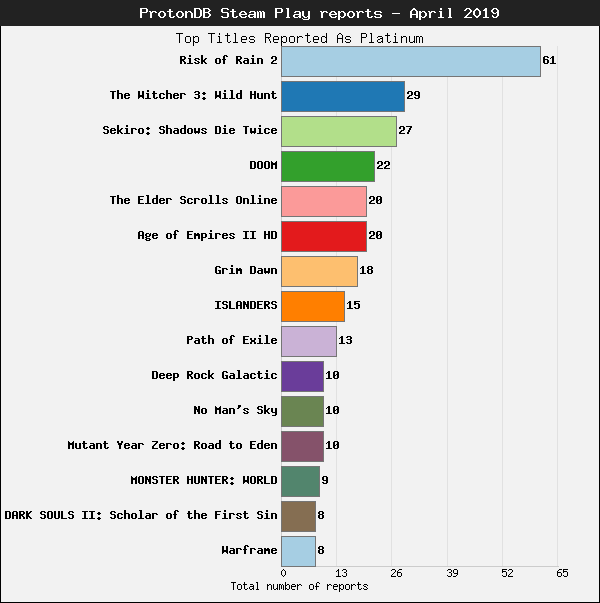 Now a quick look at computer information from the reports for those interesting, starting with the distribution used: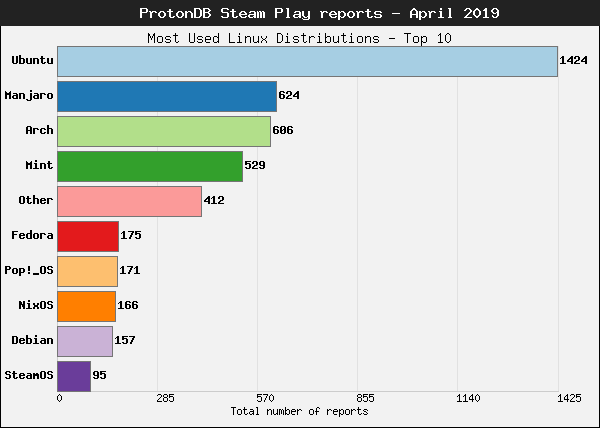 Usual note about "Other": lots of the reports don't include a specific distribution name. Where we're unable to properly identify them when scraping the data dump, we (GOL) bundle them together into Other. This can be caused by multiple things, so hopefully in future ProtonDB can make this clearer.
Now a little hardware info for you from the reports, looking over CPU and GPU vendor popularity:
That's all for this month in regards to the reports, will take another look next month with the next data dump from ProtonDB.
How have you been finding Steam Play? Are there specific games you're waiting on working? Were you recently surprised by a game that works? Let's have a chat about it all in the comments.
Some you may have missed, popular articles from the last month: