Creator Sherida Halatoe of one woman developer
Tiger & Squid
ran a crowdfunding campaign for
Beyond Eyes
on
IndieGoGo
a little under two years ago. The campaign was covered in
The Funding Crowd #20
, and though it made less than half of its modest €10k goal, funds were collected, seeing as it was a flexible funding campaign. We have since become quick to warn about flexible funding campaigns at The Funding Crowd, because even when they fail, backers will still expect to get something in return for their money, and creators will have to stretch already slim budgets beyond the breaking point to be able to deliver.
Luckily, this game has been a success story, and it's in part thanks to
Worms
developer
Team17
's then newly created
Indie Label
. The initiative has helped Tiger & Squid with things such as development, QA testing, promotion and distribution, while still letting her retain rights and creative control over her game. We've seen several other similar initiatives pop up over the last years, and it feels like a boon to indie game development in a market where funds and exposure are hard to come by.
Beyond Eyes is out now on
Steam
, and it both looks and sounds wonderful: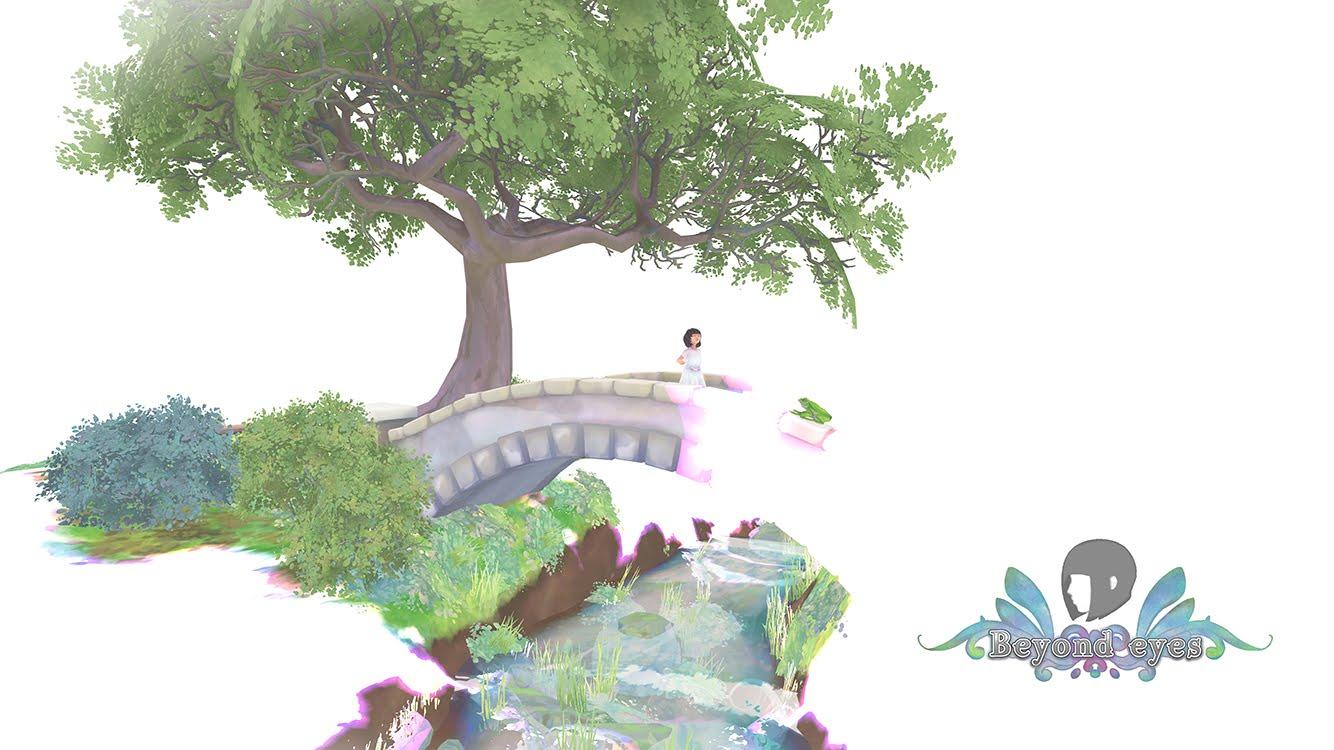 Rae is a 10 year old girl who lost her eyesight when she was hit by fragments of fireworks. Traumatized by the accident, she's terrified of loud noises and prefers to keep to herself. When a stray cat starts visiting her in her garden, they become friends, and she names her new friend Nani. One day Nani stops coming, and Rae must summon all her courage to leave the familiar garden and go searching for her only friend.
Beyond the prologue, there is little in the way of verbal narrative in the game, though certain interactions and transitions between scenes trigger a few phrases, which often give some insight into Rae's thoughts and feelings. Throughout the game, the player is instead encouraged by visual cues and spots of interest to guide Rae on her journey. One might wonder how visuals come into play at all in a game about a blind girl, and though it's not explained directly, my interpretation is that what we see, as players, is a representation of what Rae imagines her surroundings to be like, based on inputs from her non-visual senses; hearing, smell and touch. This assumption is supported by the way objects sometimes change their appearance on closer inspection, like a water fountain becoming a storm drain outlet.
The unfamiliar is represented by a dominant all-white, but as Rae get a sense of her surroundings, they spring into existence, like paint being infused into a canvas. These transformations look seemless, and give the game a lovely painterly look that I'd love to see more of in games, though this exact implementation will probably remain unique to this game. In addition to these backgrounds, the game also makes use of floating ribbons of color to help guide the player, indicate hotspots, and sometimes to create an audial barrier that Rae can't get past because of her fear of sharp sounds, like the fierce barking of a dog or the angry shrieks from a flock of seagulls.
You are free to ignore some of these clues if you feel like exploring a bit with Rae, before passing onto the next part of her journey. Some of the chapters contain relatively large areas, though they are always closed off by water, walls, dense forest and other impassable obstacles, in addition to the audio barriers. This can get a bit tricky though, because since you can't look ahead, it's easy to get lost, and since Rae walks slowly and carefully, finding your way back can be both time consuming and confusing. There is a point in chapter five where this is especially problematic. In that chapter, it's raining heavily, and because of the overwhelming sensory input (I assume), everything outside your immediate surroundings are constantly whisked away, making it harder than usual to figure out where you're going.
A small touch that I quite enjoyed is the way Rae stretches her arm out to run it across a surface when you're walking along a wall, and how she stretches both arms out to explore with her hands when you stop up against a surface.
You control Rae with the keyboard for movement and interaction, and control the camera using the mouse. A gamepad can also be used, and in my testing with a wired Xbox 360 controller, the controller works both in-game and in the menus. Keyboard controls use a default WASD scheme, but this can be changed from the menu. Movement can be a bit tricky with both control schemes, since Rae has a tendency to get caught on obstacles, forcing you to move her a bit in another direction to get her away from the obstacle. The camera can be rotated freely around Rae, though when she's up against a tall obstacle, like a wall, the camera has a tendency to get caught momentarily, before snapping a bit awkwardly ahead of Rae. These are minor issues though, and can easily be avioded when you're aware of them, and apart from those, I've not experienced any issues with this Unity game.
Playing through the game from start to finish took me a little less than three hours. And though I explored quite a bit, there were still several interactions I missed, judging by the Steam achievements. It's a game that demands a bit of patience and a peaceful setting to fully enjoy, but in return rewards you with a unique experience and a touching story of friendship.
If this sounds interesting, you can buy the game for Linux on
Steam
.
Some you may have missed, popular articles from the last month: