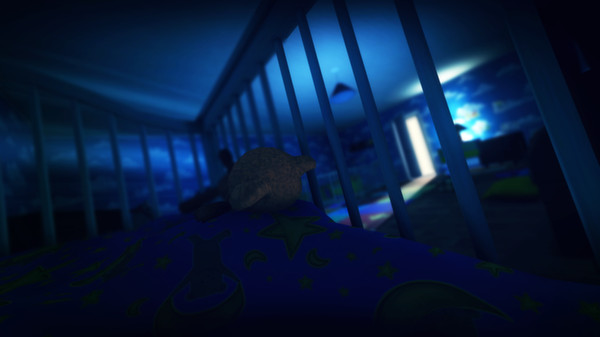 Among the Sleep is the first-person horror adventure where you're playing as a toddler—it's freaky. The developers have updated the game to Unity 5, and now it's all fixed up for Linux I could take a proper look.
The game was left broken on Linux for quite some time, and it really made me put the game on the back burner. I am quite lucky really, since I got to play the game through with Unity 5 goodness, and it really does perform well. Getting well over 100FPS at a 2560x1440 resolution with the highest graphical setting possible. The performance is actually quite impressive now.
I am writing this trying not to spoil it for anyone
I was always excited about the game, as a parent myself being able to get down to basics being a toddler again with their fears represented in the Among the Sleep so well.
I may be an adult, but that didn't stop Among the Sleep really freaking me out at times. The little teddy bear that you can hug to light up the dark, a very cool idea, and as a parent it made me wonder if this is how my son sees his panda-bear that he's attached to.
Not many games are able to give me goosebumps all over, but these developers managed to. The atmosphere is utterly terrifying! You need to allow yourself time to get absorbed into the atmosphere to really appreciate it.
The attention to detail is actually quite incredible, from you stumbling to your hands and knees if you walk for too long, to squeezing your teddy and have him be your torch. Lots of fantastic little ideas all come together for an awesome experience.
I found myself at times quickly pacing the screen from left to right keeping an eye out for any monsters, the audio in the game really is fantastic at making you panic.
Honestly, it's nothing like I imagined it would be, it really does get weird once you get past the first section in the house. It actually gets more creepy when you leave the house, due to the change in pace.
There are a few very simple puzzles to complete in the game, but the game is more about the story and general atmosphere than anything else. The "creature" was certainly an interesting design, and the screen effects that come with it certainly freaked me out.
The story was very sad, and I genuinely felt a bit affected by it at the very end. I did slowly start to piece bits of it together, but even so it was quite well done. I did a livestream of me playing the ending and it almost brought a tear to my eye.
A very cool idea for a game. The Linux port now works exceptionally well, and anyone who is a parent should definitely check it out now. Even if you're not a parent but you enjoy story games with horror, do check it out.
One thing to note: The game is short. I completely it in two hours, but for me it was the perfect length.
You can get Among the Sleep on
Steam
and
GOG
.
Some you may have missed, popular articles from the last month: