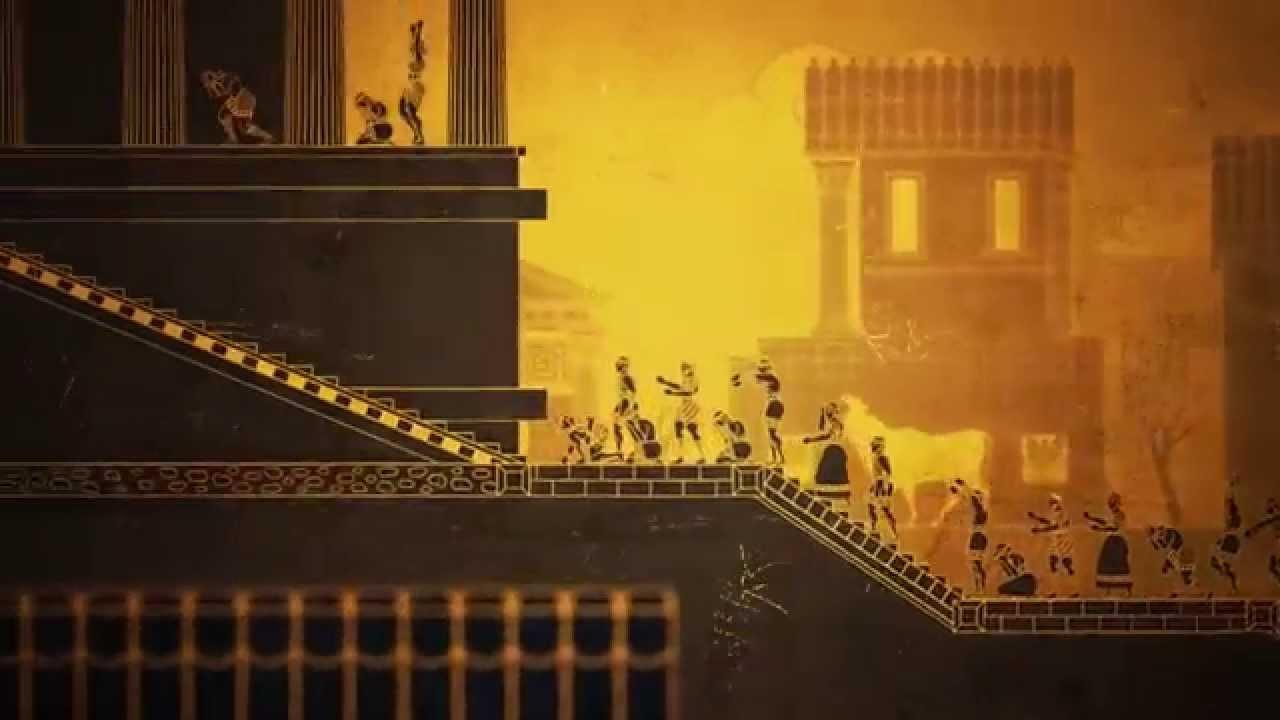 Apotheon
is an indie game based on the concept of taking the ancient Greek mythological pottery art-style and story; incorporating it with a 2D metroidvania (platform adventure), heavy physics driven, open world. Wow, what a mouthful description. I hope I didn't butcher it because it's one hell of an adventure I want to embark on!
At first glance on their Steam page, I could only see the Windows logo and was utterly disappointed after watching the intriguing trailer. But like a lot of Linux-only gamers do, I stumble around in their Steam forum to peek in and see what they have to say about Linux support. Lo and behold, a functional build currently exists! I couldn't resist checking it out so I bought the game and opted in the beta. I assume the
GOG DRM-free release
will follow suit for Linux gamers when things are fully tested and out of beta.
*
Please note, the current final version is only available on Steam for Windows, but you can still access it by opting into the Beta section for a Linux (or Mac) build after purchase. The developers claim that it contains no known bugs at this time, so be sure to help them polish it up by submitting reports here. As with any Beta tag, don't purchase if you are absolutely sure you want to risk running into bugs that could potentially ruin your experience of the final Linux release of the game. Be responsible, be courteous, and most importantly, be constructive in your feedback.
*
How to opt-in Beta
: Steam -> Library -> right click on Apotheon -> properties -> BETAS tab -> opt-into "fna-build"
Created by the indie developers
Alientrap
who brought you
Capsized
(which I haven't played, yet), they apparently have been developing this game for a few years now to finally push out a release. I don't know if the long development cycle has pushed it under the radar, but I'm glad to hear they took their time to polish up the game.
I can only express my personal bias on how beautiful and unique Apotheon presents to you in its graphics and music art-style. I literally never experienced anything like it, to the point where I'm glad I was never spoiled in the era of 3D gaming.
I was never engrossed into Greek mythology that much. Now though, I honestly want to grab a few books and brush up on it. I wonder if I would have become a history major if I was given this game as a young adolescent. Diverse culture is a fascinating thing, and I hope to see other developers attempt something else they were immersed in as a history student.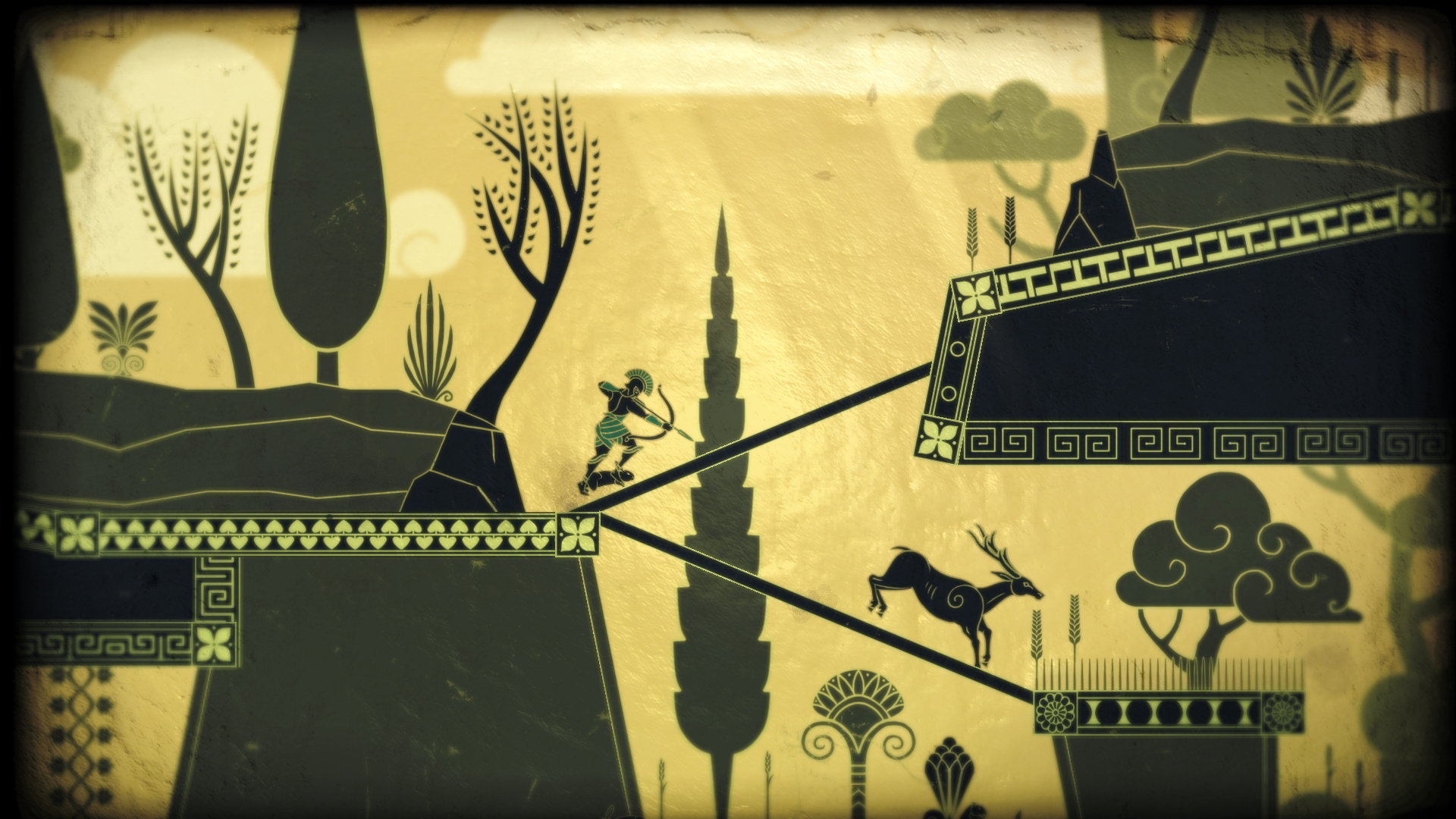 I'm very coloured by the presentation if you can't tell already. To the point where I very well could accept any game-play thrown at me at this point. I'm ready, so let's dive into this goddess!
Gameplay
Onward with the campaign mode!
Being a metroidvania type of game, you will be doing various quests, collecting/crafting weapons, equipment, and items to progress and increase your character's likely-hood to survive without being dictated too much of what you are to do next.
When using equipment, you can wear them out, so replacing or repairing can be critical when embarking on an adventure. I mean, unless you enjoy simply using your fists. Or if you like to spice things up like me, stock pile a few different ones and swap between them by scrolling the mouse wheel. Being a physics based game, each one seems to serve a different purpose or function in combat. I kind of like the idea of chucking a knife at a foe for the finishing blow just to pick it up again. Really satisfying indeed.
It also appears you can craft things. I should probably visit the Blacksmith, but I'm kind of having the most fun picking up the vast assortment of weapons I'm finding. Pitchfork anybody?
The central HUB appears to be the village you are living in to explore and defend from warmongering jerks taking advantage of the dire situation. If only Zeus stuck around, maybe he would have smitten them ever so justly. However, it seems one of your goals is to venture to Mount Olympus and bringing these gods down a peg or two to restore your now forsaken lands.
Now let's talk about the environment. Whatever you do, don't jump down too far from platforms, it can hurt, a lot! Speaking of which, I lit myself on fire with the curiosity of bashing a ceiling lantern. While that was pretty amusing, you can destroy various props or objects to find things. If you see a sack of meat hanging from the ceiling, feel free to hit it and gain some health back. Apparently you can also do this with rats...errm, animals that scurry about.
I may have left something out that I have not explored yet, but so far I'm having a jolly time with Apotheon. As for any bugs, like the developers have mentioned, I do not know of any currently using Ubuntu 14.04 LTS (64-bit).
I will say this though, and I blame my terrible laptop for this, my FPS is somewhat abysmal (10-20 FPS). It runs enough for me to play, but not quite satisfactorily to enjoy a smooth experience. Though, it seems
other users
(non-Linux) have this same issue. From what I have gathered from the developer, this is due to a lot of physics calculations being done, so having a powerful enough computer will be something to be worth noting before buying.
I know a lot of people expect 2D or 2.5D games to be fit to run on any old toaster, but I honestly don't care any more. If the optimal experience is benefiting from the developer's design choice, then I can only blame myself from putting off building a modern desktop rig.
Versus Mode
I have not tested this (apparently I need to connect a controller in for this) and don't have a mate to assist me, but it seems you can fight one on one with someone locally. However, maybe I can test this in the future when the
developer feels ready
to add an online mode in. Hopefully, it will be cross-platform on the network side of things. Would hate to be the only one playing that mode because I don't own or care for Windows.
Controls
*
Forewarning, again, I don't own a controller to test its feature layout out.
The default controls seem to be trying to cater around the left hand being your primary way of movement (WASD) and navigation options while the right hand is focused on mouse driven inputs (left click to attack, middle button to throw, right click to shield). Personally, I always reset my hand in the typical typing position so I can reach everything, so having some keys on the right hand position simply doesn't work for me. The good news is, you can rebind these in however fashion you choose, even if you don't want certain ones functioning on the mouse. I don't know how other countless games try to get away with trying to shove their pre-set layout down my throat, but I, for one, am very grateful Apotheon allows you customize this. With as many keys it uses, it would have broken the game.
Then you use the mouse cursor itself as the sole aiming input. While I'm not sure if aiming with a cursor in a 2D platformer-esque game is optimal for being comfortable to the average user, you can at least adjust the settings to be "positional" or "directional" for your preference. I would argue though, having the cursor to target things does give it more freedom to use ranged attacks adequately. I can see a casual player may have a difficult time adjusting to this, but it did not ruin my personal experience.
Visual Cohesiveness
After singing its art-style praises before I even got into the game, I now have to ask myself if it complements the game-play.
To be perfectly frank, no. They could have done this in anything else and it would have the same effect, game-play wise. In some cases, I would even say my eyes were not quite sure where to look at times with the limited colour palette. I found that it was somewhat difficult to discern objects and platforms from each other due to this lack of colour variation imposed by the art-style. Perhaps if I put enough time into it, I can adapt properly (and I intend to!).
So if you are colour blind, this may not be the game for you. Judging from the developer's reply from their Steam forum though, they seem to be
interested
in accommodating for such issues.
Then I have to ask myself, does it assist in setting the mood for the story?
I would have to say, yes. The premise revolves around darker times when the gods have abandoned humanity. Without delving too far in the game, I just wonder if its possible (doubt this is a feature) by either appeasing or defeating Apollo will give a bit more breadth in enlightening the visual compliments?
In the end of it all though, I'm still pleased with a completely different approach to what a game's art can be. It's quite captivating and unique. It really does look like a lot of time and effort was put into researching this ancient drawing style, and I highly respect that.
Audio
While I don't feel qualified to properly judge the music and sounds, I can say it works for me in a very positive light.
Voice acting feels authentic and well achieved in pulling me into this virtual world. The narrated introduction definitely helped set the mood in what to expect for quality. When I had a chat with a drunken man at the bottom of his rat infested cellar, I realized I will be expecting some diversity among other characters.
The music appears to achieve what it sets out to do, in a enjoyable and thematic tone. I think what really pulled me in, was the title screen's encompassing musical score. Hopefully, as I progress, I will be greeted with some great boss themes.
Ending Thoughts
Stunning titles like Apotheon and Gravity Ghost just want me to start claiming that super-realistic 3D modern games will never captivate me enough. Maybe it's just me and my personal background as an aspiring artist, but I just never got the hype around something so brown and grainy a lot of 3D titles threw around as "modern" art. I don't know when virtual reality technology is going to boom, but until then, I won't feel bad for missing out on many modern "cutting edge" 3D games. Even then, I hope someone out there, will continue to design games that carves creative and unique into my mind.
Clean and consistent art tickles this Linux gamer's fancy, and Apotheon painted it on a shiny preserved pot all the way back to Greek history from the fifth BC century. Needless to say, I dig it despite any potential flaws it may have.
Some you may have missed, popular articles from the last month: