During the livestream I did last night I had one of those moments where you fully appreciate how far Linux gaming has come.
Make sure your sound is up, it's not about the video, but what's said.
I tend to babble on a bit during livestreams as my mind ends up wandering, but a viewer managed to catch this clip which I just had to share (thanks to Leeo97one for posting it in
our Discord
):
I also ended up comparing different Linux distributions to Pizza toppings for some reason. If you want to catch more nonsense like that, be sure to
follow us on Twitch
.
In
April 2010
, I was posting about tiny indie games like Osmos being released for Linux (Osmos
is
awesome though). I thought to myself back then "this is incredible!", how little did I know that a few years later I would be livestreaming a game of Rocket League full of Linux players.
We may not get every AAA release ever, but what we do get is usually quite good. We have more games on Linux than I ever thought possible! We have even more arriving this year like
Civilization VI
and I'm sure there will be plenty of others announced as time goes on.
Linux is too small to get the majority of AAA games right now, as we would be spoilt for choice and our market-share would be stretched too thin across too many games, resulting in lower sales and less friendly developers in future. Essentially, too many big games right now would probably be harmful to our growth as a gaming platform. I'm happy with what we have now, and as we grow you can be sure we will get more.
Just today I setup another Antergos PC in my home attached to my TV, and GNOME Shell works surprisingly well on a big screen: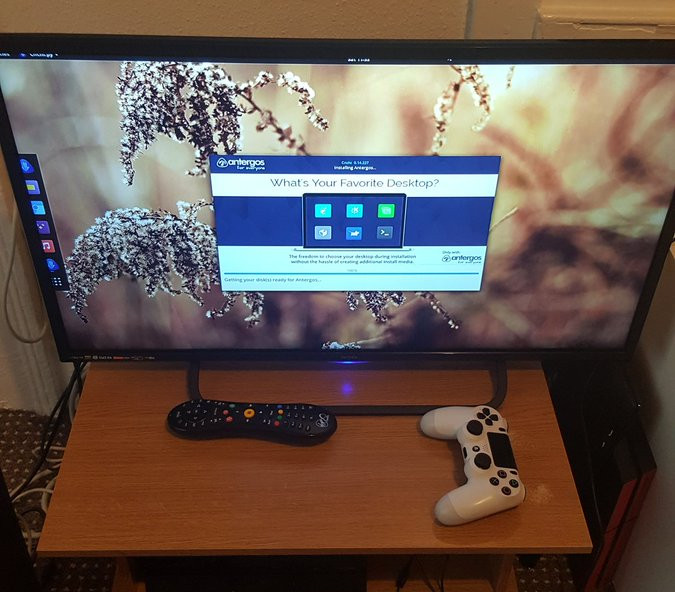 My family now play Slime Rancher on the family TV, and they absolutely love it.
It was originally going to get Windows 10 on it for various Windows-only children's games, but no matter how it was copied onto a USB drive Windows 10 just refused to boot. It's funny how much easier I find Linux to be at almost everything it's really quite amazing. First attempt at getting Antergos burnt onto a USB worked without a single issue.
Be sure to share your interesting stories in the comments.
Some you may have missed, popular articles from the last month: