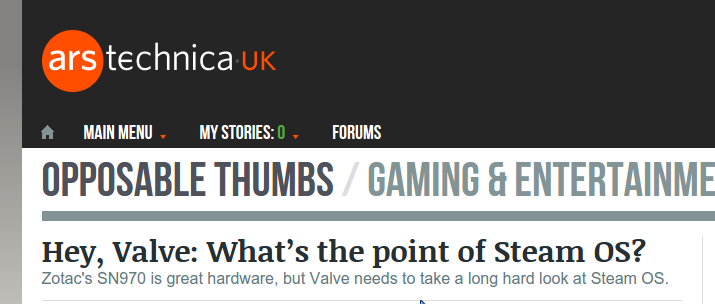 Ars Technica are usually quite interesting, but
this latest SteamOS post
bugged me a bit. The author tried out a Zotac's SN970 and had an issue with it.
Honestly, it sounds like he got sent a duff unit to review by Zotac, or his TV has a setting somewhere for low resolution inputs which is messing with the HDMI. The author didn't even mention those could be an issue either, which is a little alarming for a writer on such a well known and respected website.
The whole issue is this:
QuoteThe graphics, however, were interlaced, with distracting artefacts that occurred every time I moved the mouse pointer with the Steam Controller.
For which the article gained the headline "Hey, Valve: What's the point of Steam OS?". So the author is slamming an entire ecosystem due to issues with this one unit and a 4K monitor, monitors with that resolution aren't even close to being normal right now.
QuoteThat, however, was easier said than done. Trying to type using the Steam Controller and the on-screen keyboard with its weird split layout is difficult enough at the best of times, but the visual artefacts made it nigh on impossible. I gave up and fetched a USB keyboard and mouse from the cupboard.
I get the visual issues are annoying, but how did he not realise you can use the stick normally to select letters, like you can on the Xbox, WiiU and PS4?
I do hope they try it with a more standard monitor or TV, and be honest about their results with it then. It's one thing to slam something, it's another to try it properly and admit if you're wrong, or show if the unit itself is in fact broken.
The comments on the article are also not in the authors favour by the looks of it.
The author also tweeted out:
QuoteFYI: do not fuck with Linux guys. And I thought games was tough.
I won't link to him directly, or comment on that as we all know my thoughts on people's silly remarks by now.
Update
:
As I suspected, a hardware issue as pointed out by a
comment
on their website.
QuoteTo bang on the "try a different monitor" issue, looks like the monitor he was using has known issues with hdmi connections and requires 2 hdmi cables to display at 4k. That's hardly a mainstream situation. http://www.tomshardware.com/reviews/asus-pq321q-4k-monitor-review,3698-4.html
If only the author of the article at Ars did a bit of research. The monitor is technically two monitors stitched together, so it's not surprising it has issues. Even with one cable for below 60HZ and 1080p it's not a normal monitor, and nothing close to what most people will be using. There's 4K, and then there's a 4K monitor that's actually two together.
Some you may have missed, popular articles from the last month: