The retro-inspired action platformer Axiom Verge was released this week. Being attracted to both its alluring art and promises of solid and fun classic gameplay, I decided to check it out.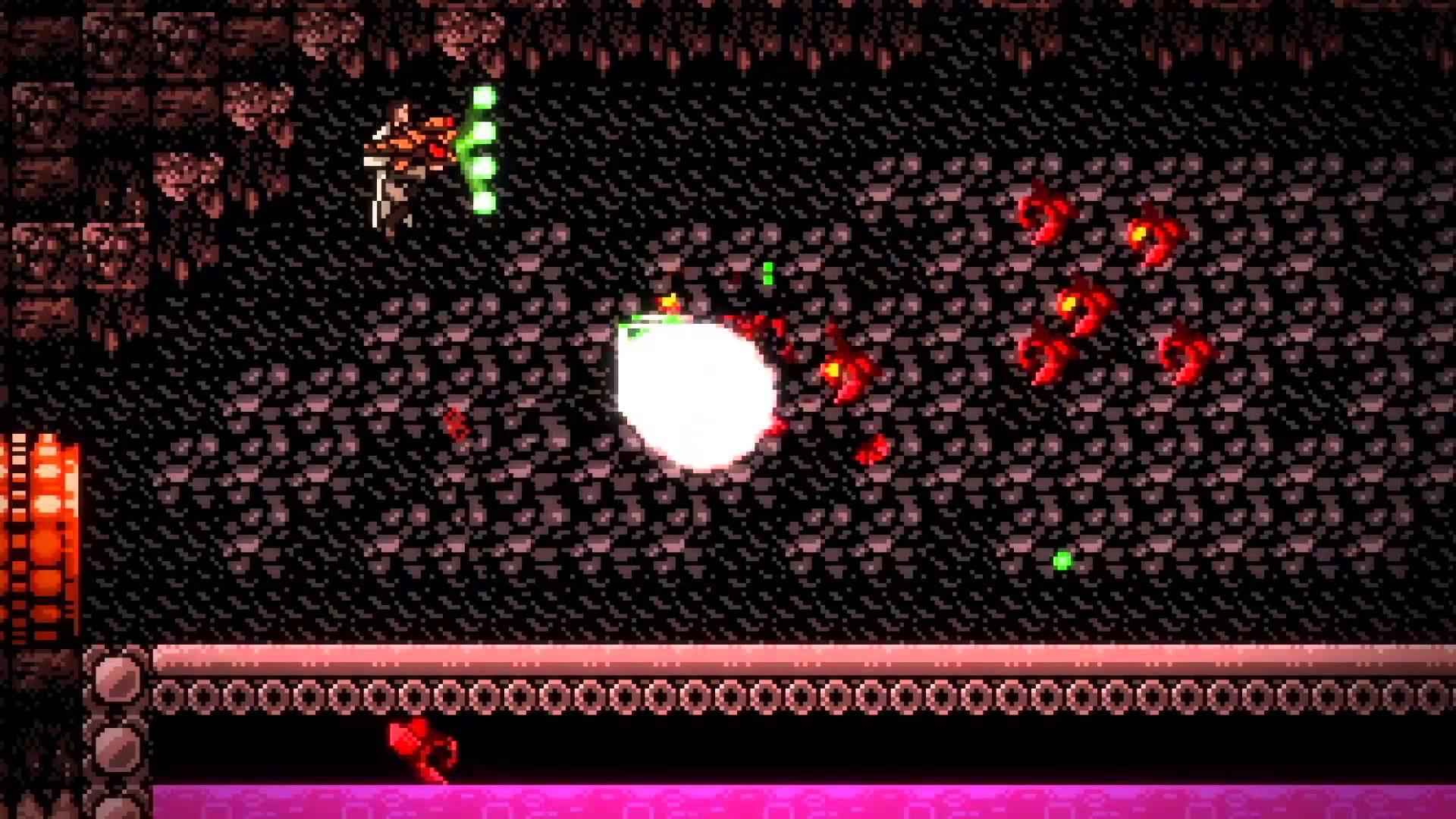 Nominally a Metroidvania-style game, Axiom Verge is almost wholly Metroid with none of the Castlevania. Completely ignoring the light RPG elements that are normally a part of the sub genre, the game focuses entirely on player skill and progression via powerups. The parallels to Metroid don't end there with almost everything about the graphics, sound and even abilities being reminiscent of classic 2D Metroid games. It's been a while since someone tried this classic formula in earnest and the purity of vision is definitely refreshing.
I need to preface my review with two important notes: First, I only played the Metroid games for the first time as an adult. So I am fairly sure that any comparisons I make to those games are free of nostalgia. Secondly, you'll have to excuse all the opinion on game design that's interwoven into this review. It seemed like a great chance to point out what works and what doesn't since a lot of recent indie releases I've played have had difficulties sorting out a few things design-wise.
Axiom Verge was developed by a single person over a period of several years, impressively enough. The game utilizes FNA, developed by prolific porter Ethan 'flibitijibibo' Lee (though the porting was done by Axiom's developer), and saw a same day Linux release on Steam. The game uses SDL2 which means that any gamepad that's configured with Steam ought to work and I personally found no problems trying out my various controllers. Performance is solid as well and I encountered no bugs in my playthrough – something remarkable for a modern-day game release.
The visual experience is usually central to these retro-inspired games. We've had a lot of pixel art games as of late and they've been a mixed bag in regards to how effectively they complement the action.
One of my main issues with Crystal Catacombs
, another Metroidvania, was just how dark and muddied the graphics were – it's at times impossible to see where enemies begin and backgrounds end. With Axiom Verge I was happy to discover that the developer was able to pull off art that was distinctive and worked well at any resolution. It was always clear to me where my character was, what he was doing, what areas were safe and what was dangerous, what was background and where enemies were. For a platformer nothing is more important than being able to judge distances and how characters move. Having art that doesn't blend into itself is paramount. The icing on the cake is that the art in this game is not only distinctive but also really pretty!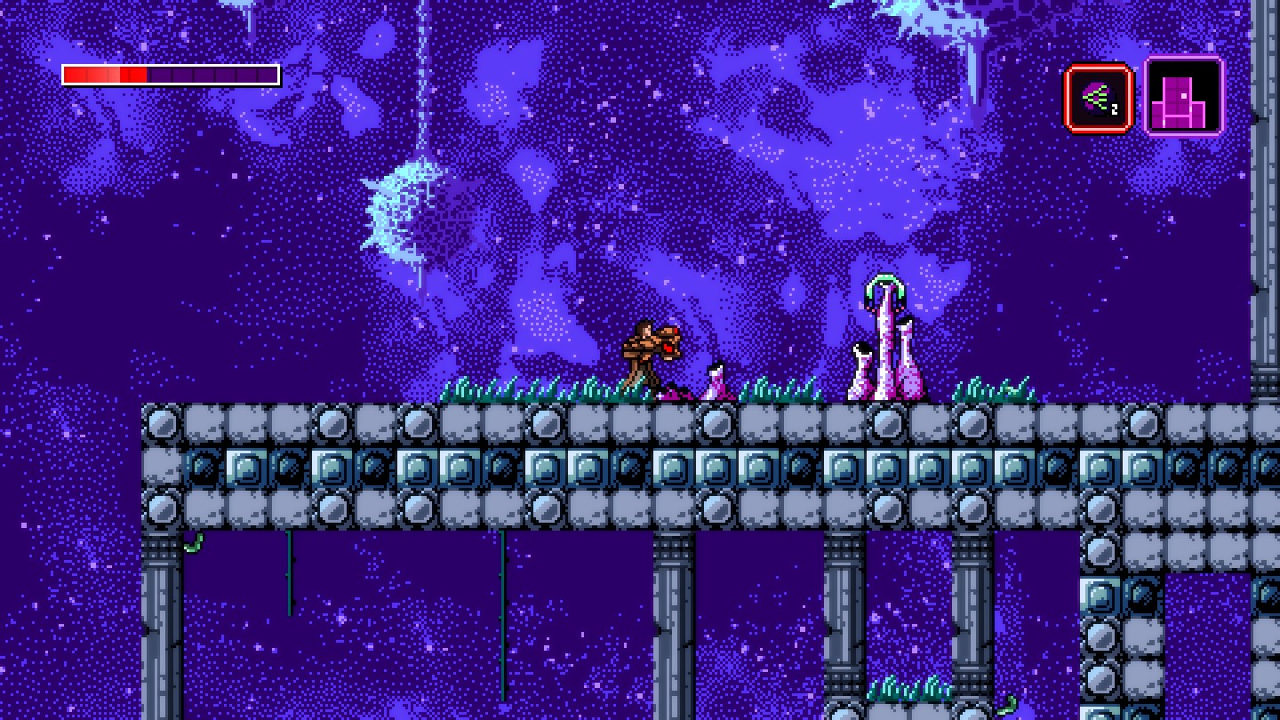 Each area of the game has a different feel to it: clear motifs in the design and varied palettes make the inevitable backtracking easier since it's hard to confuse portions of the map visually. Enemies are also visually distinctive and it's easy to tell at a glance what sort of attacks to expect from them. I hope more indie devs take notice of the style employed in this game; what made games like Mega Man and Super Metroid great from an artistic point of view was that there was never any confusion to what was going on in the screen and therefore the player had reasonable expectations of how to approach any situation. Contrast and use of different background tiles go a long way in helping with visibility. The illusion of depth and volume is also something this game and Shovel Knight get right and, as far as I'm concerned, both set the standard of how retro-inspired visuals should be done.
Complementing the visuals, the audio aspects of the game are also a slam dunk. The music shifts from area to area, sometimes from room to room. It is moody and mysterious when it needs to be and sometimes upbeat and encouraging. A lot of synth is employed, as one might expect, and the soundtrack certainly suits the exploration of a strange alien world. The expected assortment of beeps and audio cues are used for weapons and equipment. After playing several hours straight none of these sound effects got on my nerves, which is certainly a point in favor of the audio design.
Platformers tend not to be plot-heavy. Axiom Verge presents a plot but it's certainly not the highlight of the game. Most of the story exposition occurs through a few cut scenes here and there and the occasional exchange of dialog. It is more or less unobtrusive to the gameplay. This is more than fine: There are world-building notes that can be found scattered across the areas and optionally collected. These add background information for those players to know more about the story. I can't say that the writing is particularly clever but I can certainly appreciate the thought that went into building both characters and world. A story doesn't have to be complicated in order to get people invested into it. By the end of the game I was sufficiently invested to want to know the ultimate outcome of the story.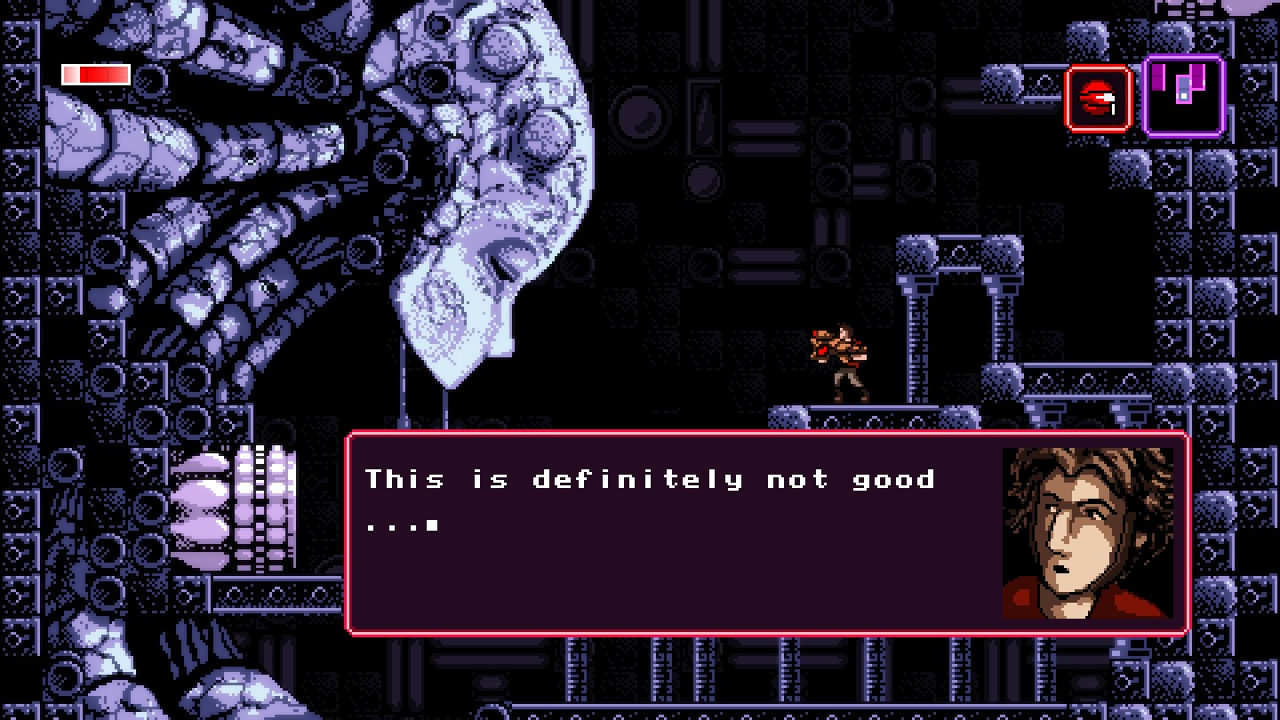 Gameplay is where the meat of the game is found. It copies Metroid's tried an true formula precisely: exploring areas to find new abilities and powerups while killing enemies and occasionally fighting bosses. These new abilities can then be used to reach even more areas. There's a lot of backtracking involved as well. Axiom Verge interconnects areas deftly, it's never really aggravating to go back and use new abilities to open up new rooms. However, this may be off-putting to some players who are unaccustomed to retro sensibilities; the game doesn't tell the player where to go and lets exploration and progression proceed naturally. On the one hand, those will little patience for exploration will have their patience taxed while those who love exploring every nook and cranny will find plenty of rewards. From my understanding optional powerups are randomized, meaning that each playthrough will see these items in different locations.
Though a lot of the abilities are borrowed from similar games, Axiom Verge puts its own spin on the tried and tested formula. Shooting is the main way of doing damage and, save for a couple of obligatory shot types, the weapons in the game are all completely optional. These shot types are mechanically kind of similar to those found in games like Contra. There is no ammo so the player is free to spam his favorite shot type all game long or change it quickly to deal with a particular type of situation. I appreciated the freedom to form my own strategies instead of being pigeonholed into using a particular type of attack for a particular enemy. The hacking ability the player gains also changes the game world in places and 'glitches' enemies, changing their behavior, adding an extra layer of flexibility to all encounters.
Putting aside obligatory upgrades like higher jumps, the abilities in the games are varied and innovative enough. A simple tap of a button can launch a drone, another employ the drill (which doubles as a handy melee weapon) and yet another a grappling hook. Most improvements extend the functionality of these core abilities. Thus clunky switching of endless weapons and powers which is the bane of many a Metroidvania is elegantly avoided. At first these abilities and improvements alter gameplay drastically but towards the end of the game the upgrades become routinely incremental. The end game upgrades are underwhelming by comparison. I would have preferred to have been challenged by using my improved skills instead of tracking down a slight improvement to an ability that I know will just get me to the next unexplored room. Thankfully only perhaps the last 20-30 minutes or so of the game are padded out in this fashion.
I managed to finish my first playthrough in about 10 hours. Which is a bit slow but I had explored 94% of the world and discovered a similar percentage of powerups. I think it's reasonable to expect an initial casual playthrough to take about 6 or 7 hours and subsequent runs much less. There's an achievement for beating the game under 4 and a dedicated speedrun mode. So it is entirely possible to rush through the game if one so chooses to do so. The difficulty curve of the game is pretty steady save for a few spikes towards the end and so I think most players will avoid getting overwhelmed in their first playthrough. There's definite replay value in playing the game again, if only to challenge the hard difficulty and discover all the special secrets. I can say with confidence that I'll likely revisit the game sometime in the future to get everything I can out of it.
Save for a few minor details regarding tracking down items and dealing with suddenly much harder enemies towards the end of the game, I can't really find much fault with the game. The biggest complaint I have is that it doesn't have a dedicated dash button, instead depending on the double tap of a movement key. It's a project that clearly set out to write a love letter to Metroid. It's a clear homage to the series and, by Jove, does it get all the good parts of those games just right. It was an undeniable blast to play through. It's different to recent games by virtue of deliberately choosing to perfect classic gameplay. Simply put it is to Metroid what Shovel Knight is to Mega Man.
Other recent Metroidvanias like Apotheon, Crystal Catacombs and Outland have disappointed me with a range of issues including clunky combat, less-than-inspired visuals and often dull level and puzzle design. Axiom Verge distils the essence of the Metroidvania. It never loses sight of the basics and has remarkably polished core gameplay. That's what makes it stand out. Limiting the variety of core abilities but making sure that they're always useful and easily executable makes is a good design decision for a platformer. Having too many options can make gameplay unwieldy as players struggle to figure out what works at any given moment. By the end of the game players will have a good idea of how to chain all the abilities at their disposal and overcome every obstacle in their way.
It's not that Axiom Verge is perfect. The game doesn't exactly innovate the genre. It doesn't reinvent the wheel by any stretch. But that's fine! The game is honest about what it wants to be, is polished and provides a fun experience the likes of which I haven't seen in many years. People who aren't into platformers won't magically love the game. People who are, however, will find plenty to celebrate. Even if pixel art isn't really your thing, I think that the gameplay experience is strong enough to recommend it regardless.
I could go on and on about the merits of the game. But the bottom line is that after ten hours and a complete playthrough all my complaints are incredibly minor. Quite frankly this game has single-handedly raised the bar for what indie Metroidvanias should be like.
You can get Axiom Verge on
Steam
or the
Humble Store
(A DRM-free version on GOG should be ready sometime soon according to the developer).
Some you may have missed, popular articles from the last month: