It's not often I enjoy a game as thoroughly as Iconoclasts, there's so much about it to love it's something I will remember for a long time.
Disclosure: Key provided by the developer and GOG. Also, GOG links are affiliate links.
Iconoclasts took a long time to make, the developer said it took seven years of full time development to make it happen, the end result is something quite remarkable. A game that would have fit rather nicely on the classic Sega Mega Drive, yet it feels fresh, fun and absolutely full of life.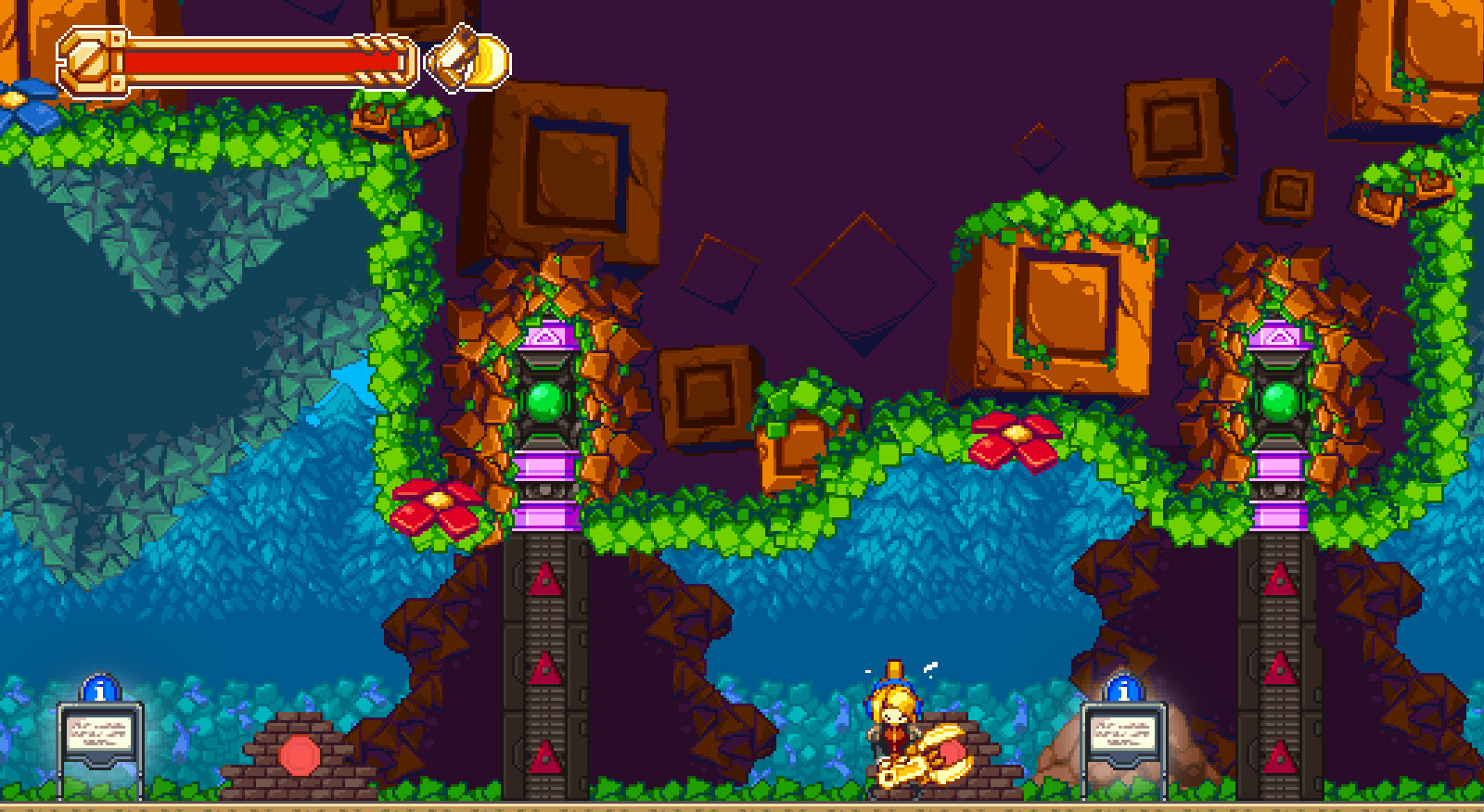 In Iconoclasts you are Robin, the 19 year old daughter of a mechanic. The thing is, mechanics aren't exactly welcome in this strange dystopian world. That is, unless you've been blessed by 'Mother', some sort of religious figure and leader. If you sin, you will have to deal with penance and you will come across a few who've been hit by it.
The problem I usually have with action and adventure platformers doesn't apply here. It doesn't try to be too retro, it takes the inspiration and builds upon it in a way that's colourful and smooth and all the little details made me love it. Like the way her eyes look a bit mean when she's spinning her wrench, the animation to show she's working hard when wrenching a door open and so on. The little touches show through so amazingly well it's just gorgeous.

The art style as a whole, including the character art is simply wonderful. Like my example above, of someone casually smelling their armpit—hilarious. There was one particular boss battle where I couldn't help but let out a rather loud chuckle, the sound and animations together making it sound like a train caught me by surprise. That's what really pushed me through Iconoclasts, the absolute surprise around each corner that I refused to stop playing, I wanted to see what came next.
Then there's the story. I've enjoyed every moment of it! The dialogue is great, the characters are all quite interesting too and it goes back into my love of the art, their facial expressions and body language during the dialogue at certain times is fantastic. Some of made me really laugh as well, the dialogue is incredibly well done and for once in a platformer, the gameplay doesn't completely overshadow the story.
What was just as surprising as everything else, is how many different gameplay mechanics there are. It starts off incredibly simple and gracefully adds in more little by little and before you know it you're using your wrench to swing from bolts, move platforms and all sorts of wonderful platformer brilliance. Thats another thing that makes it charming, you don't have a lot of tools to work with, instead you end up doing more varied things with them.
There's even a small crafting system. It doesn't give you a huge amount of options and none of it is game-changing, but it's a clever system. You equip tweaks in various slots, but these slots can be damaged if you get hit by an enemy. To repair them, you automatically collect bits from fallen enemies to repair your slots. It's a fun little system, but mostly complimentary to the wider experience.
I haven't even got to the boss fights yet, I don't know where to start with them. They're manic, each one is different and they're always fun: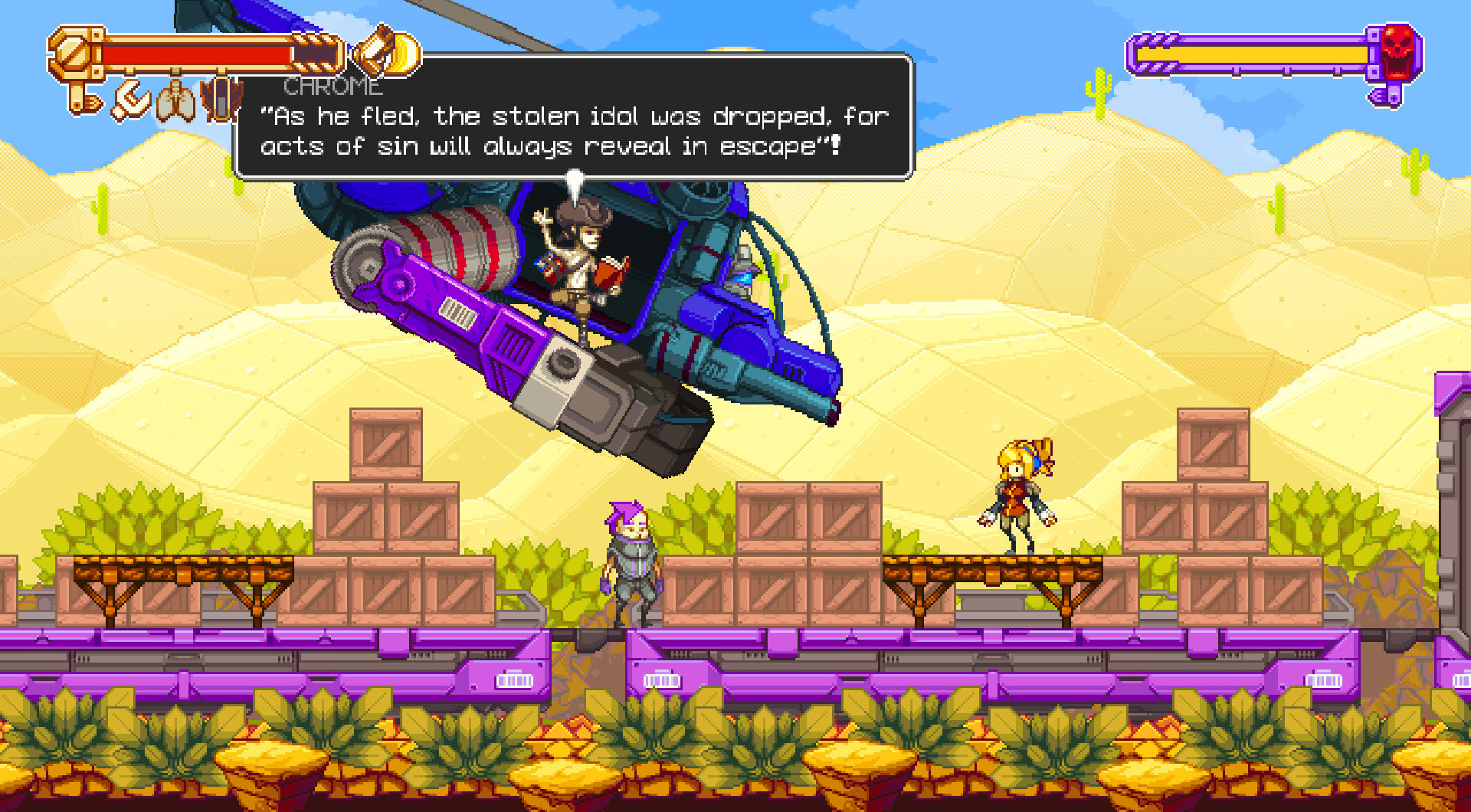 Features:
Hours of nut-twisting platform action-adventure
Numerous densely detailed locations filled with fine-tuned action and puzzles
20+ gear-grinding, screen-filling boss battles stand in your way
Three game-changing difficulty settings supported by a unique tweak system
A heart-wrenching epic – can one mechanic fix the whole world?
What I really loved about it, is that it wasn't too demanding when it comes to figuring anything out. It was a fun experience, sometimes a little challenging, but I don't think I got frustrated even once.
In terms of performance, nothing unusual here. Everything worked beautifully smooth and the Steam Controller was flawless too.
You can get Iconoclasts on Steam and GOG now. I thoroughly recommend it, right now, just go get it. I don't often fall so in love with a game, especially a platformer, but it's amazing.
Some you may have missed, popular articles from the last month: