We don't often get many Stealth games like 'Aragami' [Official Site, Steam, GOG], so to play this on Linux has been awesome. The game is slick, stylish and well worth your time.

Disclosure: Key provided by the developer after a GOL supporter poked the developer our way.

Linux gameplay video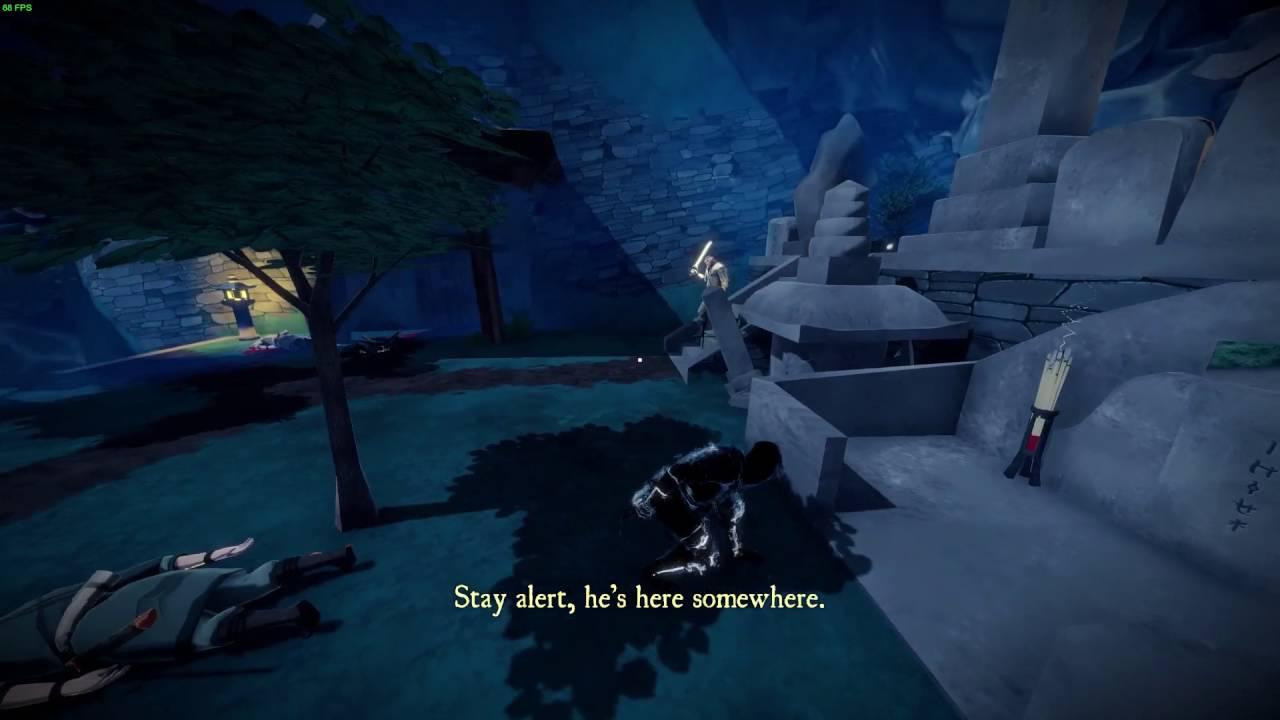 I think I need to practice my ninja skills some more...

The game has been bringing back some fond memories of the old stealth game Tenchu I played on the original Playstation. Not quite the same mind you, but no other game on Linux has really come close.

You play as an Aragami, a summoned undead spirit ninja who lurks in the shadows. Aragami is not your name, but what you are, as indicated by the initial conversation where Yamiko is happy about summing "an Aragami".

Yamiko needs help, she has been locked up and has summoned you to eventually come and rescue her. Yes, this is the time and tested rescue the locked up person story. Not the most inventive of story overall, but the gameplay more than makes up for it. I quite like the fact that the game doesn't have a big long-winded story, and focuses more on letting you just get to it. It does have some very well animated cut-scenes here are there, which really are lovely.

One of your main abilities is being able to "Shadow Leap" between shadows, but be careful as light will diminish your "Shadow Essence" reserves for this. It's best to stay in the shadows as much as possible. What's seriously cool is the minimal UI the game has, your Shadow Essence meter for example, is shown down your cape and it looks slick.

You do need to be careful about who you kill, as enemies can find dead bodies and alert their friends. Sometimes you really do need to be quick with your Shadow Leap to take out people who have become suspicious due to your activities. You have maybe 1-2 seconds before someone notices you if your ninja skills aren't very good, time enough for a quick Shadow Leap if you're quick enough on the trigger finger.

It does have a skill unlock system where finding scrolls enables you to unlock more abilities, like being able to cast your own shadows. These player made shadows don't last long, but can be useful in a hurry.

Leaping from shadow to shadow and executing soldiers of the Light has been seriously fun. Running along the top of building, jumping down on unsuspecting soldiers never gets old.

I also love the fact the crouching can be set to a toggle, rather than having to hold a button down. That's always my preferred method, as I dislike having to hold down awkward buttons to do a simple thing. That small attention to detail has made me enjoy it more, as it shows the developers have put thought into how people like to play.

The levels aren't really very big, but they are well designed to allow you enough space for experimentation. There's a number of different ways to traverse each level, going back and doing it differently has been a fun experience.

The game has online multiplayer too, but for this review I wasn't able to actually play it. The invite system doesn't seem to actually do anything for me and the person I tested it with. They set their game to public and I couldn't see it. I set mine to public, a random person joined for a split-second and then vanished. I don't think the online works too well right now. A shame, but I am sure it will get sorted, lucky it has a fantastic single-player.

The visuals are vibrant, incredible stylish and something i would expect from a bigger studio.

Lince Works have done a wonderful job on creating not just a great stealth game, but Aragami the character is such a great design too.

Performance wise I have been getting constantly over 100FPS with everything on Maximum on my Nvidia 980ti, but with Motion Blur (eww) turned off.

I think Aragami is well worth your time and money.
Some you may have missed, popular articles from the last month: