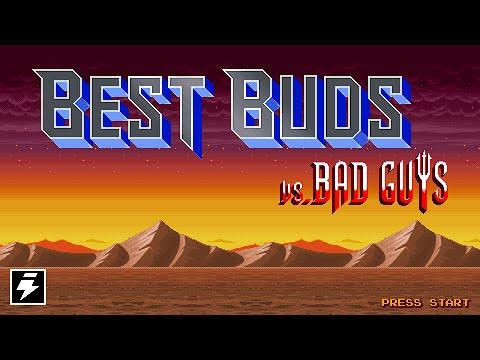 Later than I had originally hoped, but Best Buds vs Bad Guys [
Steam
,
Official Site
] has officially released for Linux. I actually Kickstarted this game, so I was hoping it would be good.
It's made by a small team of indie developers, which includes a father and son team which is what got me interested in it originally.
It does bug me a little that the Linux release was delayed, without any warning or apology. That genuinely annoys me even if it did arrive ~2 weeks later. I only backed it because of the Linux support, so I think they need to work on their communication a bit.
It
also
launched without the promised co-op support, which is a pretty daft considering it was a promised feature during the Kickstarter. I think they have rushed it to release a little too soon considering both of those points. They didn't mention it would launch without co-op either in any of their announcements.
As for the game itself, one issue I had right away was a typical Unity engine issue. I have two monitors so it used the width of both instead of one. I had to track down the preferences file and manually set my resolution. You can find it in ".config/unity3d/Super Icon Ltd/Best Buds VS/prefs'" if you also come across the issue.
I would recommend a gamepad for it, as it didn't really feel right playing it on the keyboard. I felt much more at-home with a gamepad in my hands for this one. Platformers often feel too unwieldy with a keyboard and this one is no exception. One annoying issue is that my Steam Controller turned itself off during gameplay and when I turned it back on, the game wouldn't pick it up. So if you accidentally unplug or turn off your gamepad you will need to play with the keyboard, or restart the whole game. That was damn annoying.
The gamepad keybinds are all over the place as well and it did require me to rebind half of them to get a good experience. Not sure how they managed to mess it up so badly, as I couldn't even shoot until I moved them around.
Once you get into it, you will see a game that could have been really charming. The visuals are on the retro side, but they've gone for the cleaner look and feel. Instead of everything being heavily pixelated a lot of it is quite smooth, which is rare. It actually looks pretty damn good, so they've done well in the style department.
The gameplay is on the simplistic side overall, as a lot of the time you can just duck and shoot without worrying about much. The levels are at least somewhat interesting, as it's not just a straight run and gun. You have ladders, chains and so on you can climb to access higher parts of the maps, or drains to go down a level for item pick-ups and more. There's plenty of different sections in each level, but this can be a bit confusing. It doesn't really tell you what you're supposed to be doing, as it's not about just getting to the end of the level.
It took me quite a while to figure out what I had to do and it does involve some annoying back-tracking to find missing items to progress through each level.
The simplicity does have its drawbacks at times, like when you're higher than your enemies they can shoot up at you, but you cannot shoot down at them. That one simple oversight did frustrate me quite a lot. There's also the climbing aspect, if you even lightly move the gamepad stick to the left or right while climbing you will fall right off. The controls are more than a little on the clunky side. The controls are probably the biggest letdown of the game overall and they are what make it so difficult to play to the point that I gave up with it in the end in all honesty.
The game has a lot of variety on offer, with plenty of different power-ups to find and around 100 different enemies to fight through 11 different worlds. It certainly has a good amount of content for the price. It also has big boss monsters to fight, which can be quite epic.
So far the game has frozen on me twice, which isn't bad for a new release. Still damn annoying though to have to force-kill the game each time.
Overall, it's a smooth-looking and reasonably competent action game with some interesting platforming elements and it can be a quite difficult. I love the design overall, but it just doesn't feel very polished with the issues I noted above. A diamond in the rough for sure, and with enough patches it could be really great. They really need to sort out the controls though, as they aren't very good.
Right now I won't recommend it, but I will try it again once it has some more patches to smooth it out.
Some you may have missed, popular articles from the last month: