After the BioShock Infinite SteamDB entry was found by Linux users we've been debating who's going to be behind the port and it might very well be Virtual Programming. Prepare for some speculation.
To be clear with you guys, this is an editorial, meaning that it's an opinion piece. Please treat it as such.
A Virtual Programming employee has hung around on our IRC channel from since The Witcher 2 was released. During the past few days he also participated in the conversation about the BioShock Infinite port with some cryptic comments, which seem to indicate that Virtual Programming and their eON wrapper have something to do with the Linux port.
Following screenshot is from a conversation that took place on the 7th of December at half past 5 PM Finnish time.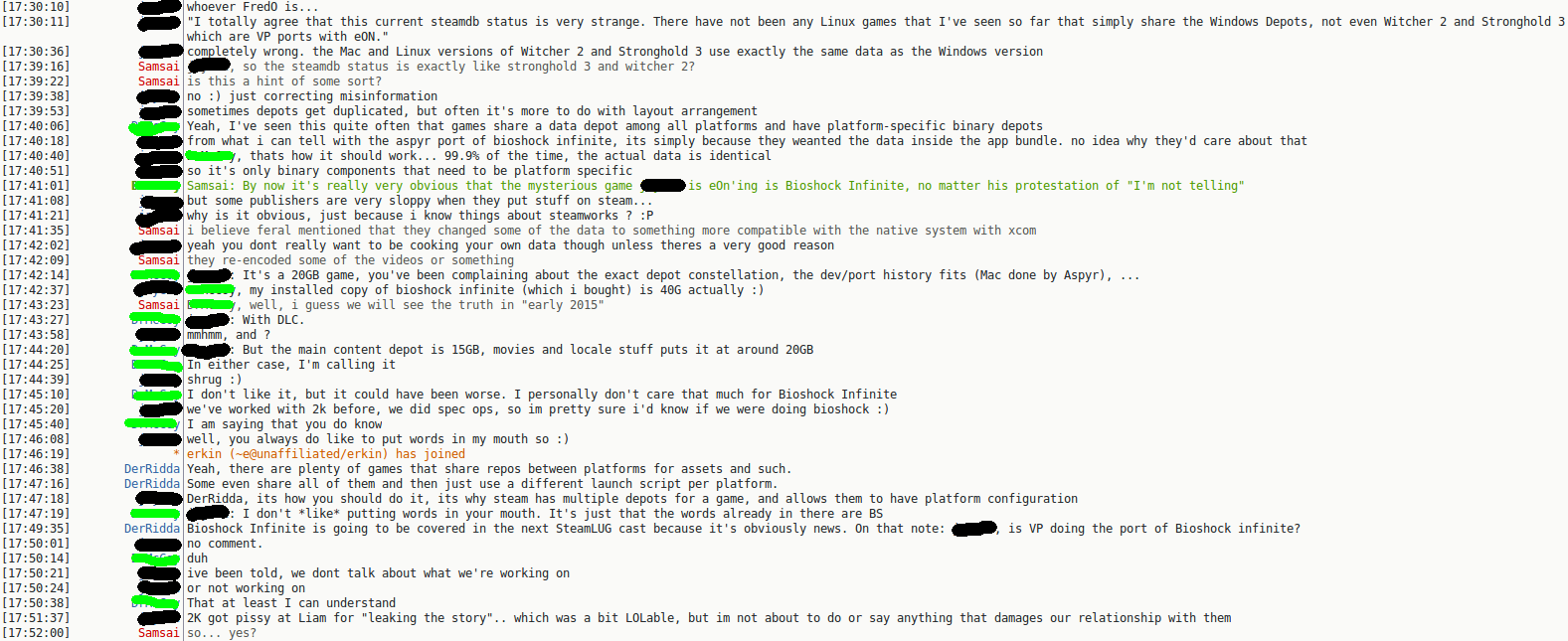 Notice: we didn't "leak the story" unlike some people seem to think. All of the information available to us regarding the BioShock Infinite port was public. We can thank SteamDB and Reddit for that.
Some of these lines seem very odd to say the least. When asked about involvement with the BioShock Infinite port the developer stuck mostly to "no comment" line with an occasional smiley in the end. That alone wouldn't say much of course but used this way "no comment" can almost be interpreted as "yes", especially if we contrast it to Aspyr Media's response regarding the port:
QuoteWhile Aspyr is working on a multitude of Linux titles right now, BioShock Infinite is not one of them. That said, this is exciting news and we are looking forward to a great title coming to a great platform.
Source
The developer also mentioned that he doesn't wish to do or say anything that would damage their relationship with 2K. This is where I got extremely suspicious. "No comment" is still an understandable answer but why would someone bring up relations to a publisher if they have nothing to do with it? He has also made numerous remarks about Steam depots and the space requirements of BioShock Infinite which would suggest that he either checks the disk space usage of games basically by random or he has recently installed the game / worked with it.
But the oddities don't end here.
A GOL user Daverball
noticed that the Steam depots for BioShock Infinite look similar to the ones for Witcher 2 and Stronghold 3, the two Linux wrapper ports Virtual Programming has done so far. Aspyr's Mac port uses a separate depot, which contains both the binary and the data while the Linux depot shares game data with the Windows build. It could be argued that sharing the game data between builds makes sense, but Aspyr (and Feral) have in the past shipped their own data alongside with the binary. I believe Feral actually re-encoded some video files of XCOM: Enemy Unknown to better suit Linux.
After the Witcher 2's rather catastrophic launch Linux gamers have been very careful with AAA ports. For example the recently released Dead Island port was a topic of debate for a short time when people suspected that the unusually large binary file might contain a hidden compatibility component and was not really a native port. The game ultimately turned out to be a native game, with the binary being inflated by debugging symbols that were, for some reason, left into the release build. But this shows the amount of distrust Witcher 2 caused when it was released in a barely playable state and even today after numerous patches to eON by Virtual Programming the game runs with bad performance for many people who have hardware configurations that exceed the requirements mentioned on Steam and GOG. Personally I have nothing against the idea of using compatibility layers such as Wine or eON to ship some games, especially older games with lost source code, but so far I haven't been all that impressed by eON's performance. And I'm not just bashing either, we've had months to test and tweak with Witcher 2 and Stronghold 3 and the performance is just objectively bad and for some people just completely unacceptable.
So, will BioShock use eON to run on Linux? I don't really know. This article is mostly just speculation and I might just very well be paranoid and completely wrong here. But I do suggest that you remain cautious about AAA ports when the person/company porting it is shrouded in mystery. In this day and age broken ports are not rare and the "buy it before it's out" mentality seems to be going strong.
What are your predictions of the port? Will it use eON and most importantly, will it matter if it does?
Some you may have missed, popular articles from the last month: