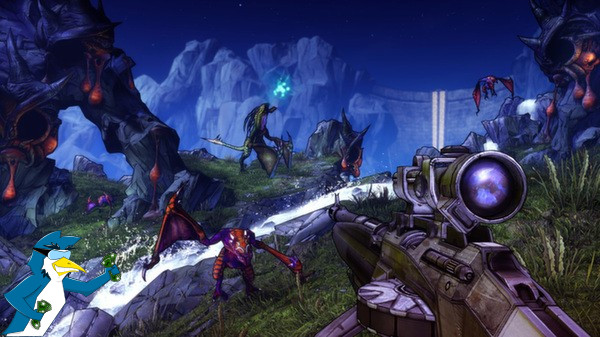 The day has landed folks. Borderlands 2 is now officially available for Linux and it brings us some excellent FPS action.
Courtesy of our friends at Aspyr Media the new port may have a few rough edges (what new port doesn't?), but it's a really great game to have on our platform. The game is also on sale, so there's never been a better time to pickup a copy, or if you already owned it
be sure to grab some DLC to show your support
.
Getting games like this shows the strength of our platform, and shows that Gearbox and Aspyr Media both see some sort of gaming future for Linux. We did
interview Aspyr Media back in July
, so check that out if you haven't already.
I still find it amusing that the head of Gearbox told us
not to get our hopes up
, and this was going on behind the scenes. When I asked Aspyr about it, they had this to say:
Michael Blair, Aspyr MediaYou know its funny because we just happened to approach 2K/Gearbox about the project right after Randy made those comments and have been working on the port since. We hope we made Gearbox proud with our effort. They are amazing to work with, and we are HUGE fans of their work.
We also spoke to Aspyr Media about how the port went and what they expect from the Borderlands 2 on Linux:
Michael Blair, Aspyr MediaWe are SUPER excited to bring this much beloved franchise to Linux and hope that we continue to meet expectations from the unbelievably supportive Linux gaming community.

This port was challenging, for sure. Performance was at the core of our efforts and while ATI and Intel didn't make the cut for release, we continue to work on performance for those chipsets and hope to come to a level of performance we can stand behind as gamers in the near future.
Important Note
It is currently
only
supporting Nvidia graphics cards as it seems the Intel and AMD graphics chips don't give enough performance, but this isn't an issue on Mac. Looks like another driver issue. Would this be a good time to gloat that I use Nvidia? Of course it is! Woo!
In all seriousness though I sincerely hope AMD & Intel put out a quick fixed up drivers to enable all Linux gamers to have a decent experience.
Where do I buy it already?!
Also
GameAgent.com
which is run by Aspyr Media now supports Linux, so you can support Aspyr directly without Steam taking a cut if that's your thing. Seems like a great way to support the developer directly, and you get Steam keys of course. It was something Linux users requested, so they made it happen.
If you don't want to buy Borderlands 2 from
GameAgent
then grab
Borderlands 2 on Steam
. Can't see a reason not to support Aspyr Media directly though.
For this release Aspyr will of course realise there will be a lot of cross-over from people who used Windows/Wine, so this is why it's important to pick up a few DLC packs to not only give Aspyr some income, but to show them we are a market worth continuing and I cannot stress that enough.
I've played a fair bit of it already and absolutely love it. I already loved the Borderlands series of games after playing the first game years ago, but having Borderlands 2 on Linux is pure gold gaming.
The visuals are excellent and the game-play gets really frantic. Any shooter fans will be in heaven with it.
Be sure to let us know how you find it in our comments. This is going to steal a lot of my time away, now if you'll excuse me I have some loot to find and some bandits to annihilate.
Some you may have missed, popular articles from the last month: