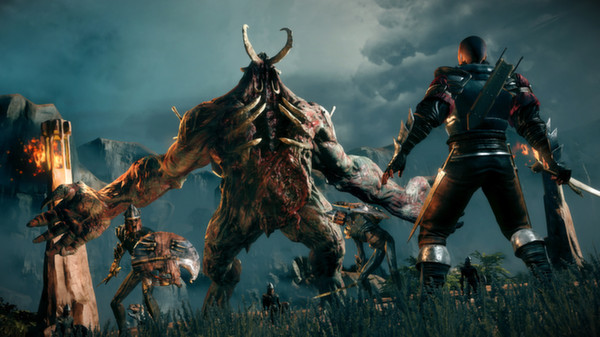 Great news,
Bound By Flame
an interesting looking action RPG from developer Spiders and publisher Focus Home Interactive. I asked for a port in 2014, and now it's here!
Always fun to see an old port request thread on Steam revived,
especially when it's created by me
. Not claiming I had a hand in it or anything, but it's great. Times sure do change, I don't do any posts like that anymore.
It's 80% off until Monday, at £3.99 it was an easy purchase for me.
The good news is it states it supports both AMD and Nvidia GPU's, so hopefully it works well on both.
Some initial thoughts
I must say, I never actually expect them to port this. It was a complete surprise, and I haven't really heard anything since it popped up on SteamDB back in July.
Issues
If you have more than one monitor like me, prepare for an annoyance. Like many games (sigh!), it will load up on one monitor with half of the screen cut off. This is due to it picking the resolution of both monitors. You can find the config file in your home in the BoundByFlame folder it created (also annoying). You can set it to 1920x1080 or whatever you want, but this will get reset when you load up the game.
Even setting it to windowed mode, this is then reset eventually and the game will again go into fullscreen at both monitors width as my resolution, cutting off the screen.
I turned off my second monitor, tried again, all the same issues. It's like their config file is for show.
I managed somehow to get it to change resolution, and i alt+tab to find it changed my desktop to the same low resolution...this is not going well.
Eventually, I was able to force it into windowed mode by use of black magic, frustrating guesswork with key-presses and my tears.
To be frank, their game is utterly broken with more than one monitor.
I have emailed them, and tweeted to them. So hopefully someone will take notice.
More issues
The game will not pickup your gamepad automatically, I had to go into the settings and manually select gamepad or else on the on-screen prompts were for mouse and keyboard. It kept switching back to keyboard too, but it seems changing it in the main menu made it stay on gamepad controls.
The initial keyboard setup is terrible, you will have to rebind your keys. Move forward with Z, what? WASD or get out.
Performance
- Take it with a bag of salt, as I am testing with an Nvidia 970.
I couldn't test at 1080p, as apparently that resolution doesn't exist in their options menu if you have more than one monitor, but testing it on the next one available with all settings on highest, I didn't encounter even the slightest stutter. As far as performance goes it seems to be a really great port.
Gameplay
I've now played 117 minutes according to Steam, so take my findings on it what you will.
It's very much geared towards the combat, as the dialogue is quite terrible and the plot seems to be a little predictable. The voice over is a bit jarring at times, but bearable.
I actually quite like the combat if I'm going to be honest, it's a good bit of button bashing. You have two different stances you can switch between at any time, each has it's upsides and downsides. You can go heavy and slow with a sword, or quick and light with your daggers.
I really like the use of slow motion here and there during certain bits of the combat, it looks good and it's quite exciting. I can easily see the novelty of it wearing off though. The combat does get a little awkward when there's multiple enemies around, and you can only parry in certain directions which you need to pick as a skill when levelling up.
What does let it down a bit (in addition to the terrible dialogue), are the character models, which in comparison to the demons look rather bad. The demon enemies do look good though, the first boss in particular I think looks fantastic.
There's some noticeable graphics issues with feet and such going through the floor at times, nothing game-breaking, but it looks dumb.
Also the camera, oh dear the camera. For some reason the camera will zoom in and out of its own free will at times, leaving me at a distance from the action. Quite weird.
Final thoughts
: If you like action-orientated RPG games, for the current price it's pretty much a no-brainer for me. I wouldn't dream of buying this particular title personally at full price after playing it, so I can only recommend it at the current price.
I can see myself playing it in small blasts, but it's not a game I can see myself spending tons of time in at once. It feels quite shallow due to the dialogue, small skill selection and slightly awkward combat.
About the game
You are a mercenary possessed by a flame demon in a desperate world ravaged by seven Ice Lords and their Dead-Army.
In this RPG where all your choices lead to consequences, you will have to choose between unleashing the powers of the beast within and rejecting the demonic influence that wants to claim your humanity.
Freely develop your abilities and combat style through three skill trees: swing the heavy weapons of the Fighter, wield the sneaky dual daggers of the Ranger, or use the devastating flame spells of the Pyromancer.
Recruit companions who will live, love, hate and fight alongside you against the dreadful creatures of Vertiel, in real-time epic battles based on tactics and reaction.
The bigger the danger, the greater the temptation to draw on the demon's power at the cost of your soul… which way will YOU choose?
I will be
livestreaming it here
, so be sure to come say hello.
Some you may have missed, popular articles from the last month: