Honestly, Broforce is a ridiculously good time for all involved while playing it. It just got a decent performance patch too.
Previously, some levels would take a while to load and it might seem like it had crashed—no more! Loading time for all modes has been drastically improved, as has overall performance of the game. They've also managed to iron out some of the lagging issues with their networking implementation. I tested it myself and indeed, it's a vast improvement.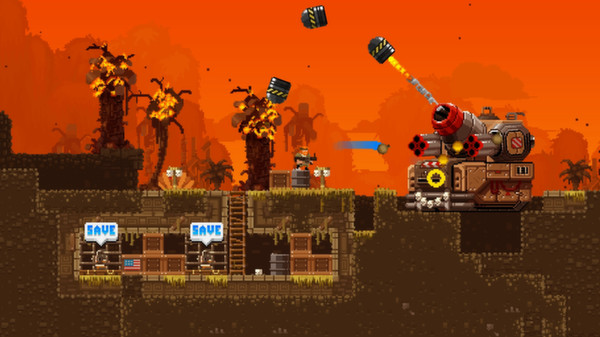 The developers also did a pass on the user interface, to fix multiple annoyances to make it a better game. There's also plenty of bug fixes.
Broforce is a game that firmly put action platformers back on my radar, at a time when I was getting a bit tired of the genre it gave me a renewed love for them. The mix of action hero parody characters, explosion everywhere along with destructible terrain and some levels inspired by the Alien series of films—there's a huge amount to enjoy.
Need more reasons? How about local and online co-op, where it becomes absolute madness. We had a huge amount of fun with it in the past, where "Oh god, everyone's dead, what just happened?" would be a regular thing, but it was truly hilarious.
This is a rare game where I would happily buy up multiple expansions for more missions and more characters, it's just that damn good.
You can pick it up on Humble Store, where it's currently 75% off. So what are you waiting for, bro? Also GOG and Steam directly, can't check if GOG have the patch yet as I don't own it there.
Some you may have missed, popular articles from the last month: