After years of work, indie developer Simon Roth has officially released his sci-fi colony building sim Maia. I've been playing a lot of it, so here's some thoughts. Do note, these thoughts were with a pre-release build which had some issues.
Maia is a strange and hostile alien world, toxic to humans, yet lush with new life. Your mission is to colonise this poison eden, survive it's dangers and establish humanity's first foothold in the stars. Created by independent developer Simon Roth, Maia is a space colony simulation game about surviving and thriving on another world.
After being in Early Access since December 2013, Maia has gone through a lot of changes. I always felt like it was a bit of a diamond in the rough as there were so many things about to love, but it was always plagued by issues that annoyed me. Thankfully, most of those issues have been sorted over time as Roth hacked away at the code.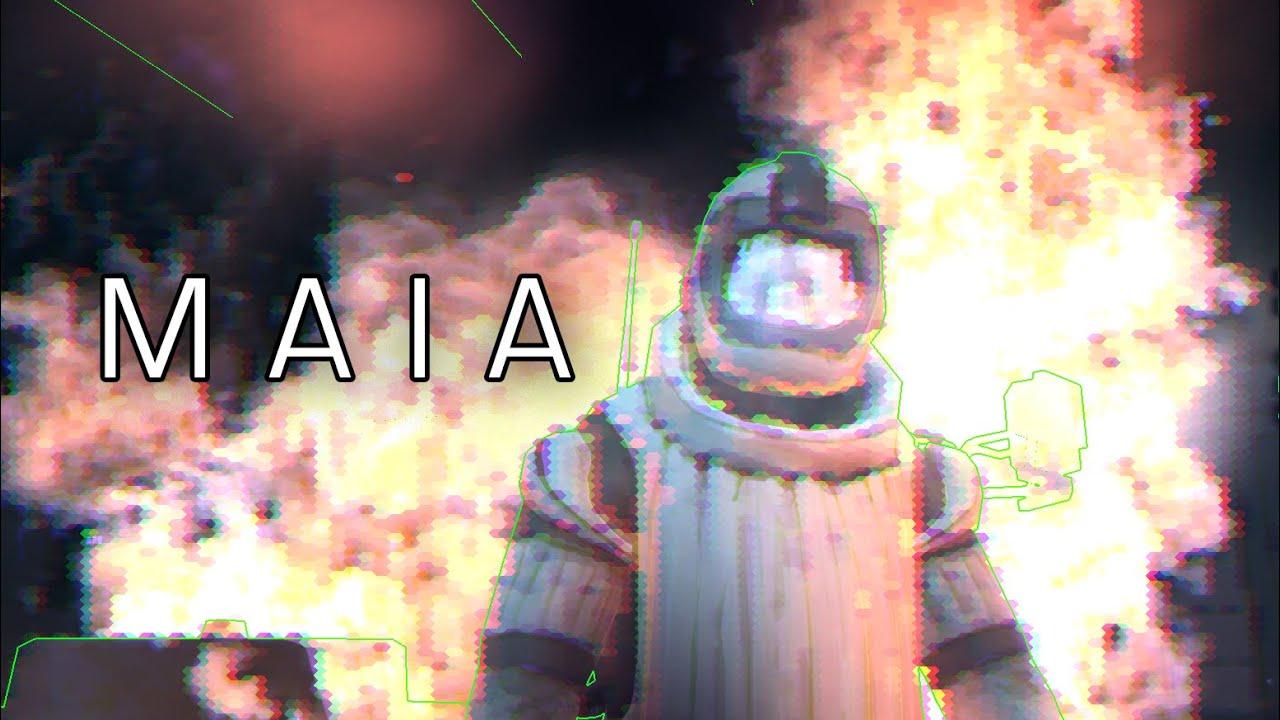 It's a hard sci-fi game, meaning a lot of it is actually based on scientific accuracy. You need to deal with generating an oxygen supply, heat, grow food, solar flares will disrupt energy generation, earthquakes will cave in sections you've carved out and much more. It can be a pretty unforgiving game, you can lose colonists quite easily and so it does require your absolute attention.
For me, the draw towards Maia is the style to it more than anything. The retro futuristic look reminds me of Aliens, one of my all time favourite films. It's not just that, the atmosphere is really quite impressive. British humour aside, the sound effects give it a rather eerie feeling not really found in other games of this type. If I was giving it marks, it would get 10/10 for the atmosphere and overall game feel.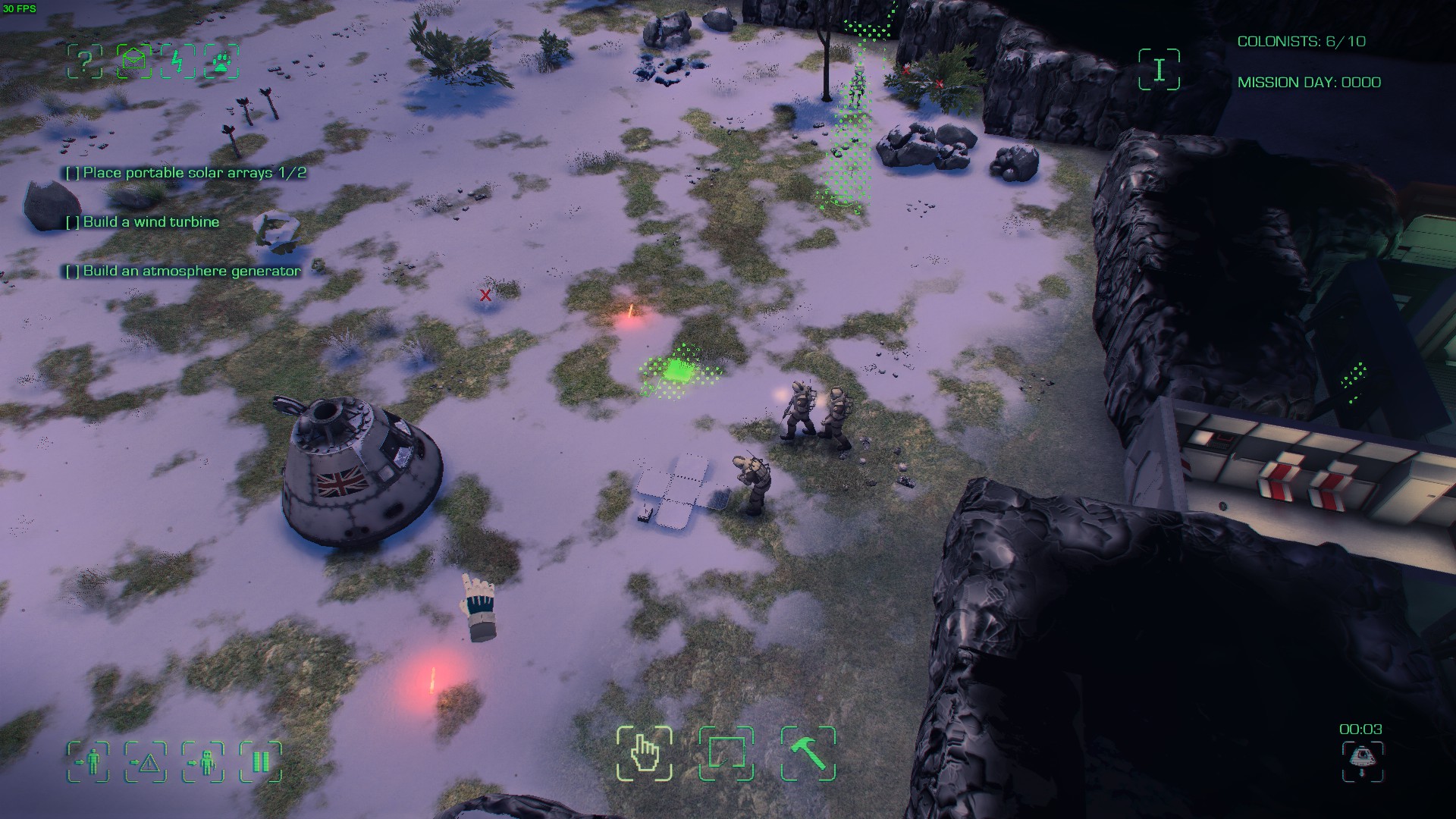 The full release comes with a full story driven campaign, which is several hours long. On top of that, there's also the exploration mode which lets you do whatever you want. Not a creative mode though, it's more for those who don't want to be confined by the missions and just see how long they can survive.
What makes it difficult, is the game will really screw with you. While digging out to build new rooms, you might come across destructive lava which can spread through your base. I was damn lucky though, during even the first mission that exact situation happened to me. Thankfully, only my IMP robot was near and it seemed to only be a small pool. I would have taken a screenshot, but the lava rendering on the pre-release build was a little, err, broken. Anyway, dealing with lava isn't overly difficult if you have a couple bulkhead doors in place, I've learned to space out each room connected with pathways so that such situations don't end up ruining multiple rooms.
You do also need to study what everyone is doing, the statistics of each room, people's vital signs and so on individually. Unlike a lot of games, Maia isn't one to throw lots of information at you. Instead, it relies on you taking a closer look and inspecting it all yourself directly, as if you're more than just a floating camera being spoonfed information.
Alien creatures might see your colonists as a tasty meal too, so they may begin to migrate towards your base. It pays to be prepared of course, with your colonists able to fight back although it's a much better idea to build some turrets. Always a bit of a shock when you hear them firing off some rounds.
There's also fire, so much damn fire: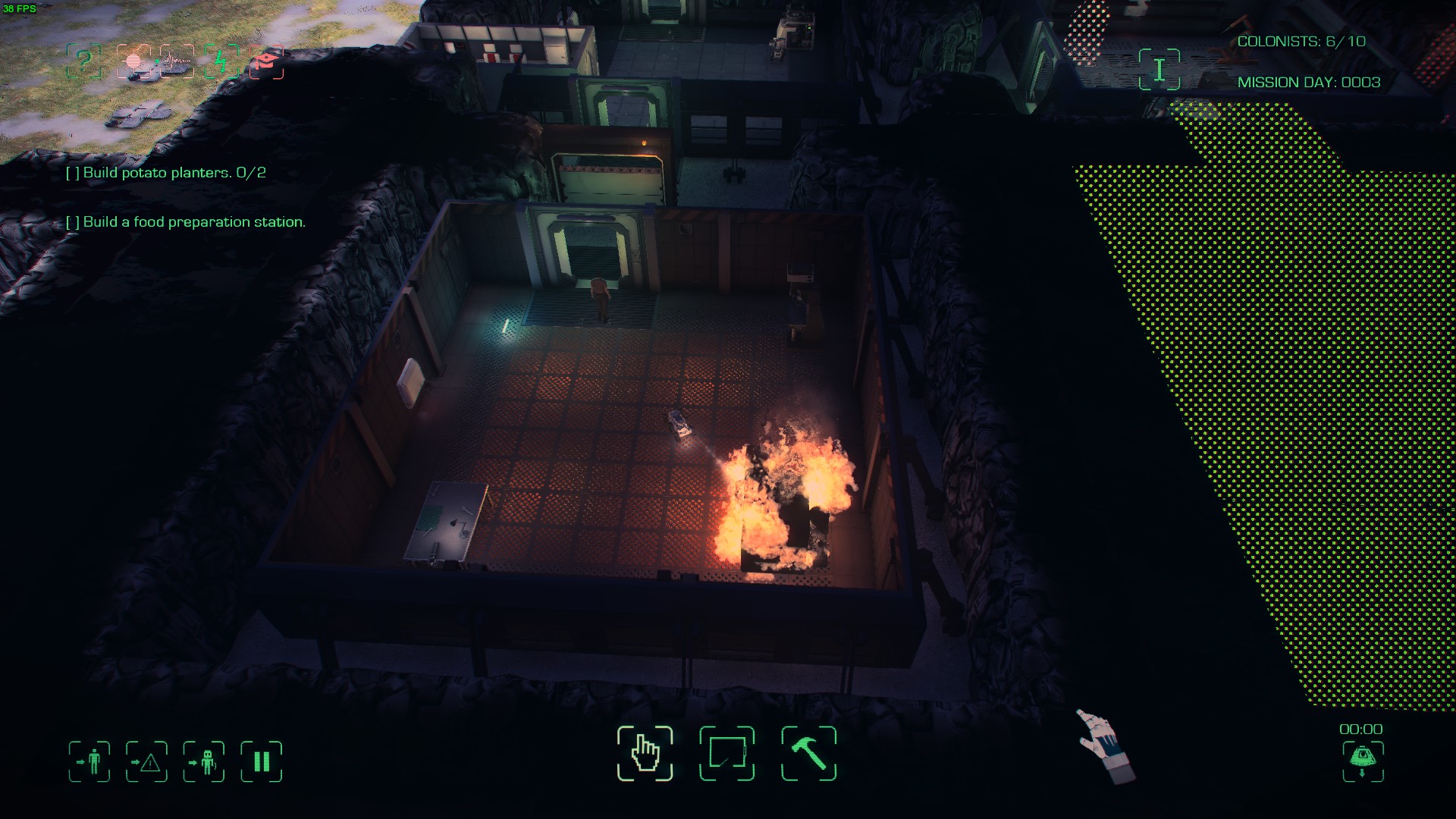 The amount of actual simulation going is is quite nuts. The tutorials really are a must if you don't want to get overly frustrated with it. Things that might be simple in other games of this sort, just aren't. That's not a bad thing, as always every game is different. Things will get dirty, requiring a robot to come along and polish the floors. IMP robots will get cranky and start kicking things, they might also send you threatening messages when they're bored enough which was a little hilarious.
A little favourite feature of mine, are the wall displays you can build. They can give you a real-time indicator of what each room needs, it's very clever. It's little touches like this, that make me really appreciate the detail put into the game: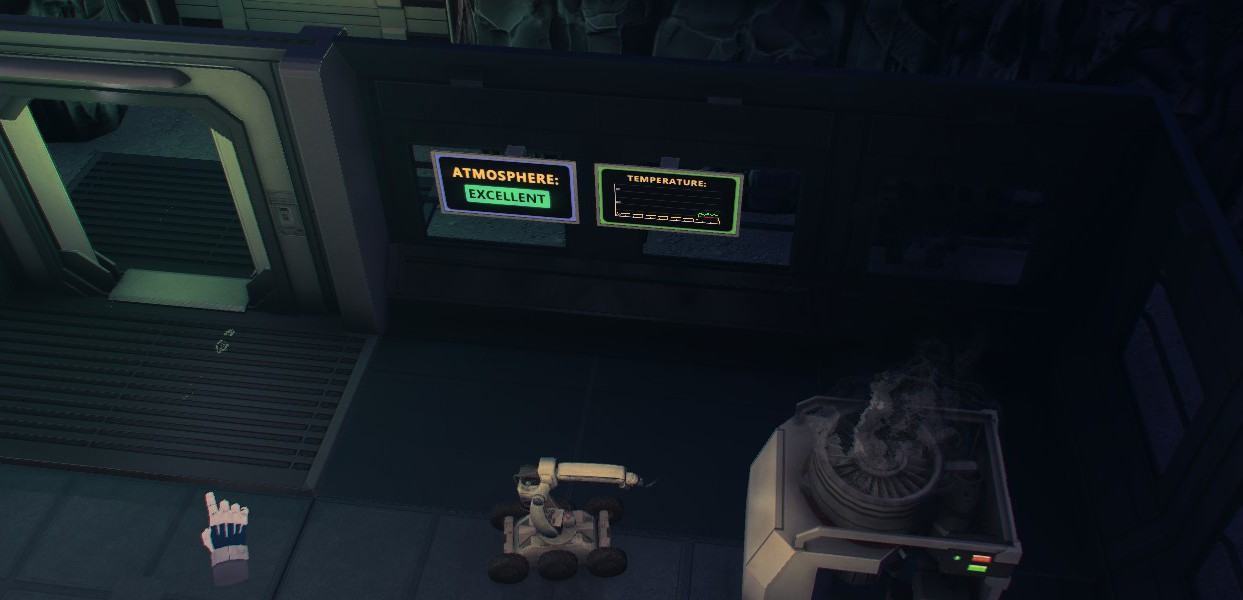 It does still to this day have some issues I take with it. Firstly, for a colony builder you really don't get to see a lot. I've mentioned this many times and I will again, it needs to let you pull the camera back more and get a decent overview of your colony. Practically every other sim of this sort lets you. There's a reason for this too, getting a view of your colony is more than just for show, it helps you plan your next moves. That's a pretty minor issue though, I will admit.
Performance does thankfully seem better than before, even with 2xMSAA turned on it no longer seems to lock the FPS down like it used to. It's a lot smoother, although there are some big drops during certain weather effects when scrolling the camera around the surface outside of your colony. I've seen it drop hard down to 30FPS and below when doing that.
My biggest issue is still with the AI. It can still be a bit of a problem even now. I've reported numerous issues to the developer so hopefully most of them are easy to solve. Overall though, it's a vastly improved game to even a month or so ago and it is quite interesting to play but still a little rough.
Post release, it should get some free content patches. I'm interested to see how much further Roth will take it.
You can find it on the Official Website, Steam and itch.io.
Some you may have missed, popular articles from the last month: