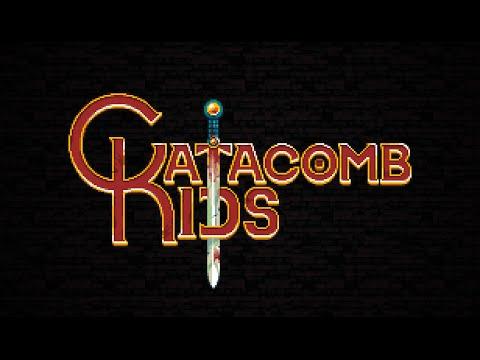 Catacomb Kids is something I've been meaning to try for a while, so I bit the bullet and loaded it up. What I found was quite charming, and deadly.
About the game
Catacomb Kids is a procedurally generated platformer, with an equal emphasis on quick reactions, tactical engagement, and strategic character growth. Wield swords, spears, axes, and daggers -- unleash powerful magicks to burn, freeze and poison foes with -- overcome traps and beasts both deadly and unrelenting.
The game is streamlined but not "simple", featuring a system where basic elements interact to create complex outcomes and stories. Lure monsters into combat with one another or take advantage of environmental hazards to trick your foes into their own bloody demise. The world is your crafting space, allowing you to create new items and tools from within the game-space itself, never needing to farm materials or navigate a menu to demonstrate your cleverness.
My thoughts
It's an Early Access game, and it does have a few issues here and there, but wow, It really did surprise me.
It's as brutal as it gets, but it's also quite hilarious. On my first run of a dungeon I picked up a skull, and threw it at a torch. That torch then smashed and set fire to two slimey looking creatures, and it was freakishly awesome. It was totally unexpected that the torch would shatter and set things alight, but it did, and I was pretty amused.
My first run quickly ended when I fell onto some spikes, ouch. Spikes are done a little differently in Catacomb Kids, as they only hurt you if you fall on them, instead of being an impassable object. I rather like that, it makes them more interesting.
My second run ended even faster, as I did a power jump and landed on something that went "click", and shortly after something fell down and squished me into the floor—damn.
I think the fun factor is amplified by the fact that the characters are randomly generated as well as the dungeon. Each time you go to pick a new character, they have different attributes, weapons and styles.
Watching enemies fight between themselves is also amusing, and another reason why even the dark dungeons feel like they're teeming with life. I followed a creepy crawly down a corridor, and it fell into a pit that contained some sort of ogre. That ogre decided to squish it, jump out of the pit it was in, and then squish me.
Remember that trap that went "click" I spoke of earlier? Well my fifth run ended with me dodging one, and stepping onto another—bloody hell!
Final thoughts
: For a procedurally generated roguelike it's weirdly charming, and I think a lot of you will like it.
Check out
Catacomb Kids on Itch.io
—it's DRM free! It's also on
Steam
if that's your thing. Be warned though, it's Early Access.
Some you may have missed, popular articles from the last month: