AMD have released a new driver for their GPUs and because I happen to own one I decided to do a test run with it by running my standard set of benchmarks to see what improvements, if any, there are.
First of all, Catalyst 15.9 fixes a problem that existed in 15.7 which was the inability to install the driver after a kernel update in Ubuntu 15.04. That means that 15.9 is now installable on such systems without extensive patching. This is definitely a very good thing, since something like a GPU driver shouldn't be a preventing factor for kernel security updates. It apparently still doesn't work with the brand new 4.x series kernels but I'm quite happy with my 3.19 at the moment.
Let's talk about raw performance next. To be entirely honest with you, there isn't really all that much to talk about, as you might see from the following graphs.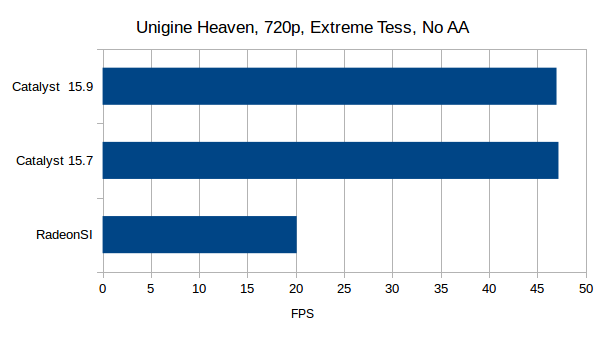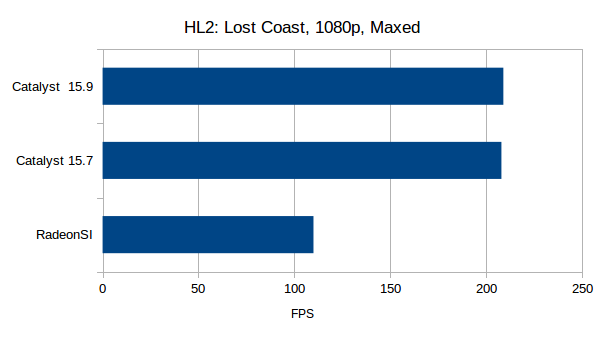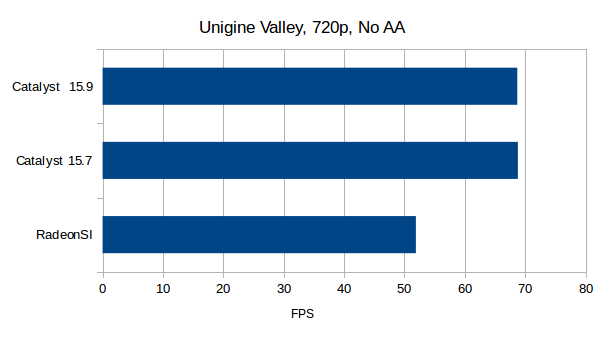 As you can see, 15.9 doesn't really offer any performance improvement in this set of benchmarks. I also ran a Dirt: Showdown test which also saw no improvement in performance. The changelist for 15.9 notes two fixes for Dirt: Showdown, one for corruption and one for a crash, but neither of these changes affected the overall performance. Also, keep in mind that Dirt: Showdown's benchmark mode is not scientifically accurate, since there is always a little bit of a visual variance between runs.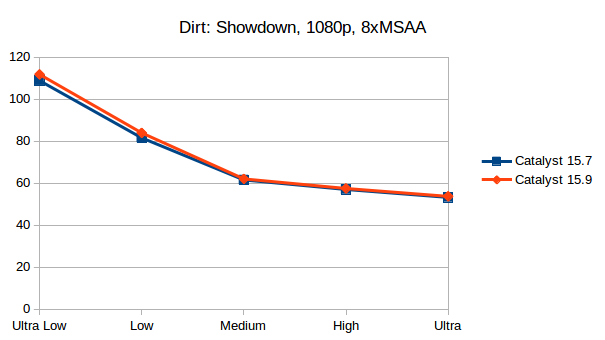 The changelog also mentioned Counter-Strike: Global Offensive. On Catalyst that game has performed relatively poorly (as in, a lot slower than Nvidia blob) and this patch apparently creates an optimization profile for CS:GO. I haven't been able to collect any hard information about CS:GO's performance on 15.7 and I don't have any concrete data now. But a quick Arms Race match on the map Monastery showed a framerate between 80 and 120 FPS.
I also quickly tried Shadow of Mordor and Company of Heroes 2, both of which have been particularly troublesome on AMD. Sadly, neither has improved performance. The patch notes say that COH2 shouldn't crash anymore, but my whole system went down when attempting to run the performance test, so I can't really agree with AMD here. Some Shadow of Mordor corruption has allegedly been fixed but the performance is still as poor as it was previously.
Overall, Catalyst 15.9 doesn't really bring anything too interesting. The most positive thing I can say about it is that it works. The fact that it works can be something quite big for those that are on 15.04 like myself, but don't expect massive performance improvements in anything but possibly CS:GO.
Some you may have missed, popular articles from the last month: