The rather atmospheric game Dark Echo was released last week. With its minimalist graphics and simple gameplay, it stands out from other recent releases. After giving it a spin, I had a few thoughts to share on the game.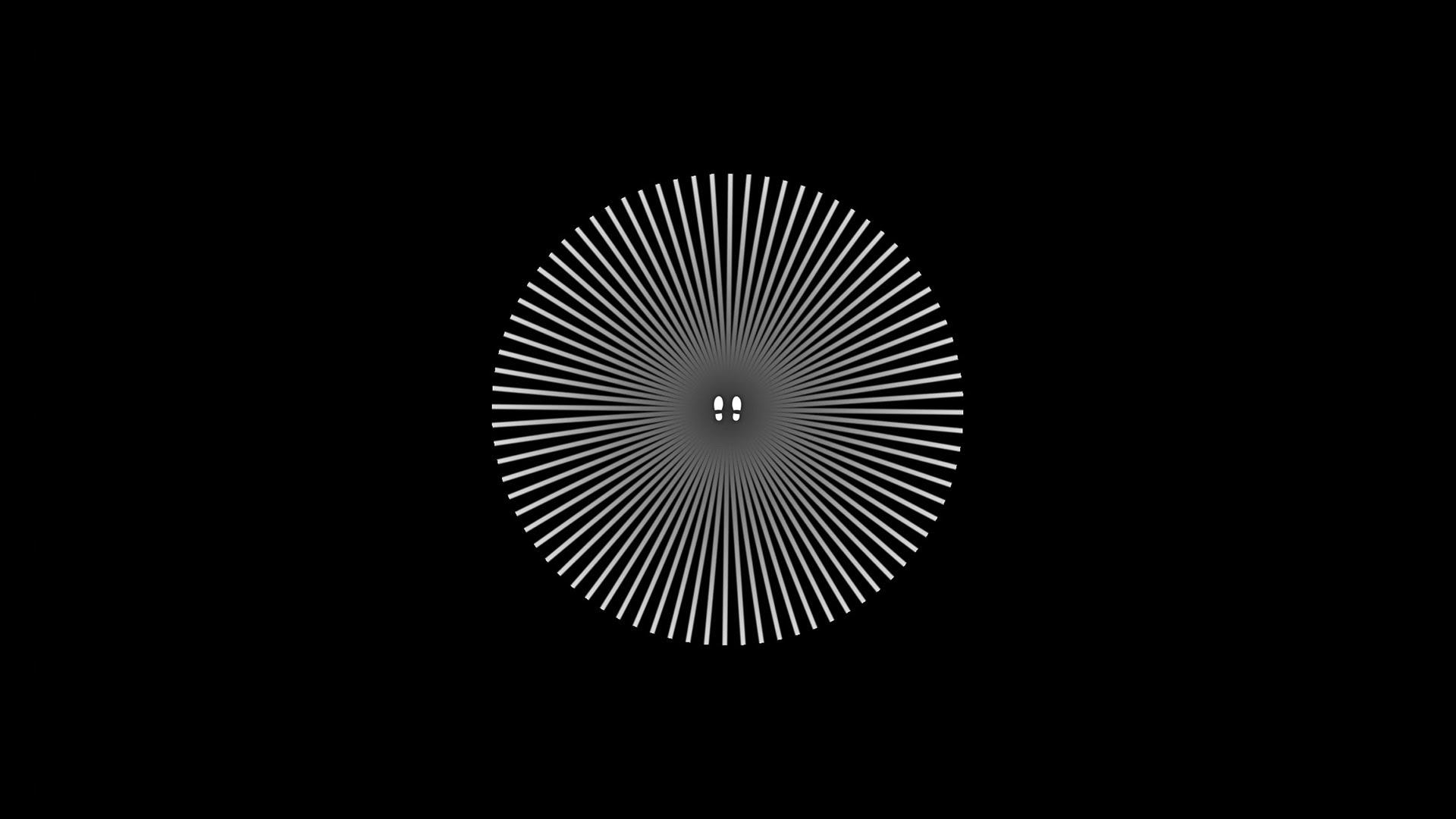 Dark Echo is a very simple game at heart. The player must find the exit to each stage while avoiding danger. What makes the game interesting, however, is how this struggle is presented. Most of the game world is presented as blank space with indefinite shape until a source of sound breaks the tranquility. Sound waves emanate from every noisy action, spilling out from the epicenter in every direction and bouncing around until they completely dissipate. It's with this visualization of sound that the player is able to assess the world around him; generally enemies and danger are red lines, water blue, and the noise the player makes is represented by white.
Making noise is about as important as not making noise. By moving quickly, clapping hands or throwing a stone the player can generate waves to help him see the world and to distract enemies. As sound bounces off walls, it creates a temporary image of what the current space the player is in is like. And by moving slowly and avoiding making noise players can sneak by ravenous beasts and slink away towards the exit. Of course, to successfully complete most stages, players need to know when to be noisy and when to be quiet. A thrown stone can distract a creature that's about to kill you, which in turn gives you time to walk slowly away without being noticed.
I went into the game a little skeptical of its premise but soon found that it all worked rather well. Level design is clever and each new level introduces a new challenge or feature to be concerned about. The difficulty is reasonable and the few times I died I was able to learn quickly from my mistakes. What struck me the most was how efficiently the game was able to manipulate my expectations, especially in light of its design minimalism. More than once I felt a rush of adrenaline as I barely made it to the level exit with a creature mere pixels away from killing me or when I avoided a trap by an equally small distance. I didn't really expect that from a puzzle game at all.
Sadly, just as I was getting into the groove of things, the game was over. It took me little over an hour to beat the game. That doesn't include tracking down the hidden collectibles in some stages, I only found two out of fifteen total. After the first set of stages was complete, a hard mode was unlocked: it was the same 40 stages I had beat except with more enemies and a couple of reworked details. In some cases the feel and flow of a stage have been radically altered and so player strategies have to be revised drastically. Sure it's extra content but it wasn't unique enough to keep me playing for another hour straight. But maybe that's for the best: Dark Echo seems like a game best played casually for a few minutes here and there every once in a while.
The game ran with no incident and even picked up my gamepad right away. I ended up playing mostly on the keyboard and I can't really complain about how the game controls. Performance was flawless and with its very modest minimum requirements, I expect the game runs well on nearly any current hardware.
With its very low price point, Dark Echo ought to be tempting to anyone who enjoys puzzles and adventure. The cleverness of the simplicity of design is well worth experiencing. In a weird way, I was reminded of Zork and text-based games while playing this. My imagination had to fill in the blanks of my dark environs and so I liked to think that I had been eaten by a grue (represented by a series of small red lines in-game) whenever a monster caught up to me. Gamers with less of an imagination or looking for something with more content are probably better off looking for something else to spend their time with.
You can grab Dark Echo on
Steam
.
Some you may have missed, popular articles from the last month: