Valve attended the Unite Europe conference and did a talk about Steam and updates that are to come. Here's the full video!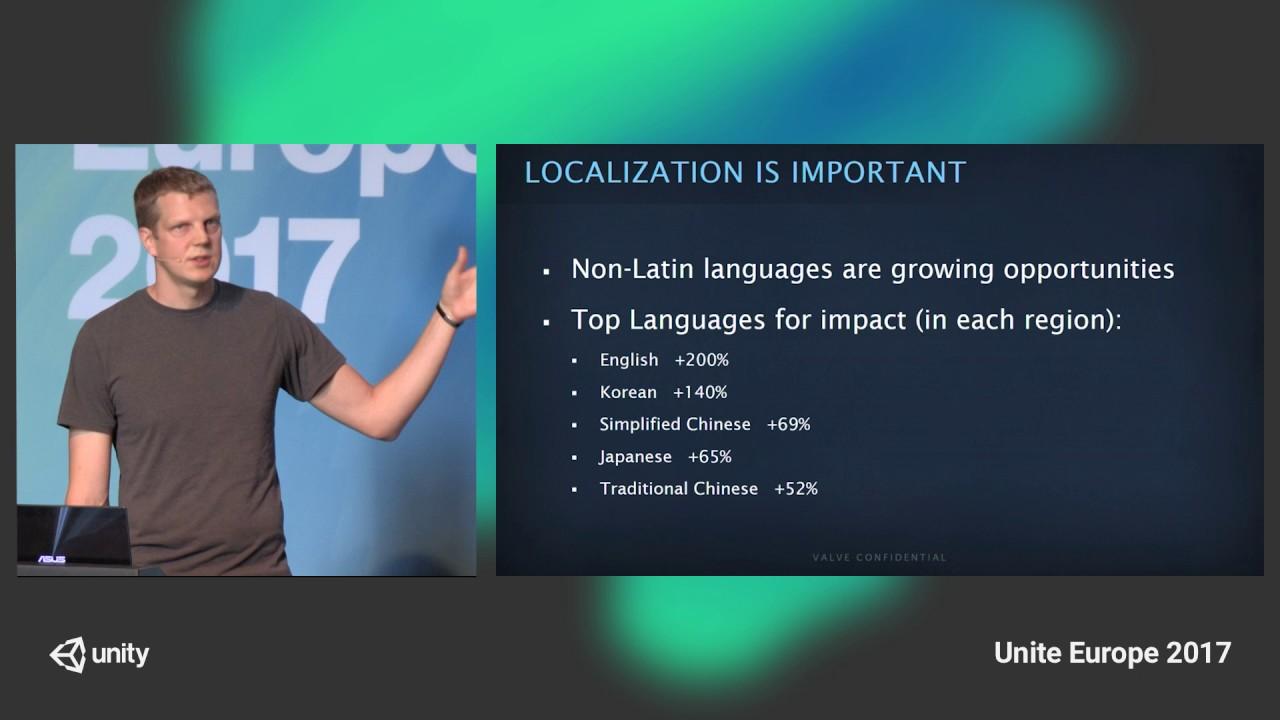 It covers some of the same information Valve presented at Indigo 2017, which
I wrote about previously here
. It also covers some information they've previously announced on Steam too, but I will go over some of the main points again.
It's pretty crazy really, that they see around 1.5 million
new
people purchasing games every month, that's a pretty healthy amount of growth. They also touch on how Steam has grown in different markets, with western markets like Europe and North America not being as big as they used to be, with Asia taking a much bigger slice of the pie. However, they note again that the overall size of the user-base on Steam is larger as well.
If you want to hear about upcoming updates to the store, skip to 13:30. They don't actually show any pictures of what's to come, so it's a little difficult to get an idea of what they will be doing. They also touch on Steam Client updates later on around 21:50 which will include a "major redesign of the Steam Client", which they said they know is long overdue. The new Library and Game Launch Page sound like they will see the biggest changes, with much more content shown to the user. Hopefully this will also include support for scaling, since the Steam Client is currently terrible for high resolution displays.
They talked about connecting the right customers to the right games, they want to have it where people at Valve aren't dictating what games show to what customers. So they are working on expanding the customization options of the store itself, along with a re-write of their automatic recommendations system.
Game discovery seems like it will be more influenced by Steam Curators more in future (15:25 in the video), with them integrating curators into more parts of Steam. They will allow Curators to make lists, so we could do a "top 10 horror games on Linux" type of thing in future on our Curator page (
see ours here
).
Developers will be able to search for curators, send games directly to curators and authenticate who they are through Youtube, Facebook, Twitter etc. It sounds like Curators will possibly need to verify their groups/curator page through social networks to further prove who they are, which can help cut down on minor curators trying to impersonate being bigger than they are for free keys.
The Steam Events system is also going through an overhaul (20:20), so developers can better announce what they're doing like 'play with the developers', live streams, major updates and so on. Apparently the system is a little bit buried for developers right now, so they're making a centralised calendar so gamers can see all events coming up for specific games.
Lastly, they do a Q&A session at the end which starts around 26:55. The most interesting answer was about Steam Direct and the fee involved. I have to agree with Valve, that the current low fee is probably the right way to do it. They said it themselves they were often surprised by some of the titles in Greenlight, so a higher fee would lock out some potentially innovative games. Hopefully the new adjustments to the recommendations system (along with including curators more) can counter a possible increase in titles releasing, to make sure people see titles they want that get released.
There's a lot crammed into the video, I do suggest watching it if interested.
Some you may have missed, popular articles from the last month: