Cities: Skylines [
Steam
] gets bigger again, as Mass Transit [
Steam
] is now out with slick new transport options. I had advance access and have some thoughts to share.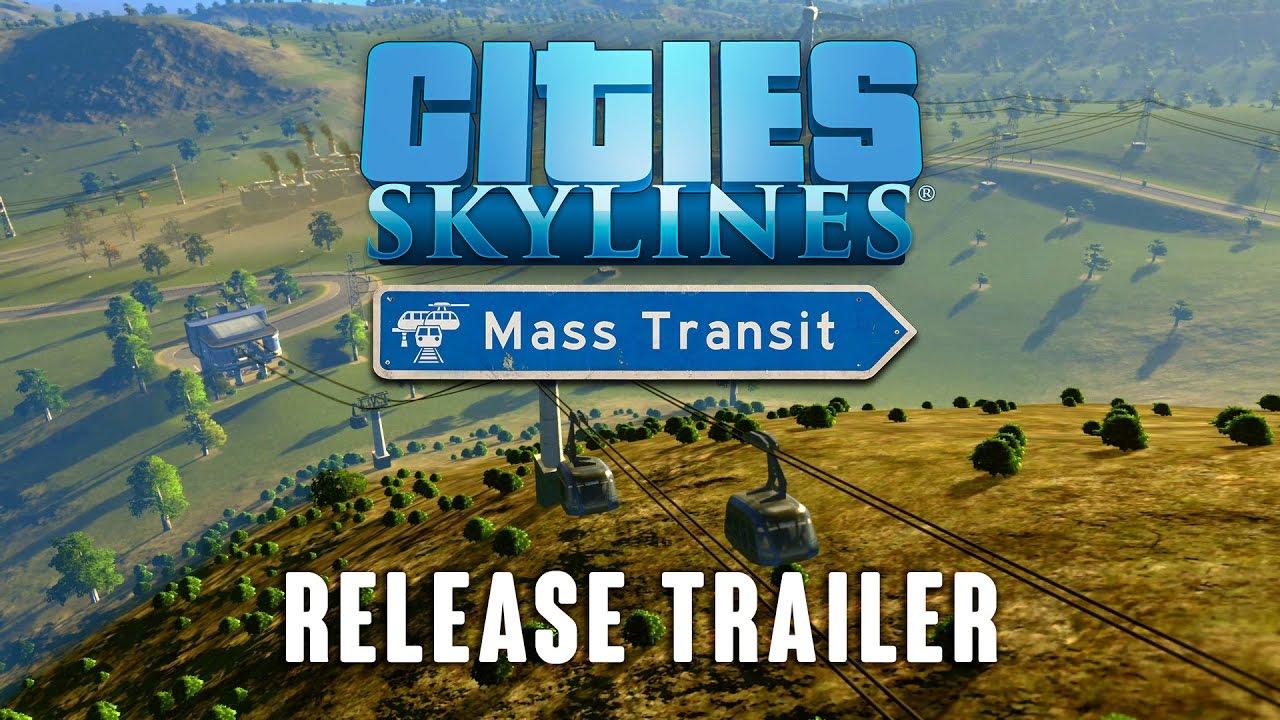 As usual, my contacts at Paradox gave me advanced access to be able to tinker with it. Paradox are fantastic at supporting the community and they do publish some great games like this.
I won't be going massively in depth with this article, since the basics of the game haven't really changed and it's a game that can take a long time to really get through. Part of the issue is my city planning is a bit, well, rubbish. But what I was able to do, was fantastic. My first few proper attempts ended up spiraling into debt. I'm apparently not very good at building a Strong & Stable economy (I hope my fellow British readers get the joke there).
Once I finally had a flourishing economy, I thought this review was going to go smoothly, but no. I then had mass sickness, my hospitals couldn't keep up and everyone was dying or leaving. Turns out the pollution from my sewage plant had slowly crept upstream so I had to build a new water pumping station further away. Then my water pump was sucking the river dry and everything was going wrong. It was really amusing looking back on all my planning issues. It was such a great experience to get everything right.
Cities: Skylines was a fantastic game even when it first came out without any of this sparkly new DLC content, but expansions like this really do help to finish up the experience.
Mass Transit adds in ferries, blimps, cable cars, monorails and more new options to continue building up massive cities. There's also a special transit hub that connects multiple types of transport together, to allow passengers to switch between them.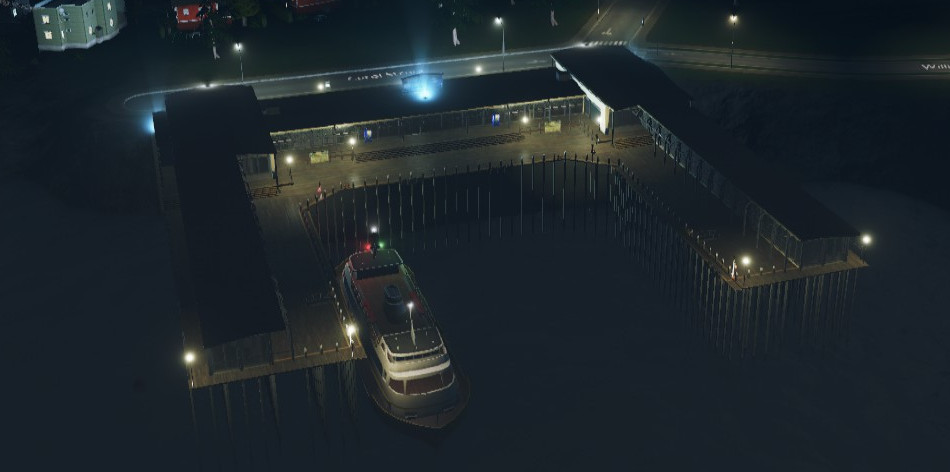 These new forms of transport all have one main focus: to help remove traffic from the roads, so your city can run a bit smoother.
They have also added in more scenarios for you to solve traffic problems, which use the new transport types as well.
In all honesty, this is probably my favourite expansion for the game. Other expansions haven't really improved the experience as much as this has. The previous disasters expansion, while fun, isn't something I generally enable since I really don't want all my planning effort to get randomly annihilated. Watching everything get destroyed is fun for a few moments, but not something I want to keep doing. Mass Transit on the other hand, is an expansion that really does improve the normal gameplay, making everything feel more varied and making the experience feel overall much more enjoyable.
However, some of it doesn't really work too well. Ferries, for example, have a habit of moving inside another, which looks a bit silly and does break some of the immersion. They seem to have no concept of collisions, which is a shame. I understand why though, since it would take a lot longer to implement it and it would be more confusing for players to have to work out more complex pathing.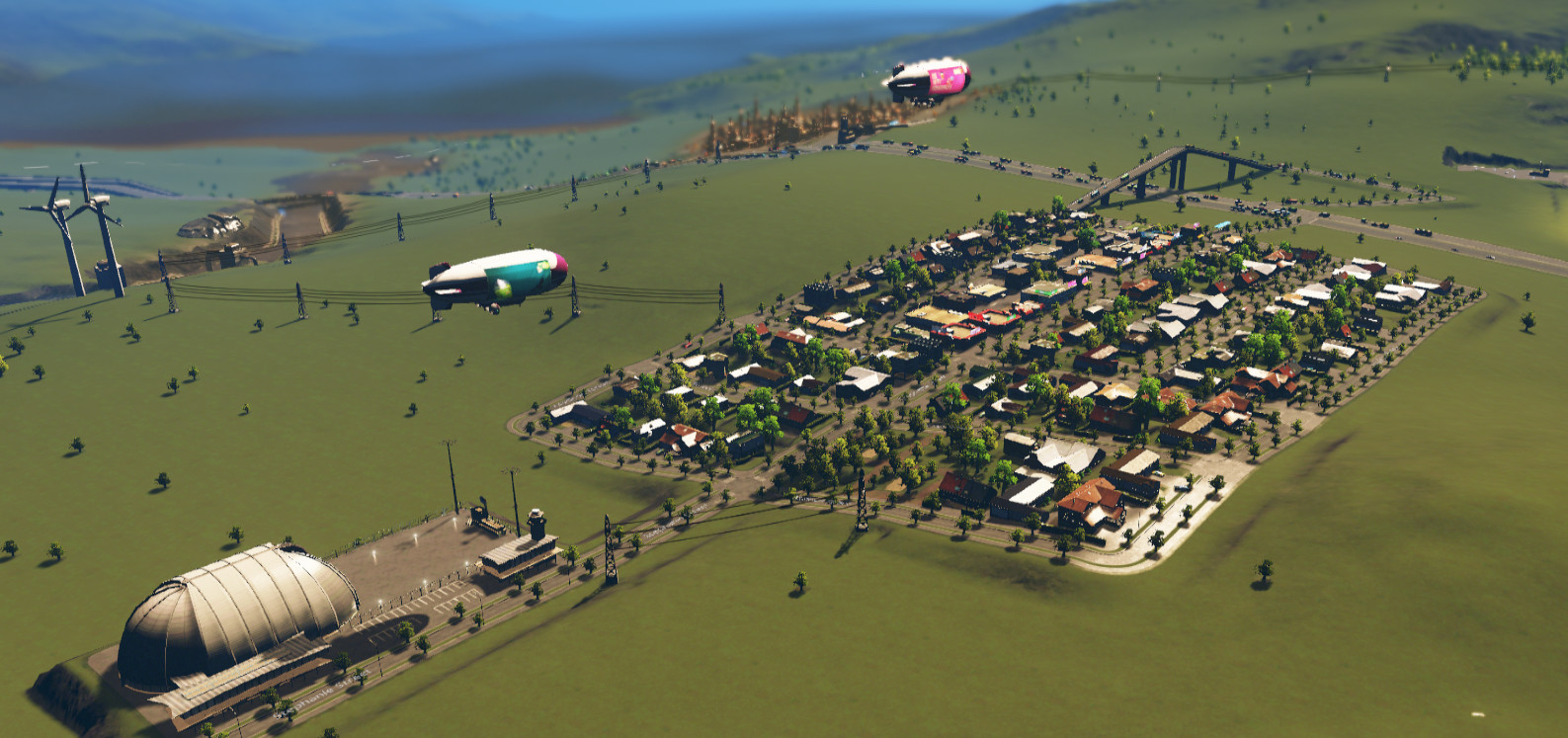 Blimps look absolutely majestic.
Creating these new transport options, like Ferries, is easy as anything to do. Set up some Stops and a Depot, then you pop down a ferry pathway and setup some routes. Then watch as your new transportation does it's job as it brings in some cold hard cash for you.
I often forget just how relaxing and utterly beautiful Cities Skylines is, it's easily the number 1 city builder available on Linux.
Performance in the game is still a bit of an issue on Linux, with my i7/980ti still going down to 40FPS zooming in even on a small city. Hopefully future patches will help with this, but that's still an acceptable performance level for such a game.
I would also really love some better AA options, as the current method they use isn't amazing. Lots of jagged edges which looks a bit annoying when zoomed-in.
Overall, I would highly recommend the Mass Transit DLC pack, since it really does make the game a lot more interesting, enabling you to create a much more vibrant and varied city. The initial game and previous expansions are also on sale on
Steam
right now!