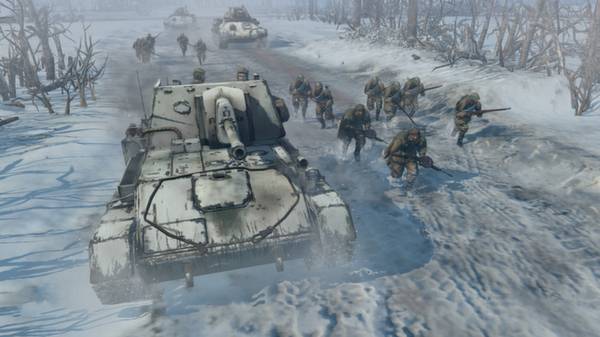 Company of Heroes 2 [
Steam
] has been updated for Linux by Feral Interactive, it brings in some important fixes as well as bring it up to date with the latest Windows-version patches.
Full patch notes below:
QuoteMac/Linux Specific

Users will now able to play in Offline Mode
Fixed an Issue where some in game videos didn't play in German
Updates to the Relic Store
Add support for Valkyria Chronicles DLC


All Versions

New Content

5 (one for each faction) new FREE Halloween themed skins added to the game

6 new Community-made maps added to the Community Map Rotation

Halloween Event

Log-in between Oct. 25th 2:00 PM PDT - Nov. 8th 10:00 AM PDT to receive 5 Halloween themed vehicle skins for FREE!


Bug Fixes

Fixed a bug where it was possible for a player to discover if a building was garrisoned through the fog of war by issuing a garrison building command.
Fixed a bug where it was possible to determine which direction a garrisoned MG was facing through the fog of war.
Fixed a bug where certain team weapons wouldn't follow queued commands to capture neutral territory.
Fixed a bug where Weapon Racks did not announce upon start/completion of research
Fixed a bug where the British counter-barrage would target the Brummbar
Fixed a bug where Paratrooper & Ranger grenades would cancel after 3 seconds.
Fixed a bug where Sapper barbed wire was not crushable by light vehicles
Fixed a bug where Pershing and Comet auto throw grenades were capable of causing the crew_shocked critical
Fixed a bug where the Brummbar and Panther were using incorrect speech lines
Fixed a bug where stun grenades would cause unintended behaviour on retreats as well when exiting buildings
Fixed an issue where the MG-34 Generic weapon was more powerful then lmg_moving and lmg_moving_no_prone
Fixed a bug where grenades were not receiving their proper range reduction
Fixed a bug that would occasionally cause vehicles such as the Puma and 222 to do unintentional 360 or 180 degree turns
Fixed a bug where units such as the Fallschirmjägers, Pathfinders, etc. would remain camouflaged on retreat
Fixed a bug that occasionally caused Penals to instantly become unsuppressed
Fixed a bug where the British Sniper would fail to engage garrisoned units

Quality of Life Changes

Removed the auto-rotate from the Wehrmacht 250 Half-track
The British Universal Carrier Vickers weapon now follows attack commands
The Soviet 45mm ATG 1.25 received accuracy modifier for the squad has been removed to match all other anti-tank gun squads.
Still one of my top 5 strategy games on Linux, I now have 45 hours logged in it!
Reminder: We play online every Wednesday at 11AM UTC, be sure to come join us next week! Just make sure you
have me as a friend on Steam
. I also livestream these matches on
our Twitch channel
.
Some you may have missed, popular articles from the last month: