Feral Interactive have ported yet another excellent game, and this time we are graced with Company Of Heroes 2!
It's yet another game I've been highly excited about, and I another I never had a chance to play before. Having it on my favourite platform is fantastic!
Disclosure: Key provided by Feral Interactive, but this will not affect my thoughts, it never does.
Note on expansions
: Standalone Expansions like Ardennes Assault and The Western Front Armies will be ported in future, but currently won't work as they are games themselves and need to be ported. I will be personally buying them when they are ported, as I'm loving it.
Multiplayer note:
The online multiplayer is Linux->Linux only, no cross-platform multiplayer. They did
explain this in more detail here
. See below for the rest of the report.
Gameplay video
Here's me playing horribly as usual! You can see some gameplay from the Skirmish mode, so I don't spoil any of the campaign for you. I'm still pretty new, so I realise I wasn't doing too well. What I did find extremely fun, was throwing a charge at an enemy occupied building, after which they fled and the building was levelled to the ground—awesome stuff.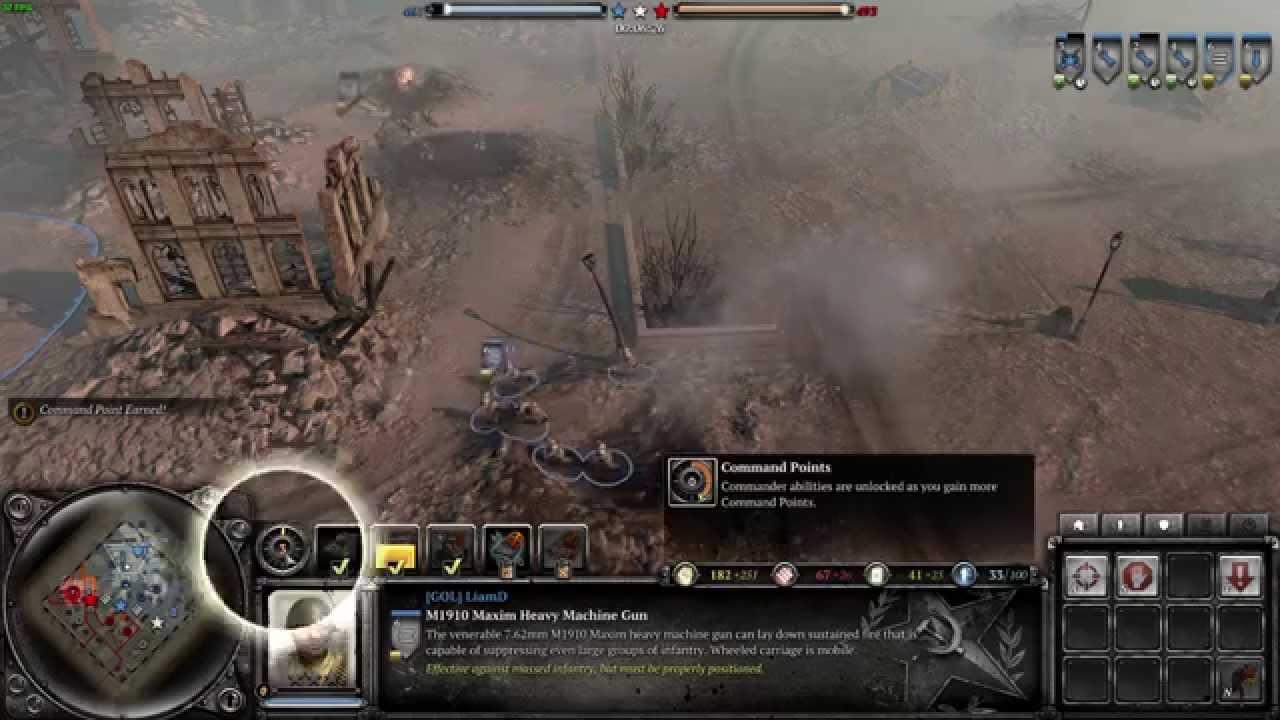 Note: Some music tracks were removed from the video, as we got hit by a copyright claim on the video, I really hate greedy rights holders.
Initial Thoughts
I know I was excited about Shadow of Mordor, but I'm actually finding this game just as damn exciting to play. We have a lot of turn based strategy games, but not a lot of high class traditional real time strategy games like this.
The campaign is exciting that's for sure, it's not often I'm completely sucked in right away, but the cutscenes showing the brutalities of war really hook you in. The story seems like it's done pretty well, and the cutscenes aren't too long to get in the way of the actual gameplay. The cutscenes are really quite nice though, and have kept my attention completely.
I've been rather enjoying taking out tanks with mines, and laying waste to enemy troops with grenades and flamethrowers. I've had plenty of my own men lay down their lives for their country too though, as I'm apparently the worst commander in the world.
The game has a pretty good cover system, where your soldiers can take cover behind walls, in trenches and behind sandbag covers. It's a little tricky to get it right, as sometimes a soldier or two can be left standing while the others are in cover. Cover can easily be overcome with the right tactic, like some well placed grenades, molotovs or heavy weaponry. So, everything has a counter in this game, which is great for strategy buffs like me.
I've been playing it on Standard difficulty, as I want there to be some sort of challenge, and so far it's proving to be the right balance for me. I almost got overrun in the second mission, so I think for people new to the game Standard is probably a good fit. The third mission difficulty does get a bit higher, and my first attempt at it had me completely overrun in quite a short time by tanks and armoured vehicles.
I am finding it difficult to manage my various different squads at times, as the minimap doesn't really help you see the difference types of squads, only your units. I would prefer it if the minimap had icons that correlated with different squads, but that might make it too cluttered, which is why they probably went with simple colours. I kept losing where my anti-tank weaponry was at a glance, so that's something that's troubling me so far.
At one point it tells me a certain type of squad can be upgraded with submachine guns, but it doesn't tell me how. I get really annoyed when games do this, as it creates frustration points for me. Eventually I found a small icon in the middle panel, and this allowed me to upgrade them, but it would have been nice to have an arrow point to it or something like that.
Blowing up tanks, mowing down infantry with heavy machine guns, and blowing up icy paths with TNT is all in a days work.
The ability to play against the AI and others online is going to be fun. I tried a 1on1 against the AI in the Custom Game section, and it worked great. I can see myself enjoying this rather a lot, I can't wait to play some of you!
Learning curve aside, I think it's a fantastic game so far, and I'm thoroughly enjoying the campaign.
Port Report
To get this out of the way first: The FPS isn't the best, but this is a real case of me not even noticing unless I'm staring at the FPS counter. I'm saying that genuinely, as I know you can tell the difference easily in an FPS game, or like we saw with Dying Light, but not here.
Generally in the heat of combat it hovers at just above 30FPS, but it will still remain playable and smooth. Being smooth and playable is the key here, and I'm happy enough with CoH2 right now. You do need to remember this isn't an FPS where pin point accuracy and super high FPS would always needed, this is a strategy game. Having a high FPS is one thing, a playable and smooth game is different.
The game
is
smooth though, silky smooth for me. I've run up quite a number of hours in the game now and I have found that everything works as expected.
I have played through a bunch of the campaign, and I'm finding it to be much more solid than Shadow of Mordor which did crash a few times for me, but so far CoH2 hasn't given me a single issue. I don't often get to say that, so I'm extremely happy about the stability of the game so far.
Benchmarks
Please note, that the CoH2 benchmark mode is a
stress test
, so in-game will actually be higher. This is noted by the game itself:
QuoteThe performance test allows you to preview your currently selected settings in a graphically intense worst case scenario.
It's also
highly advisable
to quit the game and reload it when changing any graphical options. Or else you will get weird results and performance.
Specifications
Ubuntu 15.04, Intel i5 4670K, Nvidia 970, 16GB RAM.
There is no predefined "Ultra, High, Low" for an overall setting, so these are what I picked below.
High settings
1920x1080
Image quality: High
Anti-aliasing: Low
Texture Detail: Higher
Snow Detail: Medium
Physics: High
Minimum: 31.56FPS
Maximum: 67.46FPS
Average: 41.95FPS
Medium settings
1920x1080
Image quality: Medium
Anti-aliasing: Low
Texture Detail: Medium
Snow Detail: Medium
Physics: High
Minimum: 33.11FPS
Maximum: 67.73FPS
Average: 45.64FPS
Low settings
1920x1080
Image quality: Low
Anti-aliasing: Low
Texture Detail: Low
Snow Detail: Low
Physics: High
Minimum: 39.68FPS
Maximum: 67.26FPS
Average: 49.52FPS
Remember, the benchmarks are to be taken lightly, as the game will run better since the benchmark is a stress test.
Check out
Company of Heroes 2 on Steam
. It's got a big sale on the main game too, so now is the time folks!
It also looks like you can try it free for the next three days, so give it a shot! Not 100% sure if that works or not, as I can't test that myself.
System Requirements
Minimum Requirements
OS Ubuntu 14.04 (64bit) or SteamOS
Processor 2.6 GHz Intel Core2 Duo or equivalent.
RAM 4GB
Hard Disk 35GB
Graphics 1GB*
Internet Broadband Internet connection
Input Keyboard & Mouse
*Requires an Intel Iris Pro graphics card or an NVIDIA 600 series graphics card or better with driver version 352.21 or later.
Recommended Requirements
OS Ubuntu 14.04 (64bit) or SteamOS
Processor 3.4 GHz Intel i5 quad core or equivalent.
RAM 8GB
Hard Disk 35GB
Graphics 4GB**
Internet Broadband Internet connection
Input Keyboard & Mouse
**NVIDIA 760 series card or better with driver version 352.21 or later.
The trouble with this release is that I'm now not sure which Feral port I love more. Bring on more games Feral!
Some you may have missed, popular articles from the last month: