The latest expansion to the medieval grand strategy series Crusader Kings II was released yesterday.
About the game
Charlemagne
pushes back the start date to the mid 8th century and allows players to rule and manage their dynasty in an age of war and religious unrest. For history nerds the new 768AD start date features plenty to chew on with the inclusion of Charlemagne himself, powerful Germanic pagans holding on to their old ways, the Byzantine Empire embroiled in internal disputes over the Iconoclasm controversy as well as the ever-ambitious Abbasid Empire at the height of its power. The strategy/RPG blend of Crusader Kings II is further enhanced by the addition of events and decisions relevant to the earlier start date, the possibility for the player to create custom kingdoms and empires, a chronicle that keeps track of your dynasty's accomplishments, and plenty of new flavor
events.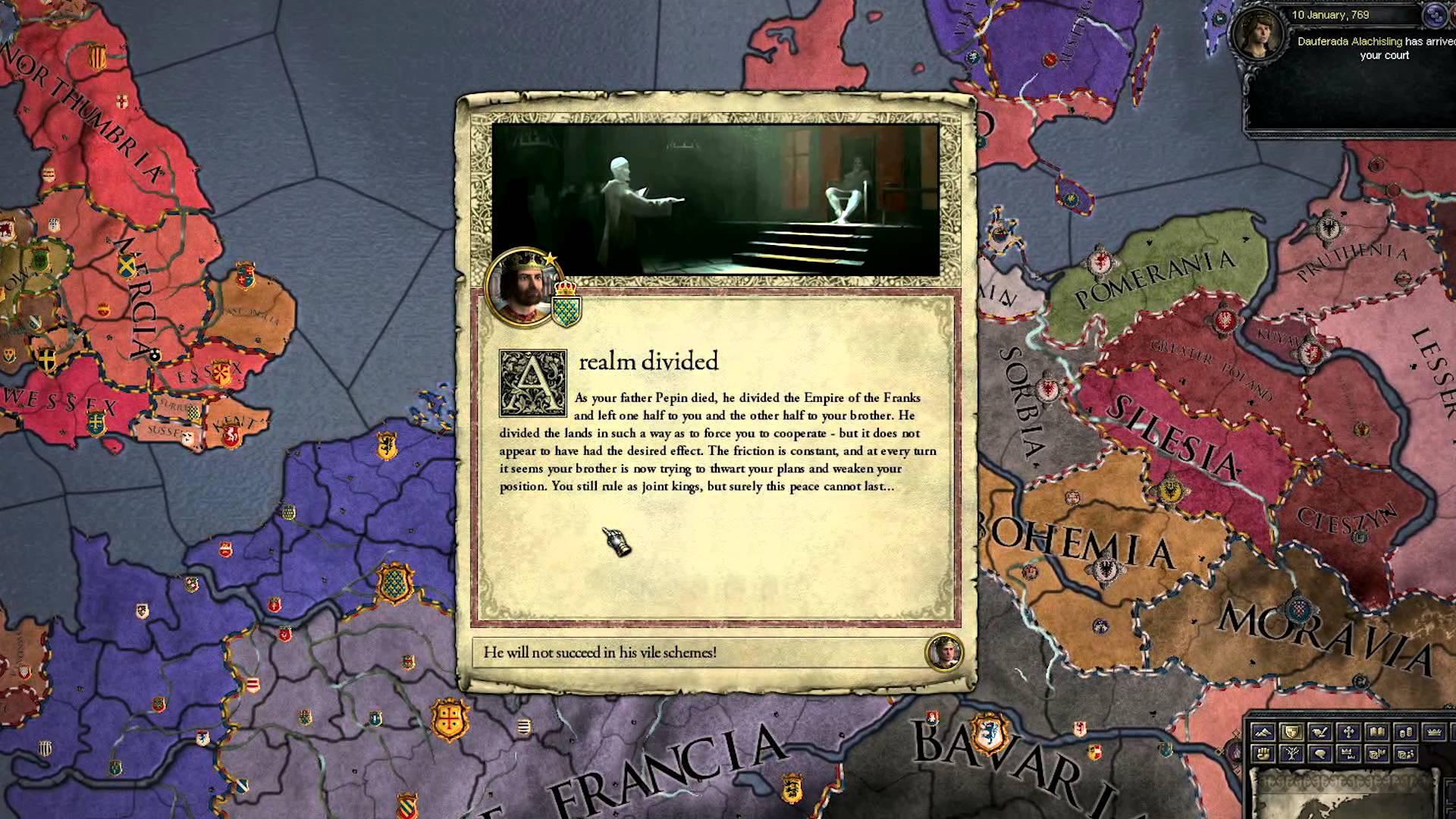 For those not familiar with Crusader Kings II, it places you in charge of a succession of characters in a dynasty during the Middle Ages. Players can wage war to press their rightful claims to land or to conquer lands in the name of their faith. Using characters as the base of the game, the player can also win lands and allies through marriage or shared intrigue. It is entirely possible to start as a lowly count and through strategic marriages and cunning reach the throne of any of the powerful kingdoms of the time. Characters conspire with other characters to assassinate rivals, replace their liege or to gain autonomy. The game is pepper with events with meaningful choices that may add either positive or negative traits to your ruler or perhaps even grant you a new friend, rival or lover. The game is a sandbox in its objectives, leaving players to weave their own narrative through the generations and create a memorable experience. It is just as feasible to plot to dominate the church with relatives and an anti-pope of your choosing as it is to play as a Norse raider pillaging far-off Constantinople or even India. Empires may crumble under civil wars and external invasions and dynasties may rise to prominence just as quickly as they fall. In short - it's easy to find an aspect of the game that will draw you in.
As with all their expansions and major DLC, Paradox will release an accompanying free patch for all players. Their current model for internally-developed games means that they will continue to add free content in the future that is directly funded by those who purchase DLC. The free features this time around include seasonal weather displayed on the map, an overhaul of the regency system and the inclusion of tribes as a form of government for those areas that had not yet developed feudalism. The usual game balance tweaks and bug quashing is also included in the patch. It doesn't seem like all the changes are for grizzled veterans either - a reworked tutorial and quick start option for newcomers seems to have been implemented.
Both Crusader Kings II and Europa Universalis IV work flawlessly on Linux. I'm of the (slightly masochistic) AMD sort and have had no problem running either game on both Catalyst and the RadeonSI drivers and can confirm as well that these games run well on proprietary Nvidia drivers. We Linux gamers are spoilt for choice these days but it can still be a hassle dealing with less-than-optimal ports. Luckily, the engine that Paradox Development Studios uses (not to be confused with Paradox Interactive who acts as a publisher for several developers - some of which have no interest in porting to Linux) has a great native port and all their future titles should have as good Linux support. Paradox proudly announced that they had reached the million copies sold milestone for Crusader Kings II last month and it's not hard to see why: the average playtime of each of their titles approaches 200 hours on Steam. I count myself as one of those hopelessly addicted to their blend of historical settings, combined with the possibility to affect my own outcome, sprinkled with plain fun events and scenarios. It seems I'm not the only one in the GOL community hopelessly addicted either as evidenced by a
recent article
.
This will probably not be the last expansion for CK2. There will probably continue to be new content so long as thousands of fans continue to spend hundreds of hours in this engaging grand strategy game.
Where to buy
You can purchase Crusader Kings II and the new DLC directly from the developer at their own
shop
or on Steam:
CK2
and
CK2: Charlemagne
.
Wherever you choose to buy the game, all keys sold are redeemable on Steam. The game is regularly on sale where the entire franchise tends to be 75% off for those who are patient. None of the DLC are essential for the experience, letting players pick and choose what they want to buy and multiplayer works even if your friends own different things than you do.
Some you may have missed, popular articles from the last month: