Over the past couple of weeks, I've had the pleasure of testing an alpha of
Crypt of the NecroDancer
, a retro styled rhythm based roguelike.
A what?
Crypt of the NecroDancer is a procedural dungeon crawler where the player and enemies movie on the beats of the game's music tracks. That may sound like an eclectic mix, but it works. It works
really well
.
You play as Cadence, a firey young woman who, against the better judgement of her elders, descends into the NecoDancer's crypt in search of answers. The intro cinematic shows Cadence prone, her head against a blood smeared rock whilst her narration says, "I don't know how I survived that fall."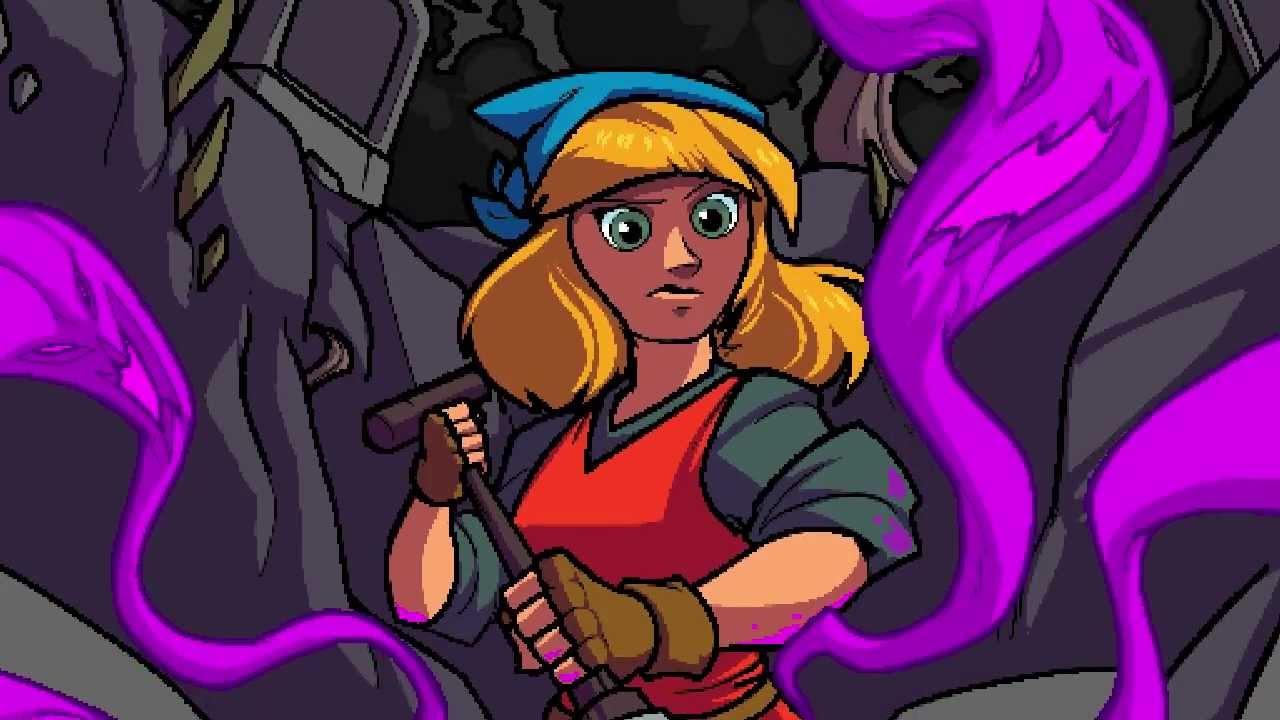 Cadence is resurrected by the NecroDancer, who makes her heart beat to the rhythm of his music. Armed only with what she learned about the undead from her uncle Eli and the equipment she discovers along the way, Cadence must descent farther to find her answers and hopefully free her heart in the process.
Inspired in part by Spelunky, developer Ryan Clark has pointed out that they've tried to create something more accessible than typical roguelike, focusing on making the player feel like any deaths are their own fault rather than the game being unforgiving.
To help convey this, each enemy has its own behaviours which players can anticipate and respond to after learning their movement patterns. For example, skeletons move on every second beat, whilst ghosts move on every beat, but only when the player is facing away from them. The game's complexity is emergent and comes from the combinations of enemies which make each encounter feel unique and challenging. Each of the game's four zones is populated with its own enemy types, which become more varied as the game progresses.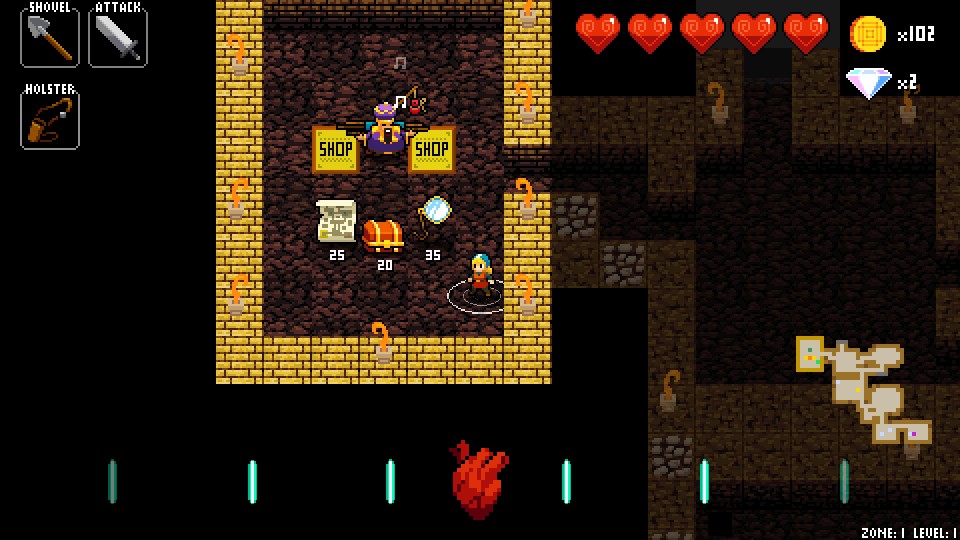 As you play, Cadence comes across many weapons and items, each with their own behaviours that lend themselves towards different styles of gameplay. The properties of each item seems to be something you're expected to learn as you play, discovering that a broadsword will let you hit enemies on any of the three adjacent tiles, or that a karati gi will enable Cadence to move past traps without setting them off.
In addition to buying and finding items whilst playing, the game's lobby features a number of shopkeepers from whom items which impact on the game can be brought. Some items will be permanent buffs, such as health increases, whilst others will be more subtle like giving a particular weapon the chance to spawn in a chest within the game. Items from these shopkeepers are purchased with diamonds rather than the gold you buy items with in-game, and provide a way for players to feel a sense of progression as they complete the game's zones.
Rather than progressing onto the next zone when completing one, you are returned to the lobby area to find a staircase leading down to the next zone unlocked. In this "normal" mode, players are encouraged to explore and master each zone before moving onto Crypt of the NecroDancer's Hardcore and Daily Challenge modes which allow players to forego any items bought from the lobby shoopkeepers and play through the entire game with one life.
Beyond Hardcore mode and Daily Challenge mode, the game also offers some additional challenges and characters for varied gameplay.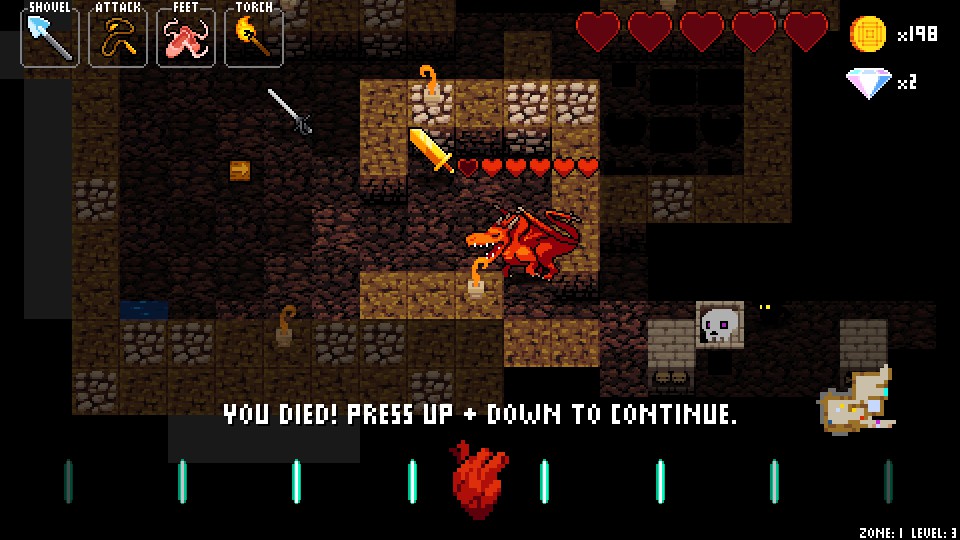 The game ships with an absolutely rocking soundtrack from Danny Baranowsky (Canabalt, Super Meat Boy, The Binding of Isaac and Drifter, amongst others), but also features the ability to load custom tracks.
Currently, testers run a utility which generates beat definition files that the game uses to track whether your movements are done in time with the music. A Linux build of the utility isn't yet available, and there's some path/case issues which haven't been resolved yet, but the developers seem to be attentive and I expect these to be resolved soon. Eventually this functionality will be built into the game, but for now, there's a little bit of manual handling.
The game also offers game pad and dance mat support (if that's exciting, keep an eye out for a crowdfunding campaign for
NecroDancer themed dance mats
) in addition to keybaord controls. I found that I had to configure custom bindings for my Logitech F310 gamepad and this "Dance UK" dance mat (which overrides the keyboard bindings), but after doing that, both were usable.
Crypt of the NecroDancer feels rich with atmosphere. Small things, like the subtle screen shake when striking a successful blow, or the shopkeeper's voice as he sings along to whatever music is currently playing really show the kind of attention to detail that is going into this game, and I find myself eager to see what each update brings.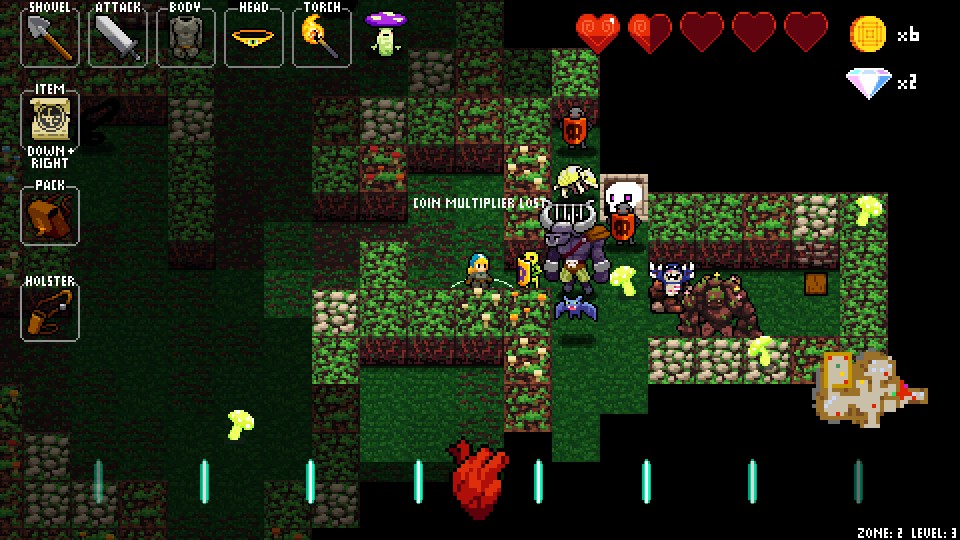 Pre-orders are currently closed, and the devs are undecided about how they'll be moving forward with regards to allowing further early access to the game. They have been doing periodic giveaways though, which you can get notifications of by signing up to their newsletter.
There's no solid release date at this point, but it's expected to be released this year. You can find a few bits and pieces on the
Brace Yourself Games dev blog
(recently, they've been showing off some enemy art) and Ryan is quite active on the
Brace Yourself Games forum
.
I've been streaming the game a couple of times a week
on HitBox
. People are welcome to subscribe and watch the game in action when I play.
Some you may have missed, popular articles from the last month: