Curious Expedition, a roguelike expedition simulation game set in the late 19th century just recently had a big RIVALS update to add in multiplayer support. This isn't a DLC either, it's a full free update for everyone who owns the game which is fantastic.
I'm quite a late arrival on this one, only picking it up in the sales recently and I ended up a little hooked on it so this was all rather good timing. The RIVALS mode is very similar to how it all works in single-player, with you each leading an expedition. You have to keep your people alive, deal with hostile wildlife and any random events as they pop up but all this is done across a map that's many times larger and you can see other expeditions roaming around which is quite odd.

Some of what's added in the RIVALS update includes:
Explore worlds that are up to 10,000 times larger than in the original game.
Discover new regions and have your name and portrait remembered for all other players to see.
Acquire prestigious badges with every golden pyramid you discover.
Equip your trek with over 140 Expedition Crates to customize your playstyle and experiment with different strategies.
Want to see just how big the maps are? Here's two quick shots taken on a fresh run in RIVALS this morning. The first one is zoomed in, the next all the way out.
As you can see, the size of the maps are absolutely insane. They have to be though, considering how many people will be travelling across them, there's a ton of things to discover.
I found it quite interesting, that when unlocking achievements on Steam it tells you overall how many others also have it. In this case, less than 50% of players reached the second expedition which is seriously surprising. Which means a lot of people haven't had the joy of coming across a village of lizard people, who are kind enough to give you a pet dinosaur to carry items for you on a map with multiple volcanoes exploding.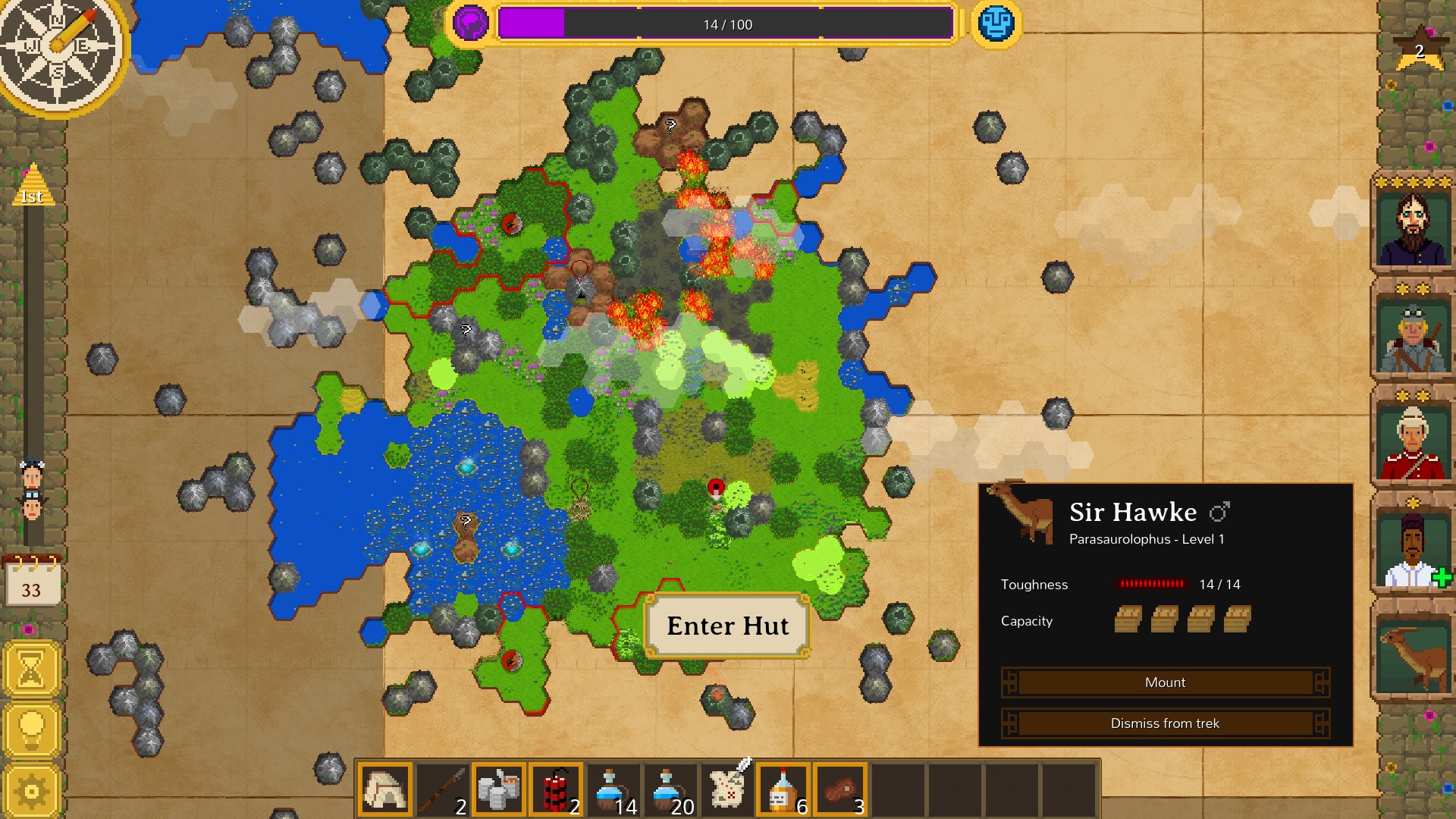 Sir Hawke still needs a lot of training though, after settling down for the night one of my team took them for a walk. After a while, I became a bit concerned when they didn't come back. Tracing their steps, I eventually came across Sir Hawke making a feast out of one of my crew—oh my, bad dinosaur!
A game all about making decisions, sometimes they can come back to bite you in the ass too. I came across a Raptor nest and after searching it, I attracted a bunch of them which were now seemingly patrolling the area which certainly made travelling a lot more difficult. Thankfully, with great skill we managed to take at least one down and gather their skin as a trophy.
Later on, we were on the path to the Golden Pyramid but supplies were running low. Pvt Winifred Alford had a bright idea, why not turn our pet dinosaur into dinner? Still annoyed with the beast for devouring one of my friends, I thought it would be great to lift our spirits and have a good dinner. Frankly though, I almost wish we had kept Sir Hawke and ate Pvt Winifred Alford instead, since Alford became useless to the point of losing half our gear. Which certainly didn't help, when one of the Raptors we avoided previously after raiding their nest came back and without some of our gear, it totally devoured my entire expedition.
If you've never played Curious Expedition before, I think you've really missed out on something good here. Another game that can give you a million different stories to tell, that leaves you wanting more even after suffering a complete loss.
Definitely worth a purchase! You can find it currently at a discount on the Humble Store, GOG and Steam.
Some you may have missed, popular articles from the last month: