Two Point Hospital has been out in the wild for a good few days now, so I've had some time to sink into it and here's some thoughts on it. Tested on Ubuntu 18.04 64bit, with an NVIDIA 980ti using the latest 396.54 driver.
Note: Copy personally purchased as they did not provide a review code. With thanks to our supporters for enabling us to do this.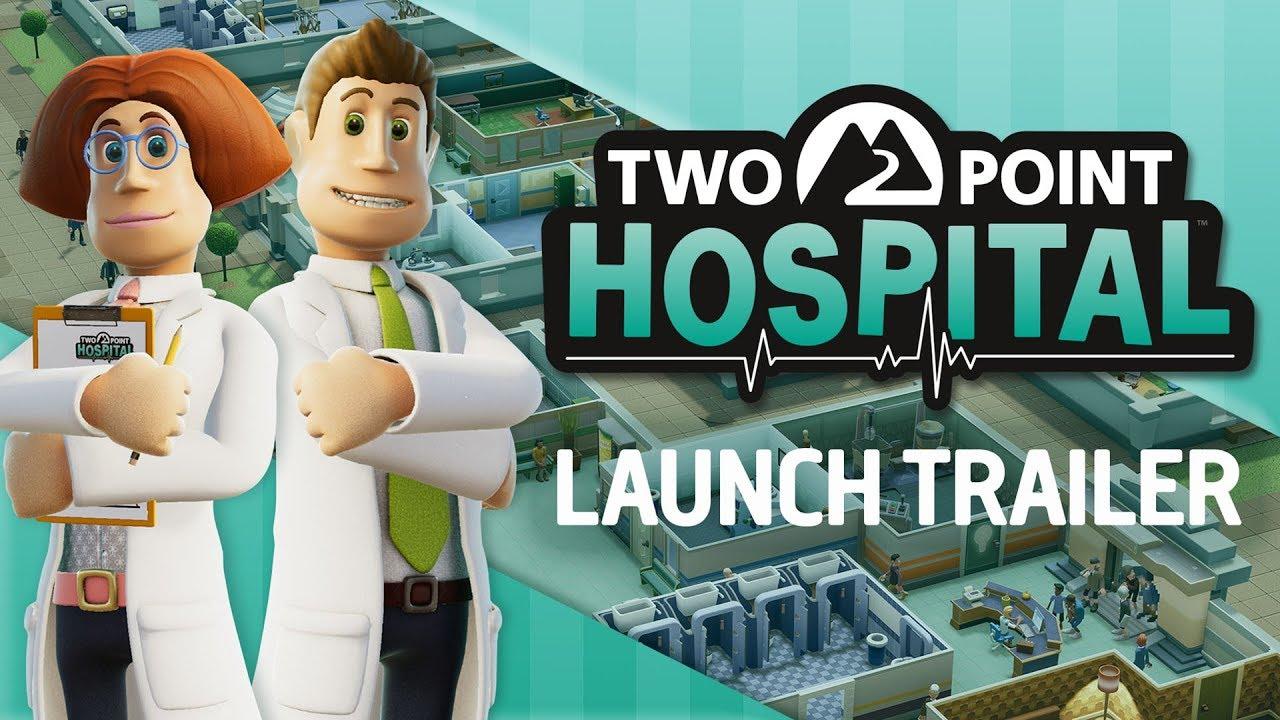 The idea of the game is pretty simple, with you building and managing hospitals across a bunch of locations. You build up your hospitals with various rooms, purchase items for them and hire staff to work in each department. Place your reception desk, hire an assistant and get your GP office up and running—yup, this is basically Theme Hospital 2.0 (hence the name). Right down to the announcer, who sounds exactly like the one from Theme Hospital. It's hard not to focus on the similarities here, since they are in many ways the same game with a fresh coat of paint and a few new ideas thrown in.
It feels instantly familiar and rightly so since Two Point Studios actually has some of the original Bullfrog developers. There's a lot of subtle differences though, so it definately feels like a new and modern game.
The humour, as expected, is very on point. You will be dealing with illnesses such as "Misery Guts" which is "Chronic grumpiness due to a nihilistic semi-colon". There's also "Lightheadedness", which literally has people walking around with a light bulb for a head! Curing them is quite amusing too, with a machine that literally takes their head off. I think my favourite, by far, is the "Pandemic" illness that requires a massive magnet to pull a metal pan off of someone's head. Also, something about storing a monobrow in a container so it doesn't escape?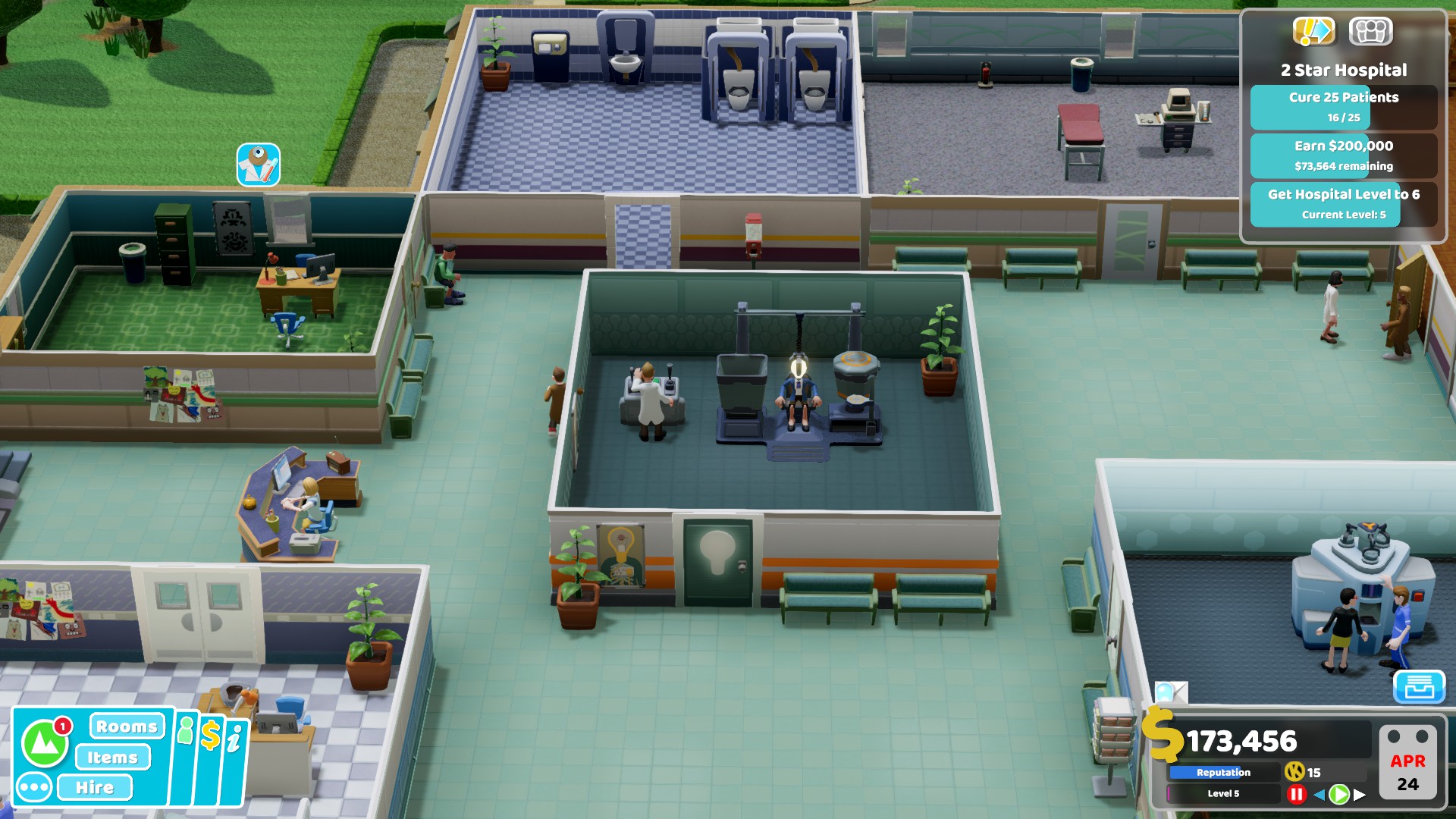 A hospital is only as good as the administrator of course, so naturally mine was a complete shambles. Two Point Hospital doesn't take long to throw a lot at you, even 30 minutes into the first hospital it will give you multiple illnesses to deal with. In my case, people throwing up in bins, dying in the corridor and turning into ghosts leaving ectoplasm everywhere for my janitors to clean up, all while an inspector is walking through—what a mess. Just a good job my janitor also doubles as a Ghostbuster.
What's nice about it, is that it doesn't take long before you can expand to another hospital. If you choose to do so, that is. Each hospital has a three star rating for you to achieve through a few challenges. Once you hit a star, it's up to you to stay and earn more or move onto another on the map. This does become quite important, because getting more stars before you move on will give you a chance to unlock more equipment for when it becomes more difficult.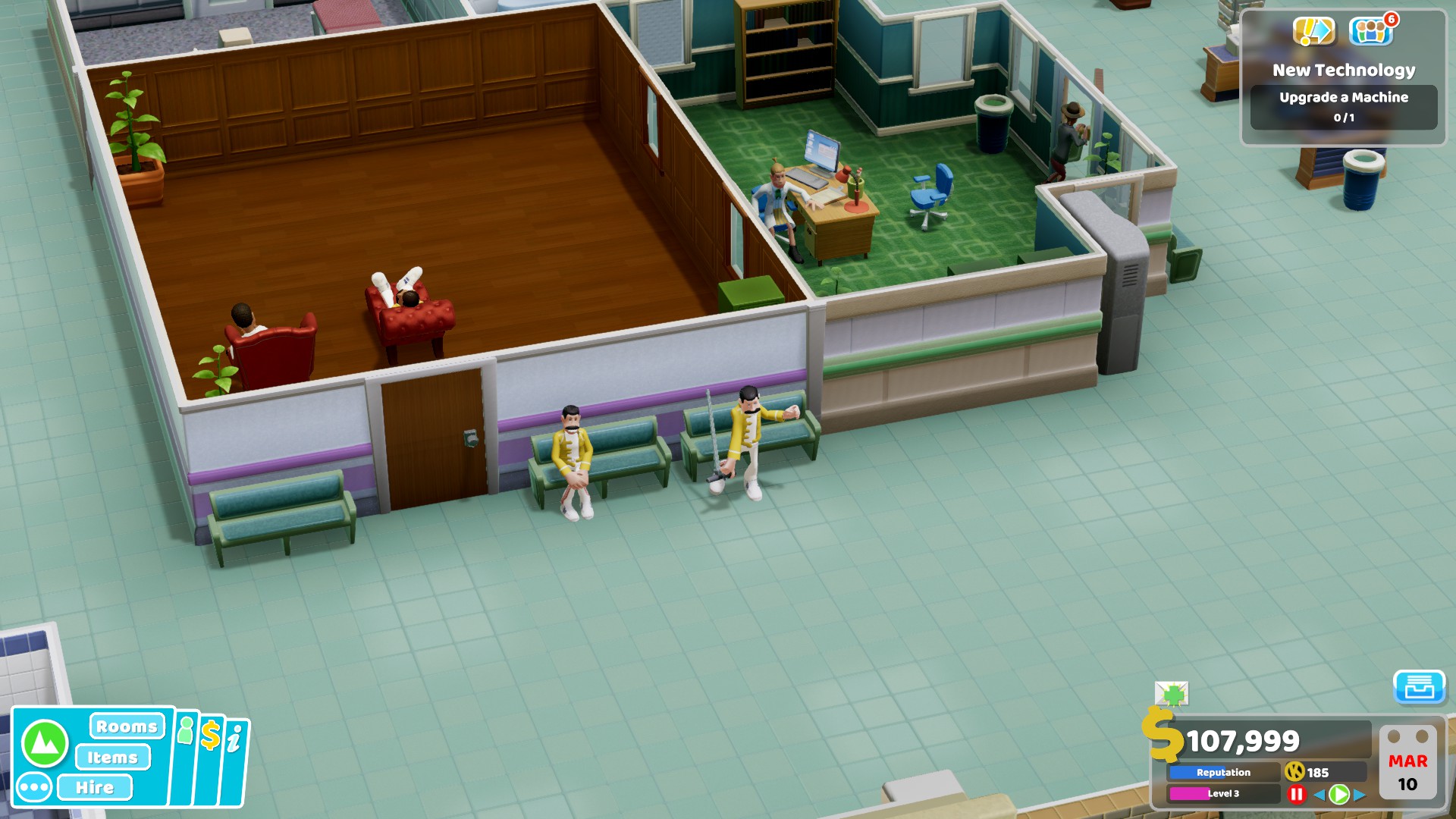 The longer you stick around, the more challenges and epidemics and so on you will encounter giving you a chance to unlock even more. You can also return to a hospital at any time and carry on improving it too, so it works really quite well giving you a decent amount of freedom.
You do also get a chance to expand certain hospitals by purchasing more plots, because the amount of rooms you end up needing does create for a rather busy environment. You also gain the ability to get your janitors to upgrade equipment too, so diagnosis or treatment might be more successful leading to less death and more reputation gains. It comes at an obvious cost though, both in terms of money and time for the janitor to whack it with a spanner to do the actual upgrade.
Since you will be dealing with all sorts of people, you will need to keep your patients happy. Making sure they have somewhere to sit, ensuring they're not waiting so long that they walk off or die. You will need to place vending machines around the place as well, keeping people fed and making sure your hospital looks nice with various attractions like posters and so on. All the comforts you come to expect when you visit an actual hospital.
It does have a few modern touches, like the ability to literally pick up a room and move it around. You can also do an online challenge against people on your Steam friends list, seeing who can make the most money over a time period as just one example. On top of that, your staff will also give their own requests like earning a certain amount of money or having no deaths over a period of time and thanks to this, it keeps you on your toes a little.
One thing that feels like it's missing is a free play/sandbox mode, which I'm honestly quite surprised was left out. It's a game that feels like it would really benefit from a mode of just letting you do what you want for as long as you want. I still think it's a great game as it is, but I hope they are considering that for a future update.
I've honestly not had a single issue with the Linux version, everything seems to work really nicely. Overall we have a fun and challenging hospital management sim, that acts as a spiritual successor to Theme Hospital. There's plenty of features I've not covered here, because there's a lot of smaller elements to the game to create the big picture. I don't want to spoil everything either! A game to happily spend hours in perfecting your hospital planning.
Find it on Humble Store and Steam.
Some you may have missed, popular articles from the last month: