For those itching to play through another FPS, you might want to take a look at Deep Rock Galactic from Ghost Ship Games.
It recently had a free weekend on Steam, so making great use of it I decided to try it out for a few hours with Valve's Steam Play and to my surprise it worked incredibly well.
Next to traditional real-time strategy games, first-person shooters are my favourite genre of games to dive into and have some fun. Sadly, Linux is extremely underserved when it comes to these types of shooters and so Steam Play can really help bridge the gap here.
It's currently in Early Access and there seems to be no plan for a Linux version right now, with the only comment from the developer I can find on this on their Steam forum where they said "Hey there! We'd love to support other platforms in the future, but for now we are focused on the PC version.". So it's another good testing case for how well Steam Play can run Windows games on Linux.
Here's a look at it on Ubuntu 18.10 with Steam Play Proton 3.16-7: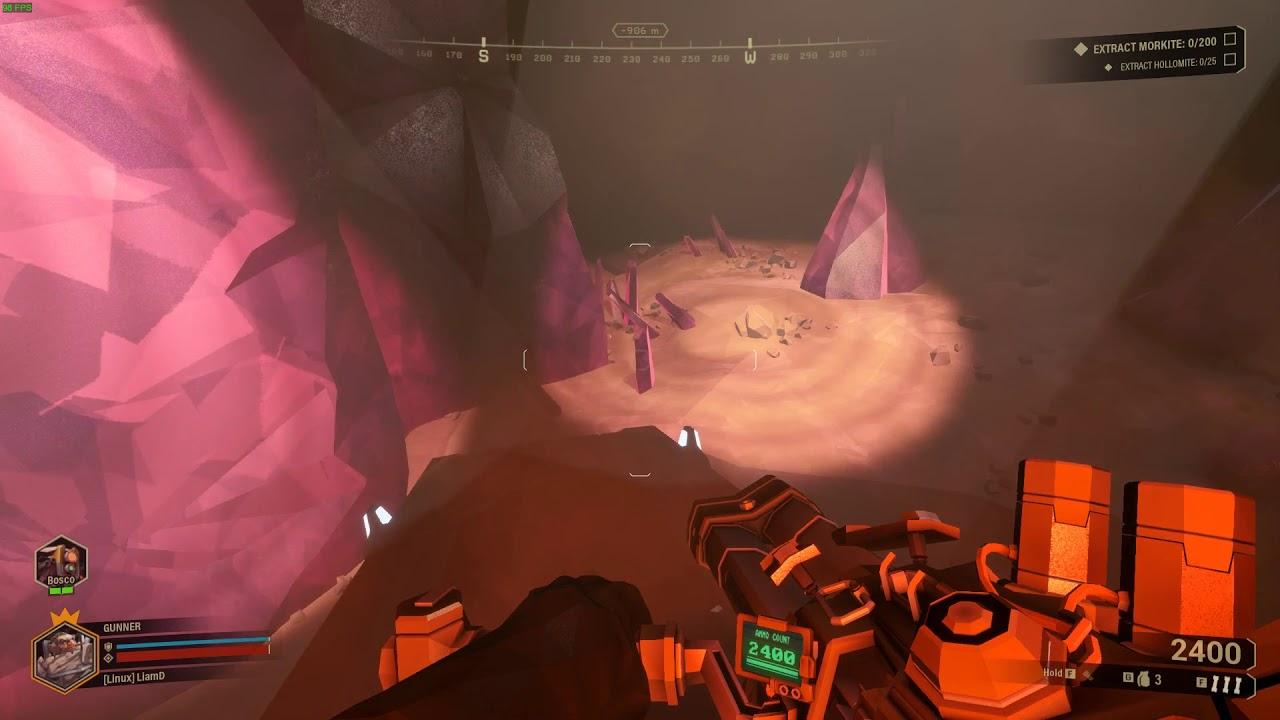 I'm amazed at how well it runs! Everything is incredibly smooth on the highest settings and it really does feel good. I was fully expecting it to stutter initially as a lot of games do with Steam Play while it builds a cache, but it was perfectly playable from the first moment of loading it up.
It's a bit like a mix of Minecraft and Left 4 Dead with how it feels overall, honestly that's the best way I can think of to describe the unique blend it offers. It has multiple characters, each with their own play-style and abilities with each having an upgrade path as well.
Once you've sorted out which character to play as, along with adjusting your load-out it's time to pick a mission. From there, you climb aboard your rather cool Drop Pod and each mission begins the same with you burrowing deep into the ground, something I will never get tired of seeing. As your ship smashes through the ground into an opening, it's time to explore!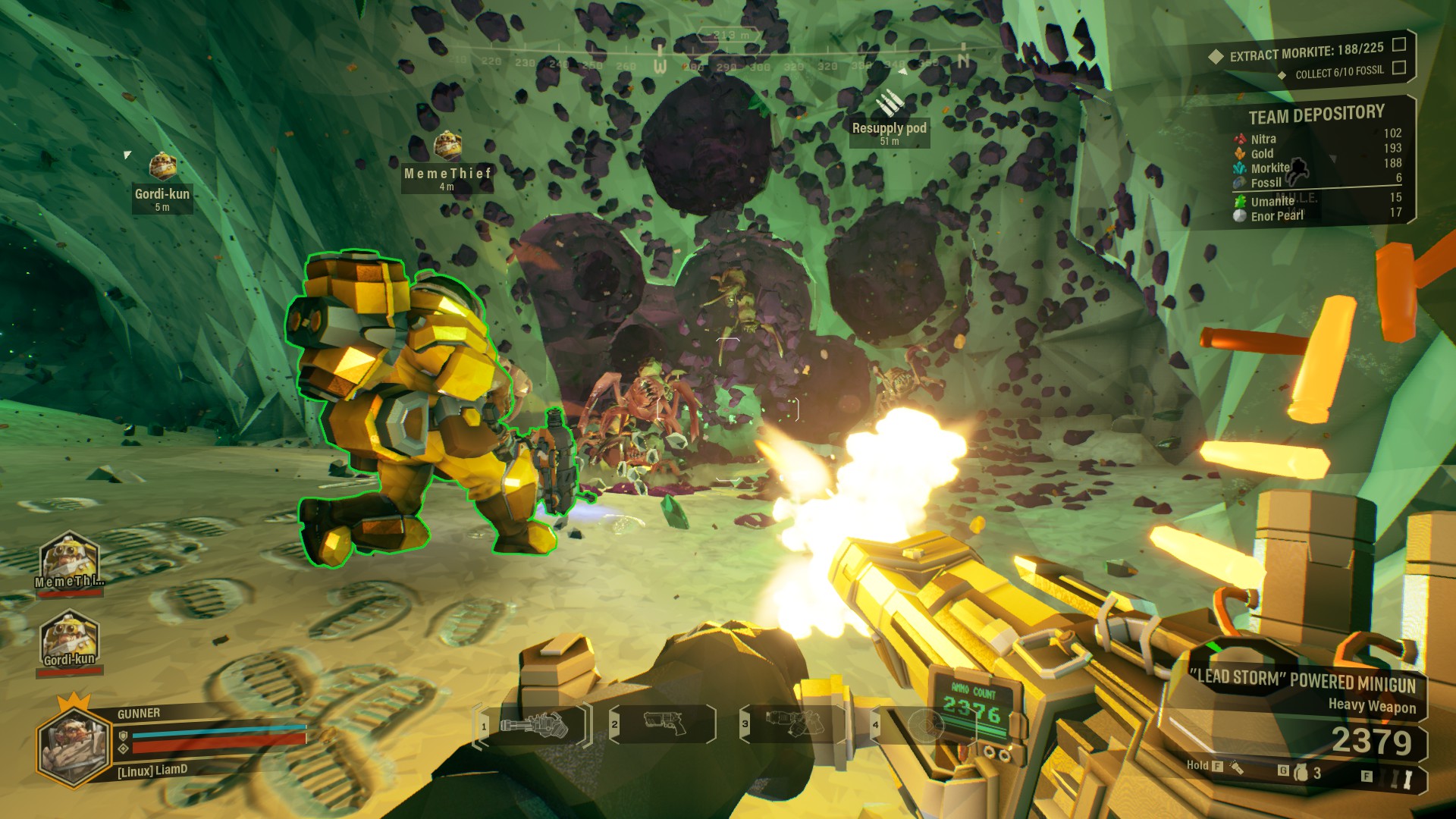 They're coming outta the walls. They're coming outta the goddamn walls!
What's awesome, is that the cave system you enter is a randomly generated network and so it offers a huge amount of variety. The missions themselves are quite varied too as some want you to mine specific resources, while others want you to recover certain items.
During your travels, you will come across all sorts of weird and scary-looking creatures and it can be quite a challenge when a whole horde of them come down on you. Creatures can fly down, grab you and fly away with you requiring a mini-rescue mission from your comrades while they tackle creatures spitting acid, exploding, crawling across the walls and all sorts.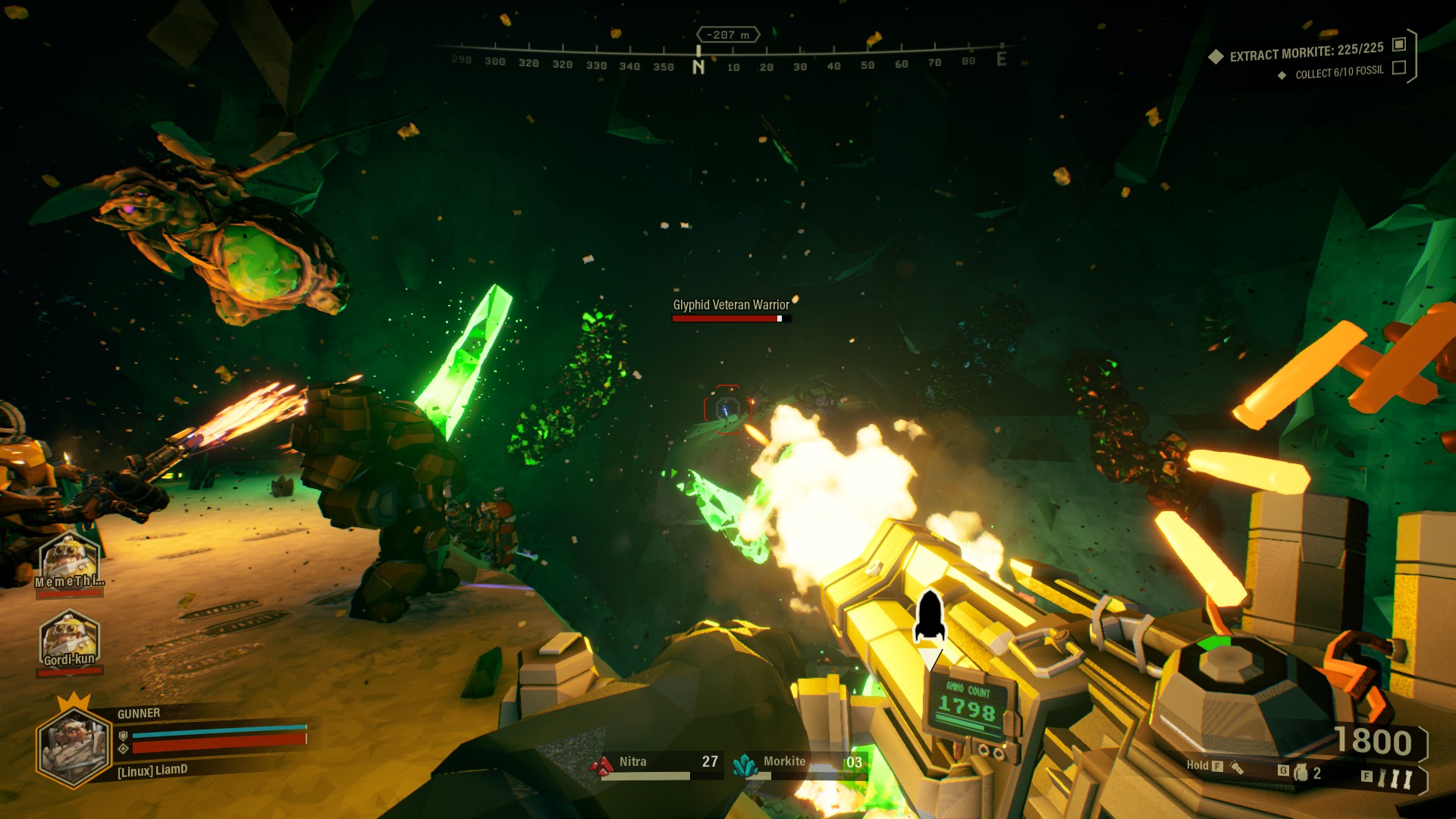 During the bigger firefights, things can get extremely chaotic. While a lot of it is exploration and mining, when you really get down into the combat it's incredibly intense. Enemies coming from all sides, explosions and bullets everywhere—it's nuts.
For those who do prefer to play alone, it's still good as you don't have to play it with others which is another point in its favour. If you do solo play, you will be given a helpful flying bot which you can upgrade too.
One thing I have noticed with a lot of Steam Play games, is I often get no mouse cursor with the Steam Overlay. A little workaround for that, at least with the GNOME desktop is to hit the Super key (the Windows button) which will make it appear again (thanks Scaine!).
Without Steam Play, I would likely have never experienced it. Since I enjoyed it so much, I picked up a personal copy as I can see myself happily playing it regularly. There's tons to love about it.
You can find it on Humble Store and Steam.
Some you may have missed, popular articles from the last month: