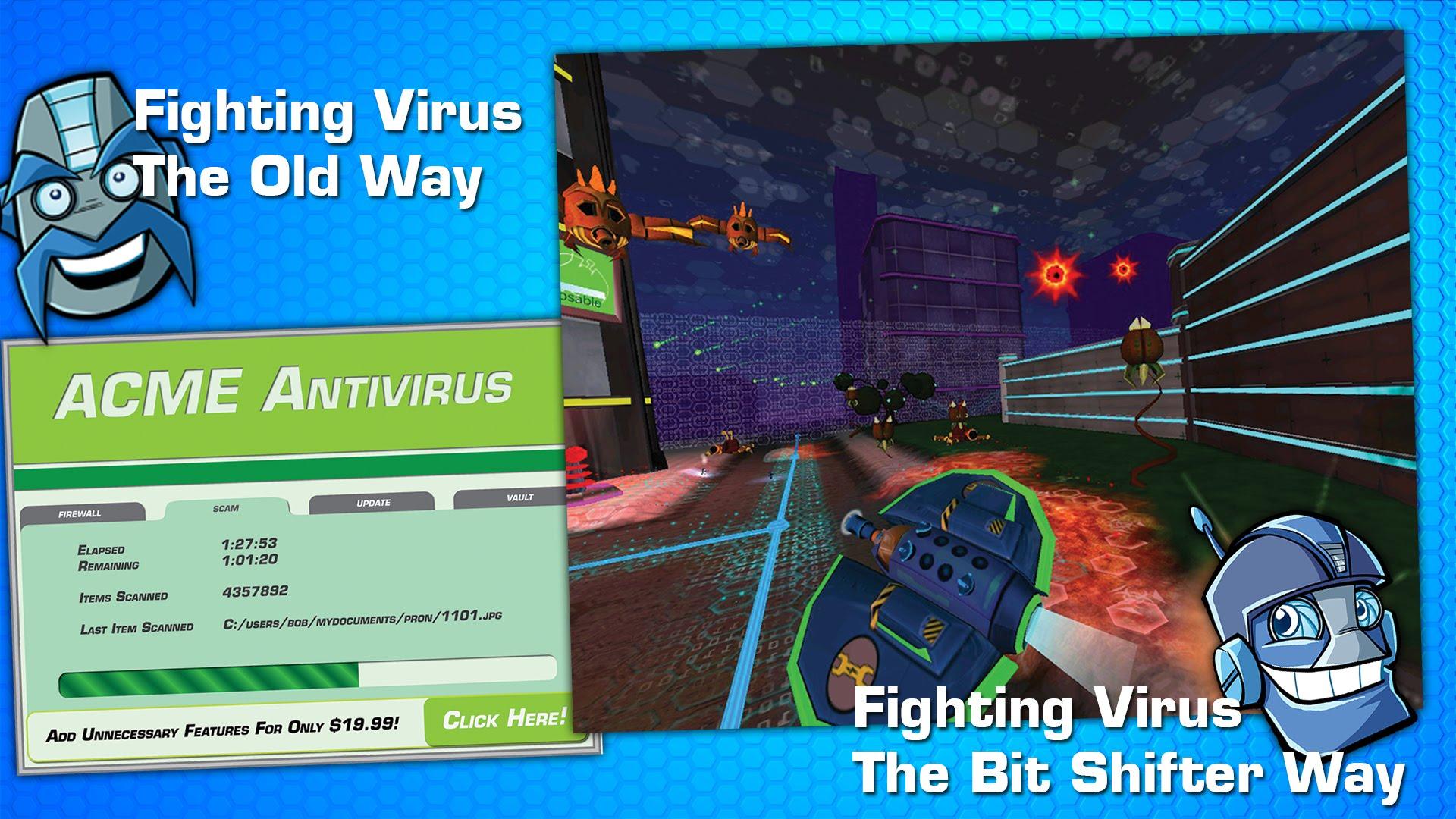 Bit Shifter
is certainly one of the more interesting sounding indie games to be released recently, so I took a look and I have keys to throw at you.
Initial thoughts
I really love the setting of the game, and I think it's a setting that would appeal to a lot of us nerdy types about being inside the 1's and 0's of our computers.
Overall the game does actually perform quite well, it doesn't seem to have any graphical settings, but it seems to run around 80-90FPS on my Nvidia 970.
It feels and looks very much like a classic game from many years ago, I could easily imagine playing this on the original Playstation as it has the style of some games I played on it. I can't say I'm enjoying the graphical style of it, as it does look rather dated. If the game just had a few more lighting effects, it probably wouldn't look so washed out.
As for the gameplay: It's all based around you flying around in your little ship, deploying little robots and fighting off enemy virus units. The virus will always follow specific paths in the ground, so it's not a random encounter and gives you the ability to plan. It even has a handy minimap, so you can see where you're most needed.
It's actually quite a challenging game, and you really do need to have a look around and think. The higher difficulty options really do boost the speed at which the virus will move through the systems lines, and I failed the second mission many times on the highest difficulty. I would certainly suggest going for the second highest difficulty mode, as anything before that was just far too easy for me.
I really do like the mix of strategy involved with deploying and repairing your "bits". The bits are the little fighters that eradicate the virus, while you fly around destroying alien looking virus turrets. There's never a dull moment, and you're always needed somewhere.
Issues
The first problem is that the game will start in fullscreen, and stretch across the width of all of your monitors. If you have two monitors like me it's a common and annoying problem. They are currently trying to work around it in a beta branch, but this fix will still turn off your second monitor, but at least that's not as bad. The problem is it's using a really old version of SDL, but they are planning to update it to SDL2.
Another problem, is that the game will hard-lock my computer when bringing up the Steam overlay when in fullscreen, forcing me to kill it from another session. This then gives me desktop graphical corruption.
I have tried the game with a monitor unplugged and managed to set a 1920x1080 resolution, but the game only went into one small corner of my screen and then hard-locked my computer again.
Right now, I consider the entire fullscreen support broken in the game.
The only reedeming thing is that alt+enter will give you windowed mode, I dislike playing games in a small window on my screen as it's distracting, but I gave it a go anyway. Steam Overlay works fine in windowed mode too, which is so very weird.
Final thoughts:
I'm a little sad the fullscreen is so badly broken for me, but hopefully their move to SDL2 will fix it. The gameplay however is actually really cool, and worth a look.
Free keys
1) BJ99H-BYQ3V-JNNPW
2) 4X9BL-KG22F-YY75D
3) NPDB0-0X0H5-RQCXM
4) DL74W-PFHZH-NFC5D
5) LND0V-8W7LY-BKIVE
6) 79J7X-AWK40-A4G4N
7) XAFIZ-LCW03-V3JMT
About the game
(Official)
Bit Shifter is a 3D action/strategy game where you fly a hover ship that can pickup and place and heal your robotic soldiers in the war against the virus threatening your PC. It takes place in a futuristic world, inside of your computer, where the viral threat could lead to catastrophic system failure. You play the role of Flash Bios, who pilots a virus fighting vessel called the Scandisc. You must strategically deploy virus fighting robots called Bits, and protect them while they clean up the virus. Where will you put them? Choose wisely because the virus spreads faster down the data paths and if it reaches the Data Stream it will corrupt the whole system!
Some you may have missed, popular articles from the last month: