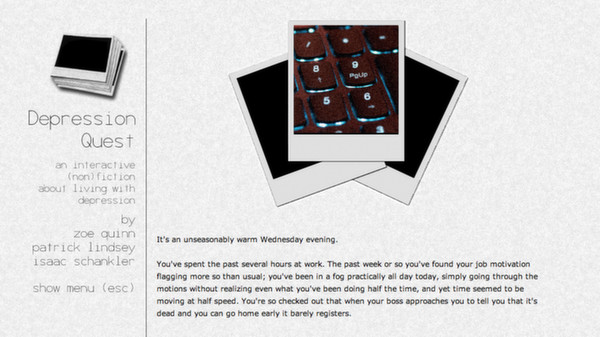 Depression is no laughing matter, and in Depression Quest you play the role of a character suffering from depression. An interesting game that's for sure.
As someone who has suffered with it before I feel deeply for anyone who has it, and sadly it seems beloved actor Robin Williams passed away due to suicide last night and it left the developers of Depression Quest in a sticky situation as they had planned for release the same day.
QuoteDepression Quest has always been an attempt to make a tool to help people understand depression and reach out to others living with the reality of this disease.

There is no way, in my mind, to ethically put something intended to be a tool for helping people behind a paywall. None.
I am glad they decided to go ahead and release it, as this game could be a good tool to help people, and considering it's free no one can make any wild claims about them profiting from a beloved celebrity's death.
It's been a hard time for the developers of Depression Quest too, as their original Greenlight campaign wasn't great:
QuoteThis was the same guiding principle behind putting the game back on Greenlight after withdrawing initially due to threats and harassment.
There are some seriously childish people around, and the sad thing is a lot of those threats and probably from keyboard warrior adults who should know better.
Check out
Depression Quest on Steam
now. You can also
play a web version here
. Be sure to recommend it to anyone who you feel it may help.
Official About
Depression Quest is an interactive fiction game where you play as someone living with depression. You are given a series of everyday life events and have to attempt to manage your illness, relationships, job, and possible treatment. This game aims to show other sufferers of depression that they are not alone in their feelings, and to illustrate to people who may not understand the illness the depths of what it can do to people.
Some you may have missed, popular articles from the last month: