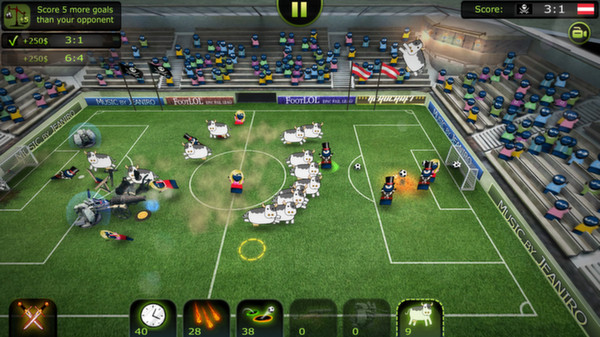 FootLOL: Epic Fail League
looked pretty funny from the trailer, so I managed to get in touch with the developer to grab a key and here's what I found.
Disclosure
: Key provided by the developer.
The resolution was completely wrong as it has the usual Unity3D problems of putting my two monitors together and adding them up. I have reported this to the developer, but I was able to go into the preferences file (.config/unity3d/HeroCraft/FootLOL: Epic Fail League) and edit my resolution to 1080p. After that, everything ran perfectly well.
I actually found FootLOL to be quite amusing. My first game was an absolute blast—literally, I blew up the enemy goal keeper with a mine and scored a goal rather nicely.
It feels and looks very much like a mobile game, with the big buttons and big text. Usually this annoys me, but FootLOL is genuine fun that it didn't bother me like it does with other games.
You essentially have a list of abilities to use on enemy players, or on your own players. It's still
soccer
football, so you still need to score goals to win, but you also need to screw up the enemy team enough to actually score more than them. You get money for winning which enables you to buy extras like more ability slots to mess with the enemy.
The AI can be a little dumb at times, with goal keepers often standing around doing nothing when the ball is right near them. During one game the enemy was just blowing up his own players, and that soured the experience a little. I know the game is supposed to be silly, but I was expecting at least
some
challenge.
Overall I think it's a genius idea and a pleasure to experience. It's really easy to play and I didn't really have to think all that much. I
do
like it, but I would have liked to have seen more options for the PC version and a much better AI. If they are able to keep expanding on it, I would like it a lot more and would happily play it again.
You should check it out if you're after a bit of dumb fun. Throwing extra balls into the arena and placing down mines everywhere is pretty amusing.
Some you may have missed, popular articles from the last month: