Valve are continuing to roll out more features to help gamers find the titles they want to play, with the latest being Developer And Publisher Homepages which is expected to roll out on June 18th. It's still going to be in a Beta when it's rolled out, while they continually add features.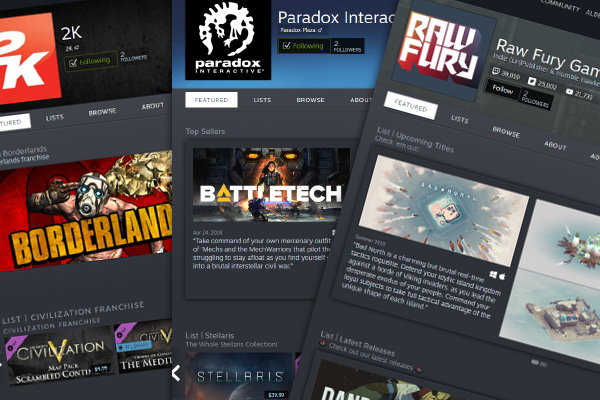 According to this Steam Partner page, it's currently in a "closed beta" with a limited amount of developers and publishers testing it out. As you can see from the shot above, it looks quite a bit like the current Curator system (see ours for example).
What's even more interesting, is that page talks about franchise pages. So it sounds like publishers would be able to have a specific section for series that have many entries.
I have to say, I actually love the idea of this. Being able to follow specific places, see their upcoming titles and so on, it's a good way to help sift through the noise. You could obviously argue that this is what their respective websites are supposed to be for, but when Steam has so much of the market already, actually having it all there makes a lot of sense.
What do you think?
Thanks, SteamDB.
Some you may have missed, popular articles from the last month: