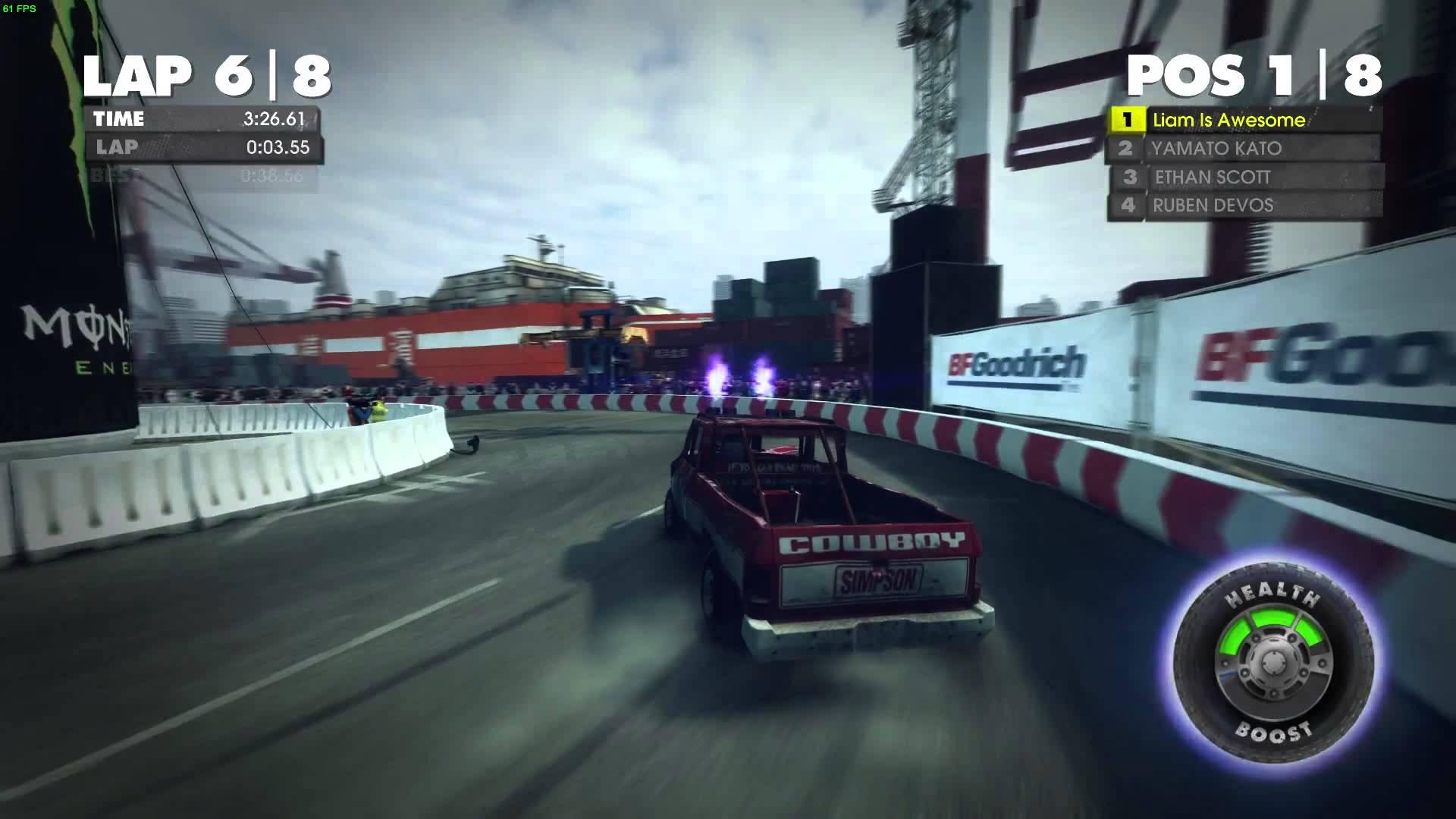 Linux finally has a another decent racing game. It's not a traditional racer by any measure, but still good. Performance is top quality too.
I say "another" because I class Distance as an awesome survival racer, but DiRT Showdown is much closer to a real racing game for us.
Note:
I purchased a key to it myself when I saw it was released (by accident), but was later given a key to unlock a beta to help test it. Really liking Virtual Programming's turnaround in attitude here, I absolutely applaud it.
About the game
Race, crash and hoon your way through a world tour of motorised mayhem in DiRT Showdown! Crowd atmosphere, social gameplay and accessibility are all ramped up in this turbo- injected shot of driving delirium. Smash down the accelerator and earn the adulation of frenzied crowds at hyper-energised events at iconic locations. Trick, speed and smash your way to victory, then do it again.
My thoughts
Port issues
- Let's get the bad stuff out of the way first.
Sadly, it's not perfection yet.
The game will hang sometimes and not recover, VP don't know exactly what's causing it and my logs aren't providing the answers yet. They have tried to fix the bug, but it still happens. Hopefully more reports will help them find why it's happening. Please do
send your logs to them
if the game hangs for you. The eon.txt file can be found in the games install folder. It's a rare bug that's hard to nail down, so more people reporting it will get it fixed easier.
The game's audio (OpenALSOFT) is locked to whatever the default current output is. If you plug in a USB headset, the game will not switch to it, or even allow you to switch to it in PulseAudio Volume Control. You need to load the game with the audio device you want set as the current output for it to work. This does not affect normal jack output for headphones. Not a major issue really. You can make it possible to move audio devices by using
this file
, and simply place it in your home directory under the name ".alsoftrc" and set "allow-moves = true". Do that at your own peril, I'm not responsible for breakage, but it works for me.
If you have multiple monitors, you can force the game onto a monitor using this:
Quote--eon_force_display=*monitor*
Where *monitor* starts at 0
Gamepads can be a little strange, but my F310 mostly works fine. I say mostly as now and then I need to rotate both sticks around in the menu, and then it's somehow calibrated again.
Performance and gameplay
The first thing to note is performance, which really can't be far off Windows, as it's really quite impressive. It's not really a question of if it's close to Windows or not though, but the fact that even my old 560ti I dusted off to test was completely playable on High settings. It goes without saying how well it runs on my 970 really. If you're interested,
my previous benchmark article is here
.
Note: You will want to turn the announcer audio down, it will only let you go down to 50%, but you will thank me. Most annoying thing to have in a racer, ever.
DiRT Showdown is more about smashing your opponents to put them off than simply racing around. Some game modes are even just all out car smashing battles, and I have been enjoying it rather a lot.
I'm a little torn between which is my favourite mode right now. Elimination is probably one of the most intense, as you are on a timer, and each time it reaches zero the person coming last is knocked out. That really does get your heart going a little bit, and I enjoy it every time.
I think my second favourite mode is probably 8-Ball, as the race has sections that overlap, and crashes will be plenty. There's nothing like smooth sailing in first place, to be utterly annihilated by an oncoming car from your right, and then you're last. It's hilariously frustrating! It's more amusing to be coming second, and see first places get literally swept off the track by an oncoming racer, and you sail past into first place.
One thing which really annoyed me was the particular event type called "Smash Hunter" that has you driving around a concrete area, and all you're doing is knocking over coloured blocks. Who in their right mind thought "this is awesome", I want them fired. Nothing about that game mode is fun, but the rest of the game really is.
My other critique is the choice of colours: why can't I have a pink car in every class? The limited customization isn't a major issue, but it would be nice to have and it would make the game feel a bit bigger.
Another annoyance is the score counter in the "Rampage" game-mode, you're constantly crashing into others to get points, and the counter is constantly going. It sounds like there's a cricket constantly in the room.
Final thoughts
Honestly, each time I boot it up I completely forget that it's not native, and I just enjoy it. That's exactly how it should be, this game has
somewhat
changed my mind about non-native porting solutions. It will completely change my mind when the issue of it hanging at random points is fixed.
Is it worth the £9.99 asking price? Absolutely. I've already put 13 hours into the beast.
Check out
DiRT Showdown on Steam
. I look forward to racing with some of you, and annoying you as I give you a little shunt.
Some you may have missed, popular articles from the last month: