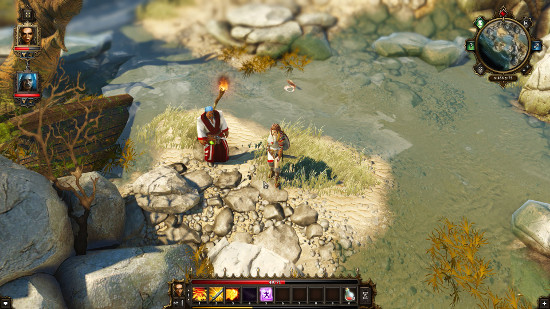 Divinity: Original Sin Enhanced Edition
has finally released for SteamOS/Linux. I have picked up a copy, and I am downloading right now to give you some thoughts.
Notice: It's missing the executable. The Linux version hasn't been matched up to any of the ways to purchase it looking at SteamDB. I have informed Larian on twitter.
Update
: It's now downloading.
It couldn't have released on a worse day for me. I ended up accidentally playing through Portal in its entirety before going to bed last night, so tired is an understatement. I am also ill, so it wasn't the best idea. I will try to give it some thoughts once I have put a little time into it.
Important
: AMD video cards might have rendering defects. This is a game issue and it will be fixed soon.
Initial thoughts and port report
It launches fine, hooray! It loads up in Windowed mode by default for me, if I still had my dual-monitor setup I would have liked this. It's easier to get games working correctly if they start in windowed mode, but now I'm on one screen I couldn't care less. So full-screen 4K resolution it is!
You are greeted with a two-character setup screen with quite a few options and classes to pick for each one. You always have two it seems, and they can be any mixture of male/female, female/female or whatever you want.
Performance wise everything seems fine, with 4K resolution and everything up at Ultra it has been running really smoothly without a hint of stutter. GRID Autosport is the only other game I've been able to get a smooth 4K experience with, so this is really massive points in its favour.
I am testing it with the Steam Controller and it's working like a true dream. The buttons are all mapped correctly, and it just works great. Feels really responsive, and was certainly built well for a gamepad.
I do find it amusing that with your characters, you control both of them when talking to each other. Can't say I've seen that done before, and it certainly makes it interesting, but also easier to do what you want.
Issues
Once you are in-game, you cannot switch to a gamepad/Steam Controller. You can only switch on the main menu, a little annoying, but not a major issue. Same for switching to mouse, the control method cannot be changed in-game.
It pollutes your home folder with a "Larian Studios" folder, seriously developers, please stop doing this.
Overall, it's one of the highest quality ports I've seen for a while performance wise for me. Really liking it.
About the game
(Official)
Gather your party and get back to the roots of great RPG gameplay. Discuss your decisions with companions; fight foes in turn-based combat; explore an open world and interact with everything and everyone you see.
You take on the role of a young Source Hunter: your job is to rid the world of those who use the foulest of magics. Embarking on what should have been a routine murder investigation, you find yourself in the middle of a plot that threatens to destroy the very fabric of time.
Some you may have missed, popular articles from the last month: