Norwegian developer Red Thread Games has released Book 4 of Dreamfall Chapters, and along with it a massive engine update from Unity 4 to Unity 5 which intends on fixing many of the performance woes suffered by the game.
There's also a nice 60% off sale to accompany the release of the penultimate Book.
I originally picked up Dreamfall Chapters around a year ago, undeterred by the episodic releases since the game looked so intriguing and like a fresh take on the adventure genre. With each subsequent Book release, I was more and more impressed by the game's story, but less than amused by its performance.
It's quite telling when my rig could handle something like Metro Redux with ease, but was huffing and puffing when it came to this game. Yes, the locations look very good, but they really should be a walk in the park for a GTX 960 and there's reports that the game would struggle even with far superior hardware. This was not something platform-specific, with Windows users reporting the exact same FPS issues.
Reportedly, this had become such an issue that the developers spent a disproportionate amount of time and money on the engine upgrade transition. Unfortunately though it hasn't paid off anywhere near as much as I was expecting, but I would now consider performance to be acceptable. From what I understand, these performance issues were mostly due to the lack of multi-core CPU usage which has now been added.
For this reason, it seems relevant to point out that Intel or AMD users may still experience different performance, though it's not a guarantee. I have an FX 6300 myself for reference, and though it's still a very strongly performing chip, it is notable for its inferior single-core performance compared to Intel cards.
While on full settings (which the exception of shadow distance) I was previously experiencing a paltry 15-20 FPS in Marcuria (the worst location by far in terms of frame rates) I am now getting 25-30 FPS, which is a significant improvement, but I certainly wanted more. The interior areas on the other hand have improved significantly and I now get a solid 50-60 FPS. I have to say, it was so bad before (most of all in Marcuria) that I frequently had to close the game since I got spells of motion sickness - something which has never happened to me before or since with a video game.
The motion sickness is gone, but I still feel that the immersion is occasionally broken by stutters and blurs, albeit only in the one location. I have little doubt that turning down the settings would improve this, but I really don't feel like I should have to. Firstly because though I'm aware my rig isn't the greatest in the world, I would expect something in the region of 60 FPS with this game, as I do in the smaller areas. Secondly, the game is pretty! I don't want to sacrifice visual quality whatsoever because it would really detract from the game.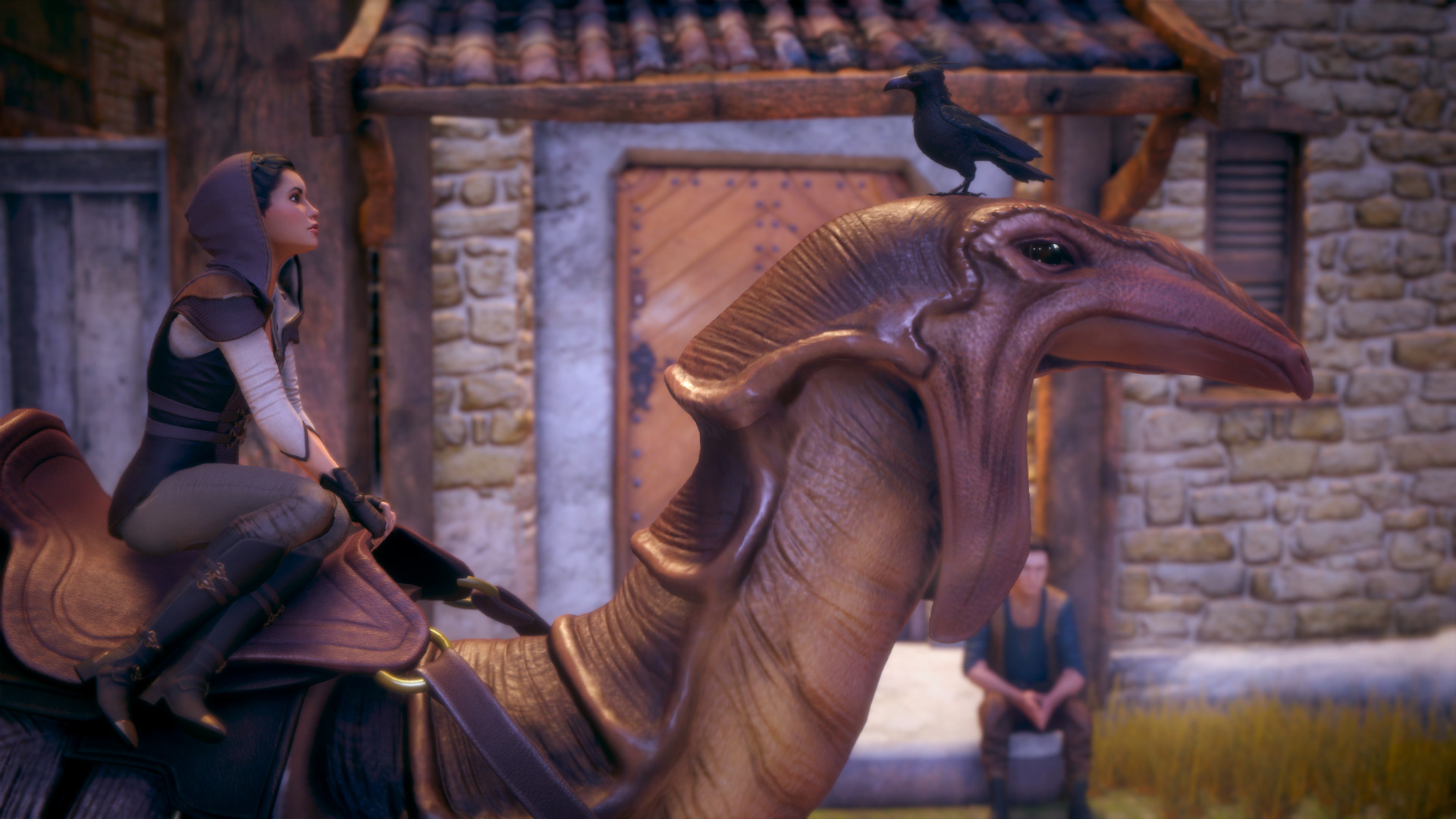 The two main towns of the game always had the worst performance issues. Marcuria - the worst offender - is now the only location which is still sub-par.
That said, despite its (now somewhat improved) performance issues, there's very good reasons why I still kept playing it and why the game has excellent reviews on Steam. It's simply a great game and it's also incredibly refreshing to see PC gamers put aside their somewhat unhealthy obsessions with frame rates to one side and just appreciate a very good game. It was almost a surreal experience to check back on the game's Steam page periodically for updates on the engine upgrade over this last year and see the overwhelming majority of comments be along the lines of "take your time with the upgrade, I'm sure it will be worth it since the game is fantastic" and only a minuscule minority in the "I runz a GTX 980 and I only get 35 FPS, GIMME MY MONIES BACK!" camp.
It really says a lot about a game when it makes you want to throw up, but can't wait for the feeling to pass so you can get back to it again and rinse and repeat. As far as I'm concerned, the game is now playable and that's all that matters - there's no fast-paced action which requires good framerates and though a steady 60 FPS would be nice, it simply isn't necessary in this game. The update brought performance to an acceptable level (with the exception of Marcuria), and now the developers can get back to doing something they're clearly better at than optimisation - story and immersion
Tomorrow I'll be uploading my full review of the gameplay and story now that I finally feel like performance is at a level where I can confidently recommend it - something I've been holding off doing for around a year now.
About Dreamfall Chapters
Dreamfall Chapters is the episodic follow-up to award-winning adventures The Longest Journey and Dreamfall: The Longest Journey: a story-driven adventure about choices and consequences, dreams and reality, magic and science, chaos and order, and the broken heroes whose actions will shape the course of history in all worlds.
Set in parallel worlds — one a dark cyberpunk vision of the future, the other a magical fantasy realm — the game follows two unlikely heroes on their journey across worlds to save the very fabric of reality from the Undreaming. Dreamfall Chapters is a mature, emotional, dark, magical and heartbreaking adventure that will take you by surprise.
With a brand new storyline and a cast of new characters, Dreamfall Chapters introduces new players to The Longest Journey Saga, while returning players will get the conclusion they have been waiting for ever since the end of Dreamfall: The Longest Journey.
Edit:
It appears that the sale is now over.
Some you may have missed, popular articles from the last month: