This stylized simulation of the American oil rush of the 19th century recently got new content in the form of DLC, titled The Heat is On. I gave both the base game and DLC a look.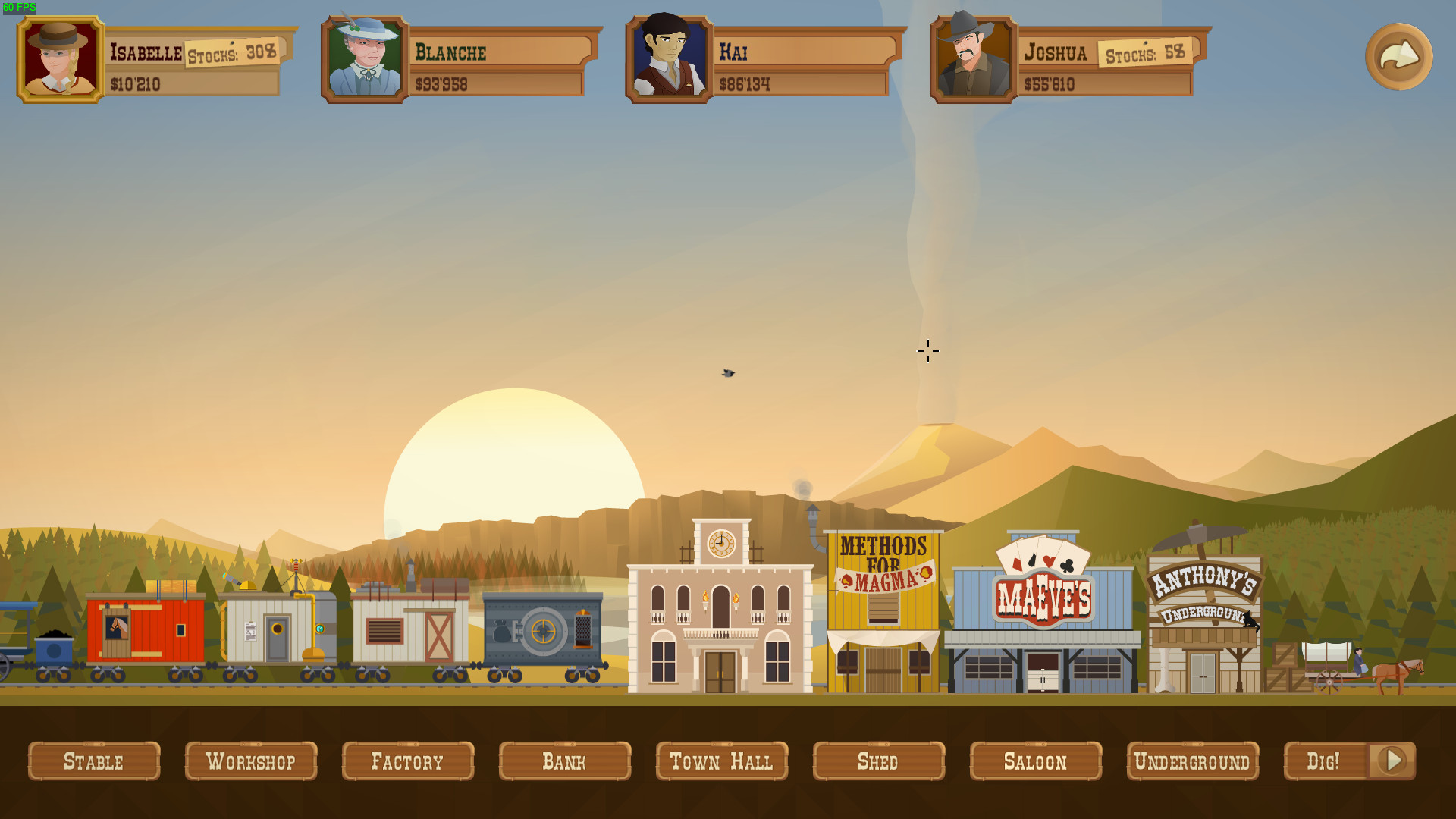 Note: Key provided by PR company
Turmoil originally released a couple of years back and put the players in the role of a would-be oil baron who was getting their start in a small town. Competing in a campaign which sees you pick out plots of land and then exploit them, the ultimate goal is to outpace your rivals and finally become the oil-rich town's new mayor. There's a healthy dose of humor in the game as well, as unconventional tools and upgrades can help the player be more efficient at their designs.
Gameplay consists of managing one of your plots for a year, building rigs and pipes, seeking to find pockets of oil under the oil. The game is simple to pick up and building your own labyrinth of oil pipes underground is easy and intuitive. Fluctuating market forces set the price of the oil being sold so along with the actual infrastructure, deciding when to sell is the other major challenge of the game. It's easy to get caught up in playing the levels and get lose track of time which I think goes to show how well the simple premise is executed.
That isn't to say that the game isn't without its failings. Even though it's fun to play, the game suffers from being too repetitive. The levels are randomly generated and the total amount of oil depends on the plot you picked but the basic strategy never really changes. I found that, more often than not, I was simply doing the same thing in more or less the same order on every level. I would have appreciated a few hand-crafted stages with specific challenges or conditions that weren't simply about making the most amount of cash in a limited amount of time.
I also found it strange that all the characters play the same unless you clear the game once and unlock 'expert' mode. Having special perks or bonuses according to the character you pick could have helped with some of the feeling of monotony earlier on, especially as it can also feel like you're simply grinding away for upgrades for a good chunk of the campaign. These upgrades can also feel limited in usefulness, feeling missed when the random map screws you over but otherwise not that life-changing.
The recently-released DLC shakes some of this basic formula up, refining some of the cruder mechanics into a rebalanced experience. There's a whole new campaign with new rivals and locations. But to be honest, that's mostly window-dressing. The most important changes are the addition of magma on the maps as well as technologies for converting gas into oil. It makes each level play out differently as now magma can heat up your pipes and increase the speed of flow as well as convert pockets of oil into gas.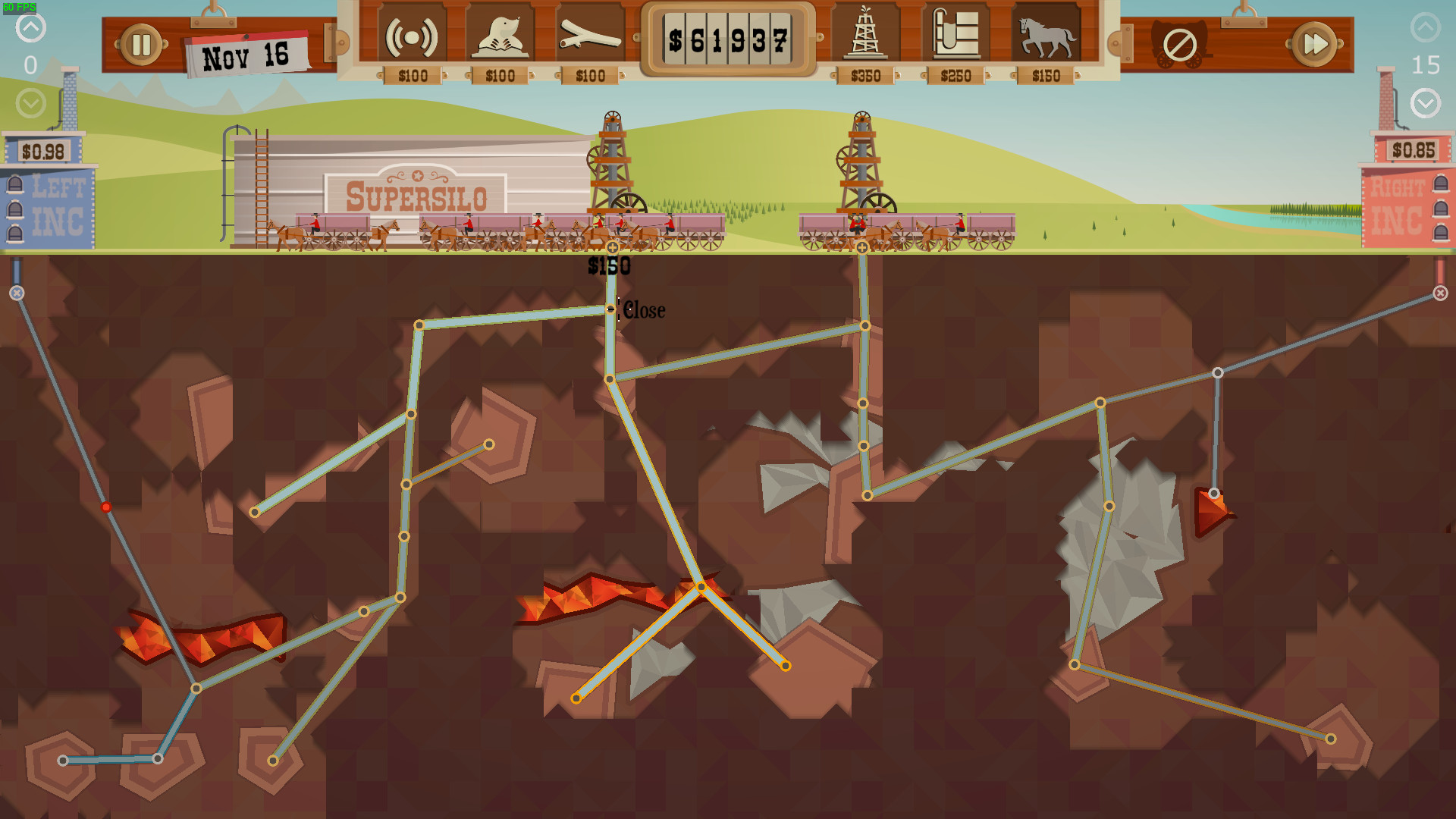 Gas, if piped through directly to one of the companies that buy oil from you, raises the prices of oil. If you store a lot of extracted oil in your storage tanks you can force up the prices with gas and quickly unload your supply, making a boatload of profit. As some of the later stages feature no gas pockets at all, it becomes a good choice to allow some of the smaller pockets of oil to become gas and then use that to drive up prices. This mechanic goes some way in addressing my concerns that every level plays out the same but it's still not enough to make the new campaign feel that distinct.
I still found myself more or less starting every level in the same way and expanding accordingly. You're still trying to become mayor at the end and still trying to outbid your rivals for land while buying whatever upgrades you can afford. Other new things like artifacts that can be dug up don't really make that much of a difference; if you collect a row of artifacts an oil-rich location is shown only to you when picking out plots of land and if you collect them all you get a special oil-filled stage to exploit. Bribing characters for favorable contracts the next level or gambling for a bit extra cash is also something you can do but they're more like nice little flourishes rather than anything game-changing.
The core gameplay is fun but it was hard for me not to feel underwhelmed as I tried to clear both campaigns for the purposes of this review. It's a bit of a slog. This is a game that's best played in short bursts, doing casually a level or two before putting the game down for a bit. It's good at scratching that strategy itch without having to think too hard about your choices and the simplicity of the mechanics is not without its deserved charm.
So with all that in mind, I'd recommend this one to people who are looking for a casual sort of management game. This doesn't throw much in the way of curve balls so if you're looking for something a bit more brainy and complex, skip it. As for The Heat is On—it's better than the base experience but it isn't essential to get a lot of enjoyment from the game. If you do pick it up, you can safely play its campaign instead the basic one as it effectively is a slightly improved take on the same concept.
Grab Turmoil: The Heat is On on Steam. You can also grab Turmoil on GOG but there's no word if the DLC will be available there anytime soon.
Some you may have missed, popular articles from the last month: