Duke Nukem 3D: Megaton Edition
is the definitive compilation of the landmark first-person shooter that includes enhanced versions of Duke Nukem 3D: Atomic Edition and three unique expansion packs as well as the original version of the classic game.
The iconic Duke Nukem battles it out against a slew of alien foes in the original four episode "Atomic Edition" single-player campaign and three over-the-top expansion packs that take the loudmouthed hero to a tropical paradise, a winter wonderland, and even Washington D.C. Duke Nukem 3D: Megaton Edition features polished OpenGL visuals, native compatibility with modern PC and Mac computers, Steam Achievements, and Steam Cloud support. Duke Nukem 3D: Megaton Edition will continue to receive feature updates including Steamworks-enabled online multiplayer, new achievements and integration of additional Duke Nukem 3D expansion packs.
As of today the Beta for Linux is now officially up as per
their announcement here
.
Duke Nukem 3D: Megaton Edition includes:
Duke Nukem 3D: Atomic Edition
- All four officially released episodes of the iconic shooter with carefully restored visuals, timeless gameplay, and challenging Steam achievements. (OpenGL)
Duke Caribbean: Life's a Beach
- Grab your water gun and sunscreen as Duke battles vacationing aliens in beach side hotels, tropical lagoons and even a cruise ship! (OpenGL)
Duke It Out in D.C.
- Duke takes his special brand of politics to Washington D.C. to turn back the alien invasion set against the White House, the Lincoln Memorial, and even FBI headquarters. (OpenGL)
Duke: Nuclear Winter
- Take a brutal walk through this winter wonderland as Duke gets into the holiday spirit by bringing the battle to the North Pole! (OpenGL)
Duke Nukem 3D Classic
- The classic version of Duke Nukem 3D in all it's original glory. Hail to the King, baby! (DOSBox)
It's looking like multiplayer
is still happening
too, I imagine it would be pretty fun to play Duke Nukem in multiplayer on Linux, who's with me?! Hail to the king baby!
Trailer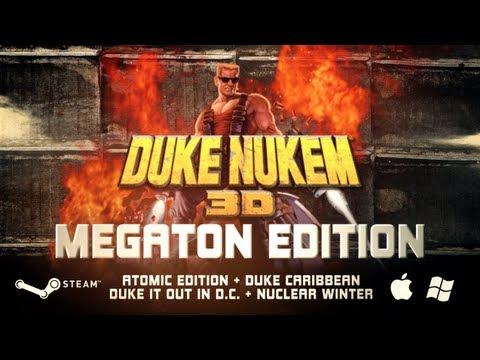 Some you may have missed, popular articles from the last month: