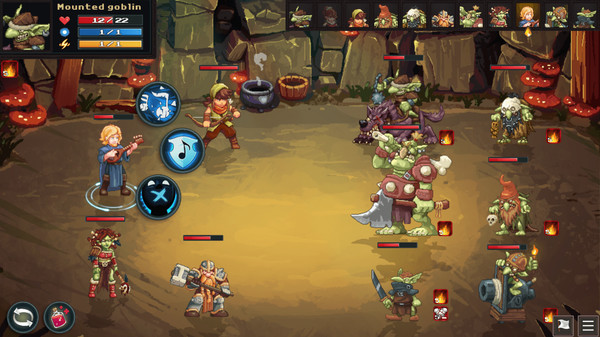 Dungeon Rushers
is a game I tested for the developer a while ago when they posted it to reddit, so they sent along a key to check out properly now it's out for Linux.
It's actually pretty good, it has some nice art, some interesting dialogue, the battles are fun and it has a lot going for it. You travel the map in search of dungeons and while exploring you can level up, unlock new skills and equipment and so on.
It's not just single-player either, it has a full online mode if you're feeling truly adventurous. This is locked until you progress a bit in the single-player though.
It even has Steam Workshop support, so you can download entire new dungeons to explore which is pretty awesome. It's also locked at the start though, as you need to unlock it by doing the single-player.
I dislike how you can't seem to progress through dialogue using the keyboard, you have to click the mouse. For a game like this I prefer moving around the dungeon with the WASD, so to then have to move over to the mouse to progress when I interact with someone does feel a little annoying. A minor point, but it would be nice to be able to do.
About the game
Dungeon Rushers is a 2D tactical RPG combining dungeon crawler's gameplay and turn based fights. Manage your team, loot dusty dungeons, crush armies of monsters and craft mighty equipment. Be part of an epic adventure with a colorful cast of characters in an off-beat universe. Build your own dungeon and challenge other players!
Overall if you like turn based battles, looting dungeons for gold and equipment and so on it's well worth a look. I enjoyed every moment of it.
Some you may have missed, popular articles from the last month: