It's quite hard to contain my excitement about this game, but as always we will give it a fair look and tell you what we think about Dying Light. This is not a full review, but a look at what you can expect with the game right now on Linux.
This was tested with an Intel 4670K and an Nvidia 970 4GB GPU, so I don't exactly have low-end hardware.
NOTE
: We will continue to update this as we find more issues. Updates from the developers will be at the bottom.
My initial thoughts
Wow, this game sure does look pretty, and my settings aren't even on the highest, and with a 970 at the helm even on Linux it runs really smooth. The opening cinematic does not disappoint either, and I really enjoyed the action-packed start to the game.
Right now one glaring bug on Linux is that people's mouths don't move when they talk (
reported here
), and while not game-breaking it is very funny, but it does ruin the immersion somewhat. It's also a little creepy to have someone stare at you, talking, and their mouths aren't moving. Mouths move during small cut-scenes, but not in general game-play.
You get a "survivor sense" pressing Q to help you locate items, which gives massive yellow arrows, so that doesn't look right at all. See this shot: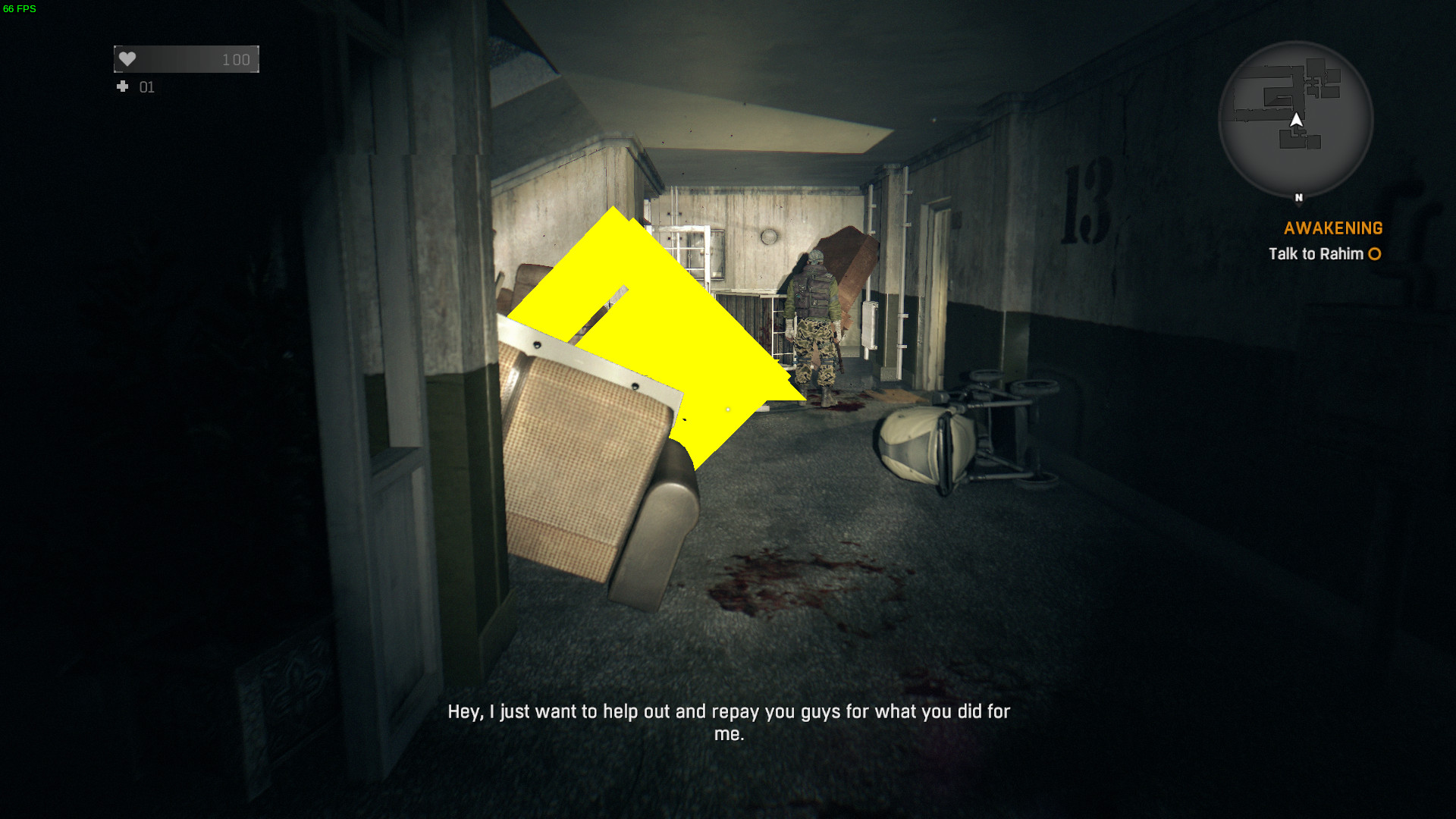 Overall, for a new high-profile game it's great to have it on Linux, but the issues could put a few people off. It is brand-new hot off the shelves though, so bugs are to be expected.
The blurring when you run is horrible, and it actually makes me feel a little bit sick, so I seriously hope they fix it to allow us to adjust it. It doesn't look good at all, and if you get that blurry in real life when you move a bit quicker, then see a doctor. Windows users seem to be able to turn it off, so it seems our setting for it just doesn't work.
The frame-rate is a bit up and down even with my rig, so they have a fair amount of optimizations to do. Especially when moving around it can jump from 30-70, but this is normal for high-profile games at release, as they always seem a bit rushed to hit deadlines. Once you get outside the FPS tanks to make the game unplayable sluggish, and I mean you're looking at an average of 20FPS and below, and this does not make for a nice experience. This does not seem like it's Linux-only, as
checking even one forum post
and
reddit
it seems it happens on Windows too. When checking again a few minutes later there are masses of people complaining about performance issues across all ranges of hardware.
Considering the FPS issues across both platforms, it seems the developers will have to fix it, as it's not Linux-only.
Holding down TAB to change weapons also seems to make the game freeze up a bit, and you can't seem to be able to change weapons that way as nothing seems to work (
reported here
).
The major game-breaker
is at night when you first spot a special blistered zombie, you enter the safe room and...game input freezes. Confirmed this with our caster Samsai who also has the same issues. I have added it to my support ticket, and
put it on the Steam forum here
.
You also cannot secure safe-zones on Linux, so that's a major gameplay feature that just doesn't work.
Turning it down to 720p stops it being so sluggish, but the game still has a low FPS and isn't smooth enough to be enjoyed.
I don't often blast developers and I hope they don't see this as me being too harsh, but it
seems
no quality control was done on the Linux release, hell, even The Witcher 2 was less broken at release than this.
I mean, considering how widespread the problems are and how easy they are to reproduce, how were the issues not caught?
I don't know what Techland are like for supporting their games, so hopefully they won't let us all down, otherwise the reviews will blast this game quite badly, including ours.
Please comment with your FPS once outside, and tell us your hardware. I am currently testing with everything on lowest, and I've set the view distance to the lowest now too, and it seems to be a tiny bit more playable.
Check out
Dying Light on Steam
if you wish to try it. Personally, my advice is to hold off until we confirm patches fix it.
Prominent critic Total Biscuit confirms it too.
Hmm I take back what I said about Dying Light performance. At some point between this morning and now FPS cut itself in half

TotalBiscuit (@Totalbiscuit) January 27, 2015
When we watched his Stream last night, it was fine.
About the game
(From Steam)
Dying Light is an action survival game presented in first-person perspective. The game is set in a vast and dangerous open world. During the day, you roam an urban environment devastated by a mysterious epidemic, scavenging for supplies and crafting weapons to help you defeat the hordes of mindless, flesh-hungry enemies the plague has created. At night, the hunter becomes the prey as the infected grow in strength and aggression - but even more lethal are the nocturnal, inhuman predators that leave their hives to feed. You will need to make use of all your skills and any available means to survive till dawn.
Updates
A developer posted
this in one thread
:
QuoteHi everyone,

We're aware of the issue and are now working on fixing it. It is most likely related to a specific hardware setup.

To help us get it right ASAP, please provide your hardware specifications in this thread if you are experiencing stuttering/FPS drops.
Not to be too harsh here, but even looking for 5 minutes tells me it's not specific hardware, it happens on AMD/Intel and on Nvidia/AMD.
I have an official support ticket open with the issues, so we will update you if they reply to it. We will also re-review it if they manage to make it playable.
Update
, they replied to my ticket with:
QuoteHi Liam Dawe,

Thanks for your feedback. We will work on it.
It's also worth noting that actual review keys for this game were handed out on the launch day to game journalists. While we don't expect to get keys for big games, usually at least the bigger sites get keys to write their reviews well in advance. It seems there was some shady business with the way press copies were handled.
This is one of the most broken game launches on Linux, ever.
To end it on a lighter note: The developers are still new to Linux, so hopefully in time they will learn and fix it.
Some you may have missed, popular articles from the last month: