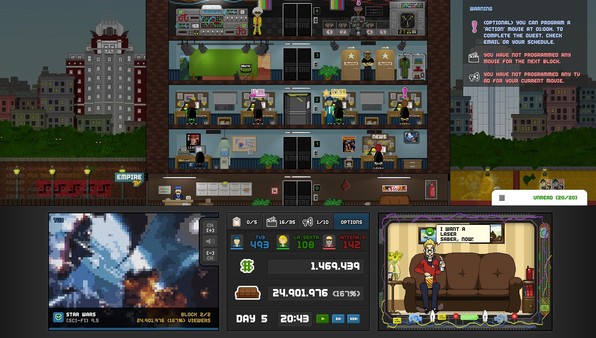 It has been a while as other things kept coming up, but I finally take a look at Empire TV Tycoon.
I love Tycoon style games, I like being able to build and manage and do awesome things. Running a TV station isn't something I had thought about before so it's a very cool idea.
The first thing that always impresses me is that it starts on the correct monitor and has no troubles with the fullscreen due to having two monitors. You know how often I complain about games having a totally messed up resolution or picking the wrong monitor, but not a problem here at all!
It has two game modes, or you can go with custom options. The arcade mode is a 30-day sprint to see who can gain the most fame points, or and endless mode to just build up your TV empire (what a real tycoon game should be!).
Since I love sci-fi I decided to select that as a theme for my channel, which was really awesome to be able to pick exactly what I would want in a TV channel.
What I don't particularly like, is how small the text in the game is. I find myself often squinting to read it or moving closer to my monitor. This should never happen! It actually makes it a little frustrating to play.
You're essentially picking what advertising, movies and shows to place into time slots based on the audience you're likely to get. You can hire staff to write scripts, create advertising and more. That part of it was cool and felt a little more like a proper simulation game.
You are limited to scheduling programs for today and tomorrow and that's it. You have to keep scheduling things as they go, instead of in advanced. It doesn't make sense other than to make it seem like you have to keep doing things in the game.
You can buy new movie from a parody of Walter White from Breaking Bad, who says the exact same phrase every time you leave. That becomes old really fast.
You occasionally get email quests sent from people to show a specific genre of film, or something like that for a reward. The problem is, the rest of your audience may not like it, so the choice is yours.
What is really odd is there's a few different types of staff you can hire, but you're limited to a maximum of four staff. If you want a staff member that can do something different, your only option is to fire one of them. This leads me into the fact that the game has zero building elements to it. Pretty much everything already exists, there's no real expanding or customising your building which was a real let down.
What breaks the flow a lot is that you're sharing the building with other TV stations, and the only way to get to different sections is by a lift, so at times you're left waiting around as the AI is using the lift and it can be quite annoying. It actually becomes really tedious having to keep moving your character into the lift and change floors every time you want to do something different.
It has too many little ideas mashed together that don't fit well. The statistics never seem to make sense, and the tutorial does a pretty poor job at explaining things too.
Overall, I think it's a cool idea, but it quickly becomes stale as you're just essentially doing the same thing over and over without any real feeling of excitement. A lot of the time you're actually left just standing around waiting once you've set all your programming in. There's really not all that much to do. I have more complaints about the game than nice things to say, it's just not that good and I am surprised it has as many good reviews as it does as it's really nothing great.
You can find
Empire TV Tycoon on Steam
.