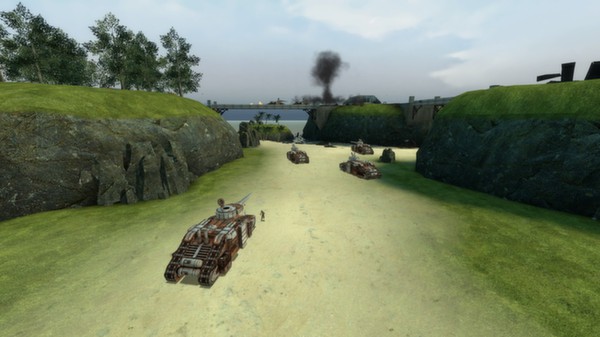 Empires
, a Source SDK game that's been around for quite a long time looks like it's coming to Linux, can't wait to try it.
Checking up on
SteamDB
it seems they are working right now on Linux support!
In October last year the mod changed hands, as the development leader stepped down. They also want to make it open source, but they need the blessing of the original creator. See
this post for details
. Linux was mentioned in that linked post too reading further down.
It looks like they may be moving to Unreal Engine 4 at some point too, so that's awesome news.
About the game
(Official)
Empires, the award winning Source SDK game, combines the best of the first person shooter and real-time strategy genres. Fight as either the Northern Faction, remnants of the fallen nation of Jekotia, or as the imperial Brenodi Empire.
Four infantry classes - Prepare a surprise attack as the scout or take the enemy head-on as the rifleman. Drive back enemy tanks as the grenadier or support your team as the engineer. With four different infantry classes, each with customizable skills, you can create the perfect class to fit your playing style.
Squad-Based Teamwork - Players can organize themselves into highly-effective squads, overwhelming their opponents with superior tactics. Squad leaders can not only direct their respective members, but also use special squad powers such as reviving dead squad members or calling down an artillery strike on the enemy.
Vehicle Combat - Whether you're ferrying troops around the battlefield with the Armored Personnel Carrier or reigning fire upon your foes with the Artillery tank, Empires features a variety of vehicular combat. Choose from six different vehicle types, including three levels of tanks, and customize your weapons, armor, and engines.
Real-Time Strategy Commander - For those more inclined to RTS gameplay, you can play as the commander. Place buildings, build defensive turrets, construct vehicles, and conduct research on your way to leading your team to victory.
Some you may have missed, popular articles from the last month: