It's been a while since I last dug up my 760 and did some benchmarking, so I decided that I would run some to celebrate the last days of 2015. I've picked some new games this time around to show the performance of both the open source and the proprietary drivers.
Like I said, this time around I have ditched the Unigine benchmarks in favour of some Source games, Talos Principle and Xonotic. I really only have two reasons for this: I wanted to test real-world performance and I am still quite happy about figuring out how the Source demo files work. If you are interested in the Unigine tests you can find results
here
and
here
.
Before we get to testing let's talk a bit about the driver setups. On Nvidia I went with the Proprietary 355.11 drivers after I found the 358 drivers to be extremely unstable. The Nouveau tests were done on Mesa-git (11.2) from Oibaf. Nouveau is also limited to the second highest performance level due to driver limitations on the kernel side. For AMD the proprietary driver of choice was Crimson 15.12 and on the open source side I used the stock Mesa 11.0.2 built with LLVM 3.6. I am not using the bleeding edge drivers from PPAs like Padoka due to bugs which can negatively affect performance of certain titles or prevent them from running at all.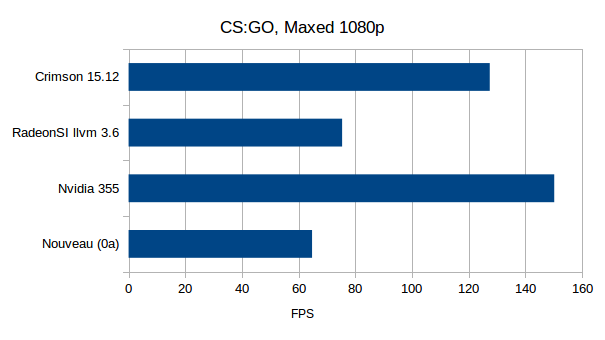 Counter-Strike: Global Offensive is among the most played games on Steam so naturally its inclusion makes perfect sense. CSGO, like other Source games, is not extremely demanding which is why I decided to max it out. All drivers did well in terms of playability and it was quite surprising to see Nouveau get as close to RadeonSI as it did, considering that the 760 only gets clocked to its second highest performance level due to driver limitations. It did dip into around 40 FPS every now and then so the experience wasn't perfect but quite good nonetheless.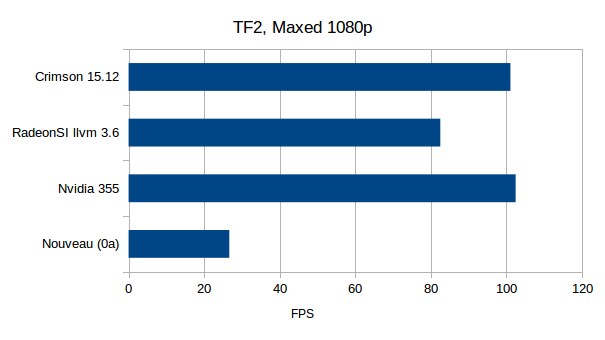 Here something interesting happened. I seem to have hit some sort of a performance bottleneck or something along those lines because Crimson and Nvidia blob ran at nearly the same framerate. It certainly would be fun to believe that this is a sign of performance parity but I highly doubt that. On the open source front Nouveau took a serious dive to around 25 FPS average and dips to 15 FPS. It would seem that maxed out TF2 simply isn't something Nouveau likes. RadeonSI on the other hand handled the game just fine and looks to be gaining up on the proprietary drivers.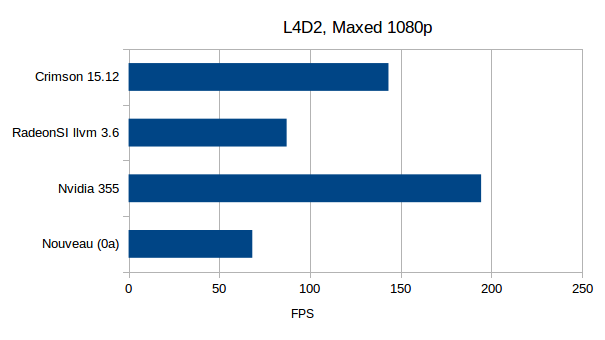 Left 4 Dead 2 looks quite ordinary when it comes to the performance graphs I've made in the past. Nvidia blob runs ahead of the competing AMD proprietary driver with a performance delta of about 50 FPS. RadeonSI is still quite a bit slower than its proprietary brother but the overall performance was still quite satisfactory, 87 FPS on average. Even though Nouveau is, as usual, tailing the driver group it still performed at playable 68 FPS average.
It's time to leave the Source games and take a look at a game that was requested a couple of times in the past. Talos Principle is a very good looking game indeed and it can be quite punishing at times. Interestingly, the Crimson and RadeonSI performance was almost identical. However, the rendering results were not quite: RadeonSI had some trouble rendering the shadows in the correct places and on Nouveau I noticed multiple split-second graphical glitches. Both Crimson and the Nvidia blob rendered the game perfectly but Nvidia's performance was simply outmatched. I normally either set the settings to maximum or to the lowest in benchmarks but here I decided to be a little bit more conservative and went with mainly High settings. On Nvidia the game could have been pushed quite a bit more without losing the smooth gameplay experience.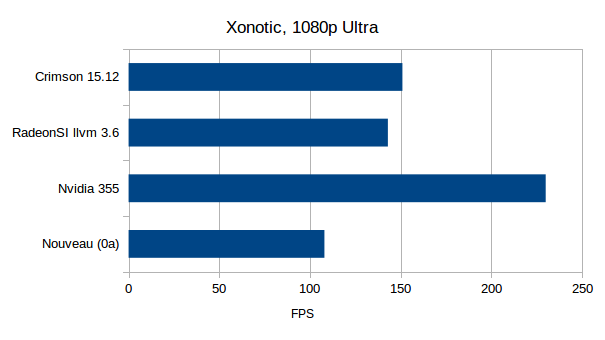 Finally, I ran some benchmarks of Xonotic. This game uses a very mature game engine and calling it graphically intensive would probably be a bit of a lie. This game has been heavily optimized and it can be run on almost any modern hardware. Still, it's a nice game to test since it works everywhere and still manages to look quite good. RadeonSI was very close to Crimson once again and this time no rendering issues can be blamed. It would appear that RadeonSI will soon reach and possibly surpass the proprietary driver in some games where it has typically lost to the blob. Still, there is a long way to go until the performance of the Nvidia blob is reached. Nouveau was also very playable, which isn't all that surprising with this game.
2015 has been a very good year for Linux gaming and possibly an even better year for the open source drivers. OpenGL 4.0 support has started to arrive in all three major open source GPU drivers and quite a chunk of the Steam games available to us Linux users is actually playable on the open source stack. It's not just a game of catch-up anymore either, since porting houses like Feral Interactive and some game developers have been looking into the open source drivers quite a bit and their efforts to both support and fix the open source stack should also be applauded. There is still plenty to be done both on the OpenGL implementation and the optimization side but if you ask me, the future looks quite bright indeed.
So, that's it for the native games section. I have also prepared something that has been asked furiously by some individuals which you can find on page two.
Some you may have missed, popular articles from the last month: