This ambitious DLC adds new shiny toys to nearly every nation of the Near East. I did my best to navigate religious and political strife ahead of release and can share a few thoughts on the experience.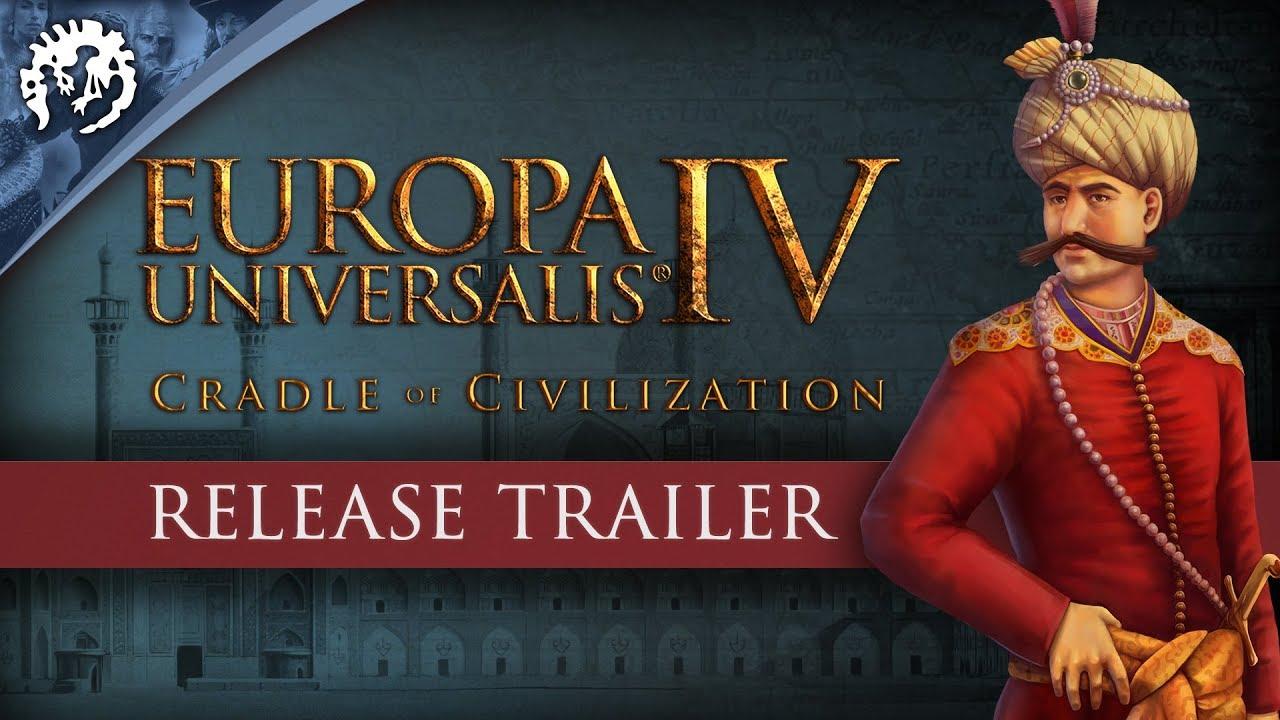 Note: Key provided by publisher
Europa Universalis stands as Paradox Development Studios' flagship grand strategy title, getting quite a bit of attention over the years in the form of both free content and expansions. It's a game that's been drastically changed since launch, mostly for the better I'd argue. Cradle of Civilization seeks to continue that trend, adding plenty of flavor and mechanics to be enjoyed in the Middle East and beyond.
Almost every government type and power in the region now gets its own unique mechanics and events. Playing as the Mamluks, whose slave soldier caste control the state, proves to be a rather different experience than the dynamic Persian entities or the Turkmen states between the Tigris and Euphrates. There's a good number of events for each that do a good job of making each country and their government type feel unique. A lot of these countries also get special abilities that can be called up when needed, potentially helping the player out of a tight spot. Learning to use these little quirks inherent to each government type is a novel and entertaining experience.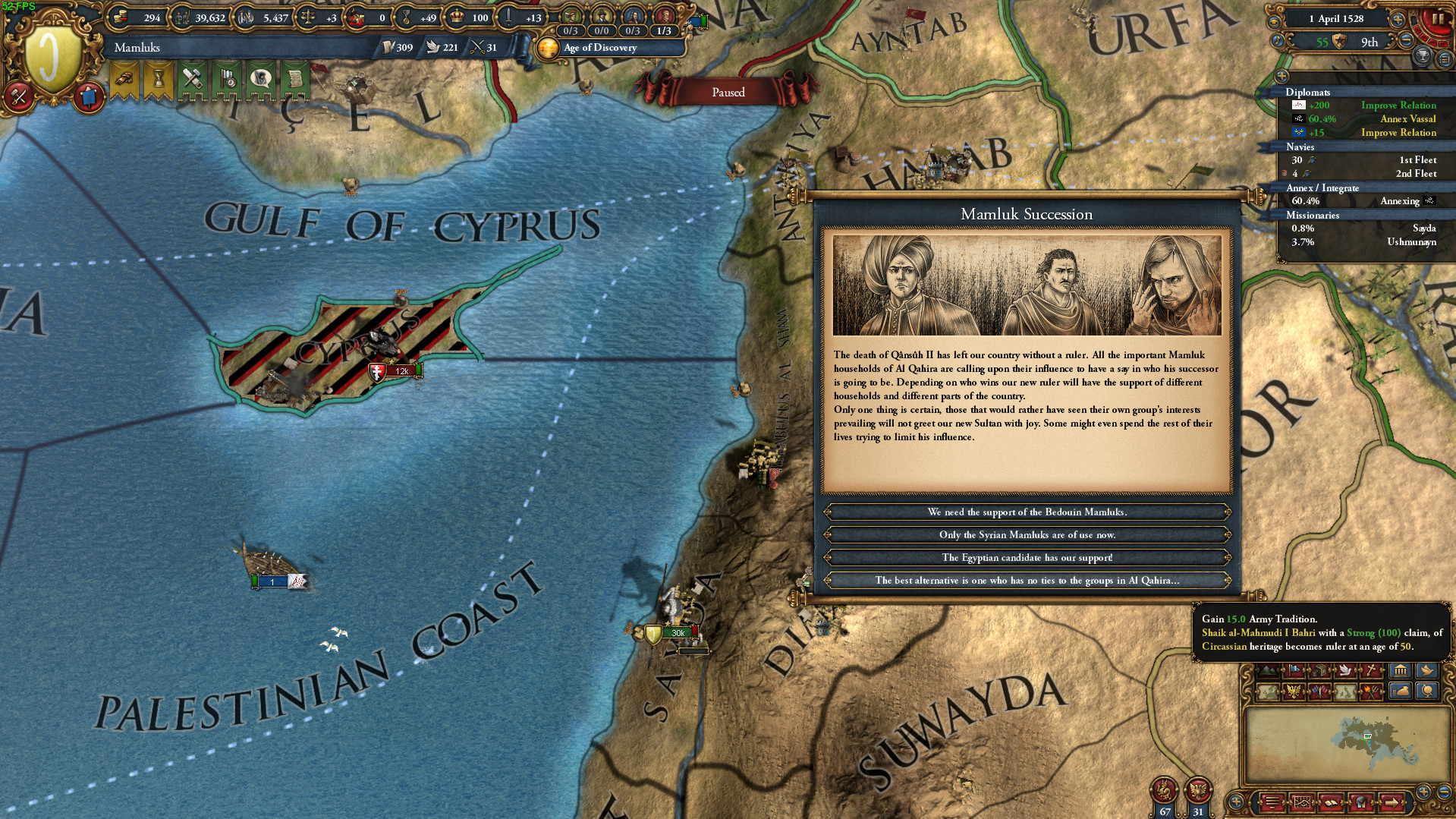 Islam is generally the common denominator between all of the nations of the Middle East. It's been overhauled more or less in the expansion, getting new mechanics and features that bring it more in line with the other in-game faiths in terms of completeness. There are schools of thinking which you can adhere to and sponsor, each with their own perk and rival. Additionally, faith is rated on a scale between mysticism and legalism, either extreme providing different sorts of benefits and events which can suit different play styles. It's somewhat rooted in history like most of the things in the series but, more importantly, these changes add to the game in a positive way. It's not hard to understand how it all works and comes together, either. It all fits in seamlessly with the rest of the game mechanics.
I'm not going to go point by point with the changes for each nation. I will say, however, that there wasn't a single new mechanic or government type that disappointed. PDS has taken a cue from some of their previous expansions and have understood that unique internal mechanics is a fun way to get players to try different nations. Even the Ottomans, which already were a bit more special than the rest, have gotten new toys to play around with which should make some people happy.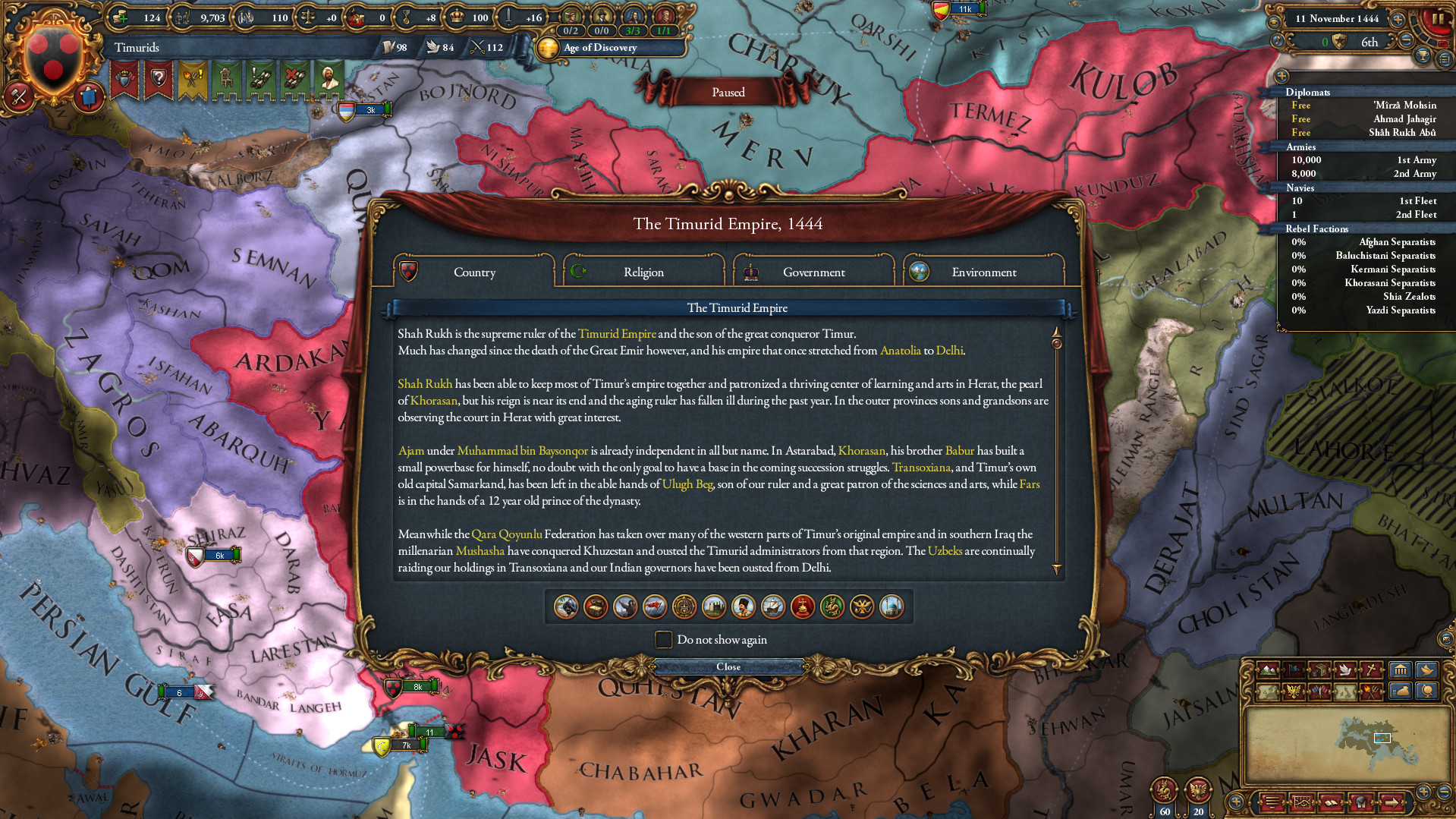 Crucially, there are also a few features in this DLC that affect all nations. Army professionalism is a new concept that's been introduced and probably the most interesting in the expansion, overall. Armies with a general can now perform drills, which makes them gain combat bonuses and contribute to your overall professionalism level. Once your professionalism reaches a certain level, you unlock new options such as building supply depots or refunding manpower when you disband regiments. While this isn't a must-have sort of feature that revolutionizes the game, it offers a great deal of strategic flexibility and is something that definitely makes warfare more interesting.
The other big change involves trade, specifically actions that your merchants can now undertake at trade nodes. I've never really been big on trade in the game (I prefer to conquer my way to profitability!) but I have to recognize that these new actions offer interesting possibilities for nations that go in a different direction. You can do the standard collection of monies but also use merchants to do things like spread religion or help the logistics of the provinces next to the trade node.
There's a few other features that are in Cradle of Civilization but I think that they're ancillary compared to what has been mentioned thus far. The short of it is that this DLC gets a conditional recommendation. The trade and army professionalism features aren't strong enough by themselves to warrant a ringing endorsement. I really liked what they did to the various countries in the Middle East and with Islam but I can't help but think that players who aren't interested in playing in the region would be disappointed by the DLC. If you are interested then Cradle of Civilzation is a great addition to an already very rich and engaging game and well worth checking out.
As a final note, a rather hefty patch has also been released. You can read the patch notes for yourself here but there's a lot that's been changed. My personal favorite changes are the new trade goods and provinces but I think there's pretty much something there for everyone.
Update: Forgot to mention that crossplatform multiplayer should now be working as of the latest patch which is a pretty big deal!
You can now pick up Cradle of Civilization on Paradox's webshop or through Steam.
Some you may have missed, popular articles from the last month: