The latest EU IV DLC focuses on South Asia and comes alongside a significant patch. I fought with elephants, braved the monsoons and have a few thoughts to share about the experience.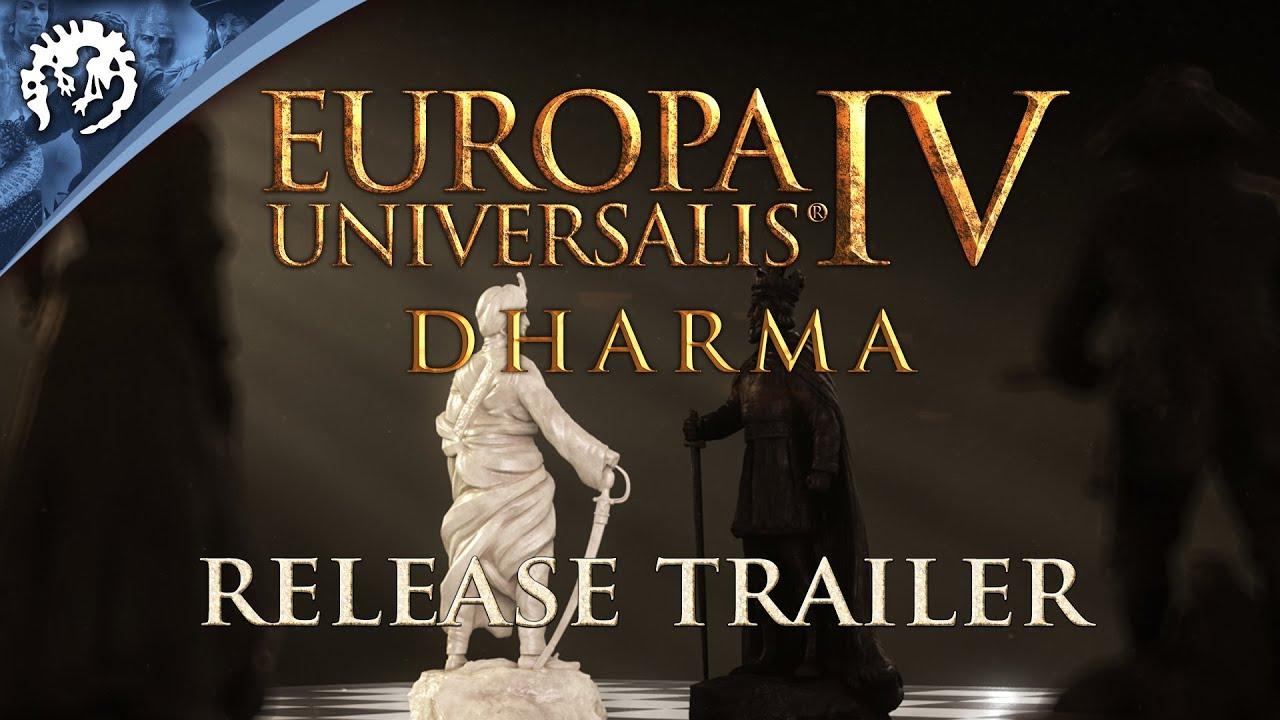 Note: Key provided by publisher
Europa Universalis IV is often a messy spectacle full of war, colonization and rebellion. The historical sandbox is now five years old and has matured quite a bit. A plethora of patches and expansions that have altered almost every single aspect of the game. So far as I can tell, this process shows no signs of slowing down and Dharma brings more shiny toys for would-be world conquerors and wise rulers to enjoy.
As you might have guessed from the title of this DLC, a great deal of the new features in the expansion deal with the various states in the Indian subcontinent. Many of these have gotten their own unique mission trees and, while I haven't had the time to play through every single one of them, I generally feel that they've been successful at providing both direction and flavor for players. The region itself, thanks to other changes in the patch, feels incredibly dynamic as well and so it's been interesting to see how each country now plays. The strategic concerns as well as the religious and cultural aspects are covered well in most of these trees.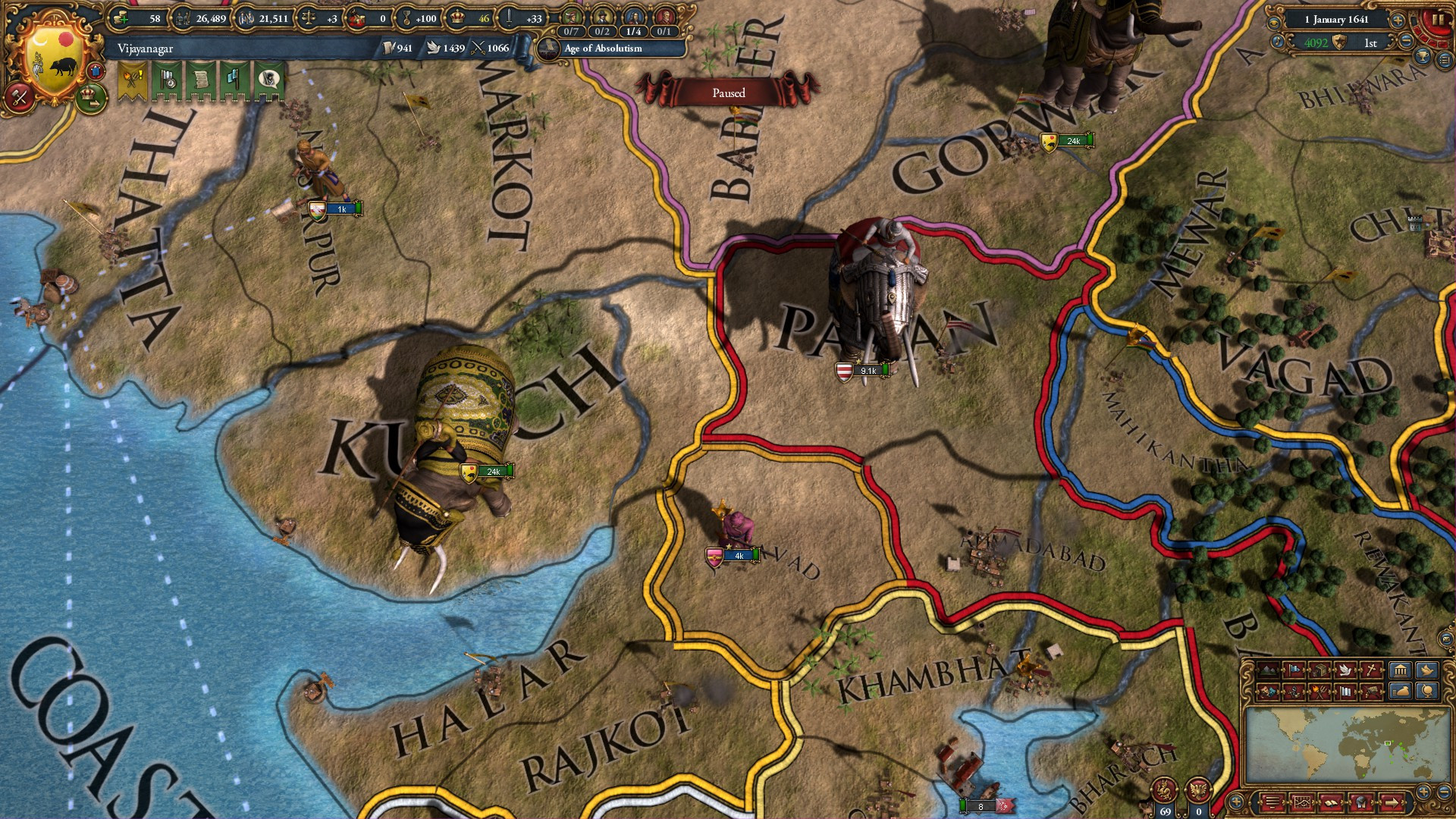 There's quite a few new events that have been added into the game. A few of these relate to monsoons and weather from having provinces in tropical locations but the bulk of them are tied into the new and exclusive estates that countries of Indian culture now have. I'm a sucker for flavor and these certainly fit the bill and add a good amount to the atmosphere of playing in the region. That said, it's hard to say much about the overall balance of this new content. It's the kind of thing that needs hundreds of man hours to test properly but I think that the right balance between bonus and penalty potential is about right. There's certainly interesting trade offs to be made in most of them.
Outside of specific Indian content, there are a few new features that are noteworthy. The first, government reforms, is one of my favorite features added to the game, period. It allows you to customize the structure of your government type, choosing at various points things like centralization versus decentralization or having an absolutist monarch as opposed to one beholden to the estates general. Most of the special reforms at each tier are exclusive to the Indians for the moment but I certainly hope that Paradox Development Studios will revisit other countries and add more reform choices. It'll otherwise feel a little threadbare if there isn't more variety possible there for fan-favorite nations like the Ottomans or Prussia.
Trade companies have also gotten some new features in Dharma. States can offer to buy provinces within trade regions now, granting a trading foothold in the region. In practice I found that the AI is pretty restrained about selling its provinces and you can expect to only get a province or two peacefully in the region through this process. Additionally, Dharma also provides the opportunity to invest directly in trade companies, purchasing them buildings that grant the charter and your country as a whole bonuses. These tend to be rather expensive but worth it for any serious trading power in my experience. The longest non-Indian game I played with the expansion was with Portugal, and I found that these new trade company features helped solidify my global empire.
As is PDS tradition by now, this latest DLC has also released alongside a free patch. There's a lot to enjoy there including changes in the map, changes in sound effects, interface and plenty of new national ideas. Of the free features, I think the most significant is that estates have been made free for all players and a lot about them changed. Only specific estates like those for Indian nations or cossacks remain locked their corresponding DLC. The changes to estates are great and make them much less of a chore to manage.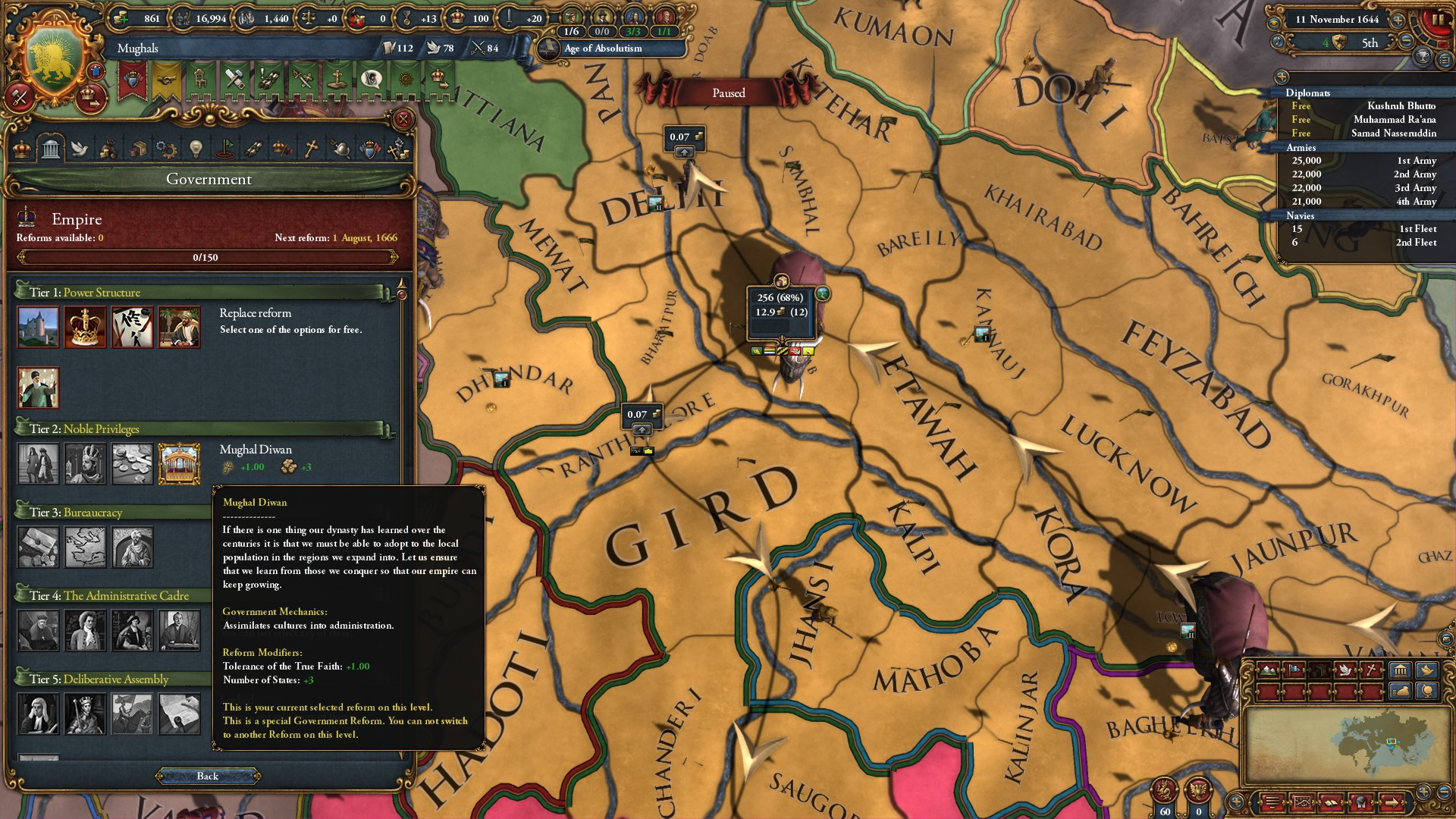 In general the various tweaks, new features and balance changes are positive and I think improve the game. The only thing that I'm uncertain about are some of the changes regarding rules for religious conversion, which make it so you can only send missionaries to states within your nation. My main sticking point is that I think there were some complementary changes needed in some of the idea groups to reflect the new approach, as the Humanism idea group seems to have become indispensable for large empires. Still, that's the kind of thing that will likely be vigorously debated by the community and probably be the subject of several adjustments by the developers, if history is any guide.
All in all, I enjoyed my time with Dharma. I've tried to separate the paid content from the free stuff but the truth is that one adds to the other. A lot of your potential enjoyment with the expansion will depend on how interested you are in playing in the Indian region and its sphere but I certainly do believe that they went a long way in making the region feel rightly vibrant and fun. I can only hope that more regions, provinces and game mechanics will continue to get a similar treatment in both patches and DLC. Even five years after release, it seems that there's still plenty of uncharted territory to explore in EU IV.
You can get EU IV: Dharma from Paradox's Store, Humble Store or Steam. Make sure to read the patch notes for a breakdown of all the expansion features I didn't directly mention and the hundreds of other patch changes.