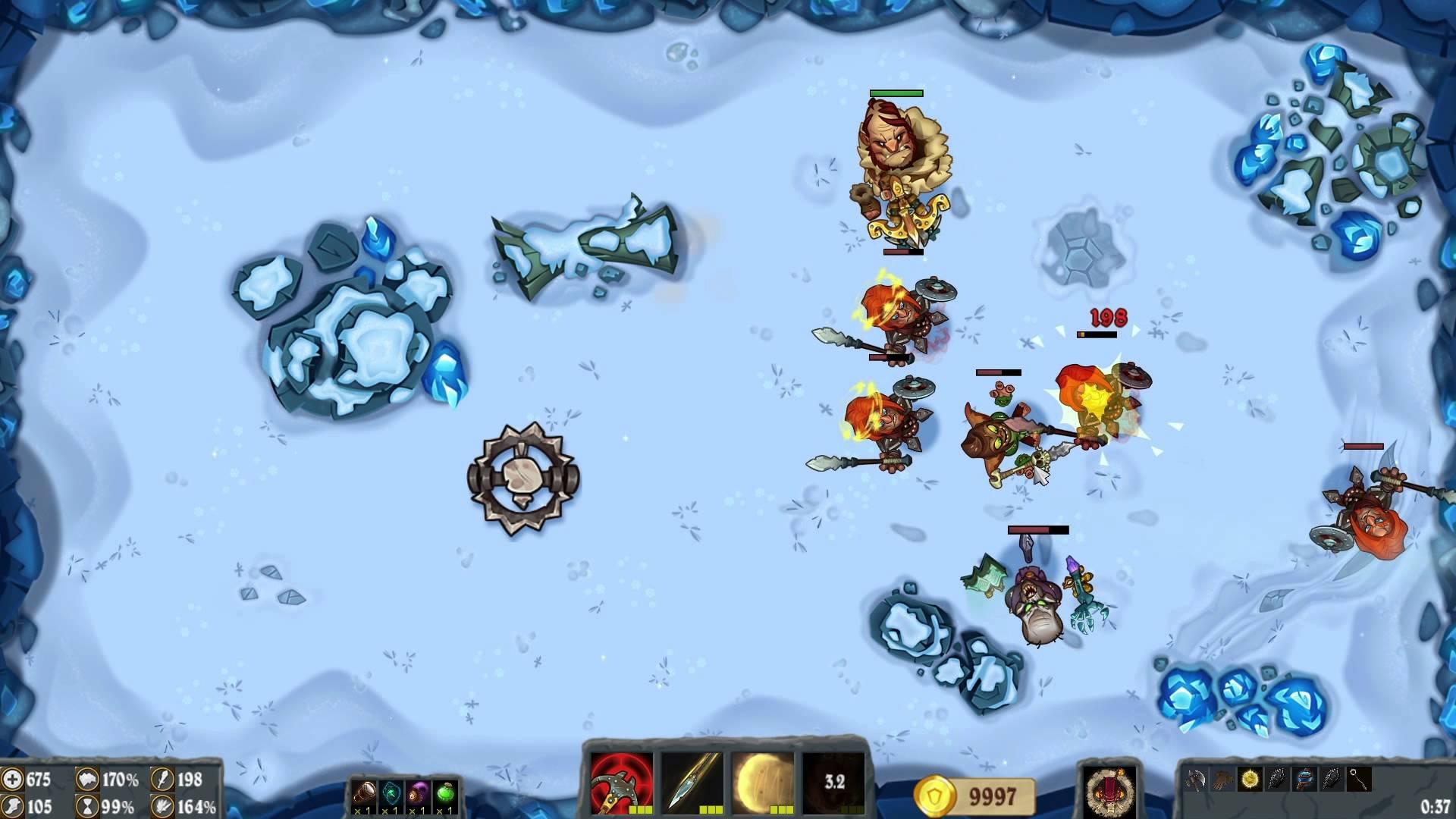 Flamebreak has utterly shocked me. I thought it looked quite fun from the description and pictures, but the gameplay has completely hooked me in.
My thoughts
I'm glad I didn't give up on this with the issues that I have, which I will start with. It's not very good with multiple monitors. The fullscreen mode will disable your second monitor, and the fullscreen windowed mode won't cover the Unity bars on Ubuntu. I have been running it in Windowed mode, which is less than ideal. The gameplay very much makes up for it though, but I would like to see it fixed.
It mixes up roguelike action with each different dungeon, with MOBA style quick action. You pick a hero, and each hero has a different set of abilities which are actually pretty well thought out as well. Although, you can re-roll to your hearts content to get a different warrior with a different set of weapons and abilities. You proceed to pick different dungeons to power through, and keep moving up the map. Eventually you will come across ships, mini-bosses, full bosses and more.
It has daily challenges, which aren't easy and certainly help keep the game interesting! I love it when developers add in challenges like this, as they keep me coming back for more!
It also has an FTL-like feature as well, in FTL you have to keep moving forward before the enemy fleet catches you. In Flamebreak the darkness is trying to catch you, so you need to keep moving forward as well. It makes it interesting, as you don't want to keep sticking around as they are a pain to fight.
It's not all about combat though, as it sneakily dumps extra mini-levels on you. One I came across was having to hook a little goblin over as they run past with gold. It was actually hilarious, and made me fall in love with the game a little bit. It even snuck in a tower defence level, where I was tasked with stopping enemies stealing gold away. It was another totally unexpected level, and actually quite fun to do as well.
I think it missed a cool opportunity for Steam Machines with no local co-op with slightly bigger arenas, that would have been quite fun to try out. It won't stop me playing it though!
Issues
Apart from the already mentioned issue on multiple monitors, it did hard-crash for me once and I'm not sure what caused it. I went to alt+tab and it just died on me.
Final thoughts
: I'm really not surprised I've seen people put in over 60 hours in it. I think it's a really great mix of genre's and it's really fun to play. BRB going to play some more.
About the game
(Official)
Flamebreak captures the fast pace and ability-driven combat of a MOBA in a roguelike shell. Play as a telekinetic faerie and rain meteors from the sky or whirl recklessly into combat as a bloodthirsty orc. Each hero's race, weapon, and skills are chosen randomly, and each plays very differently. Master your skills, create and exploit synergies through item choices along the way, and slay a god - or die trying.
You can find
Flamebreak on Steam
. It's a complete and finished game, so nothing is stopping you!
Some you may have missed, popular articles from the last month: