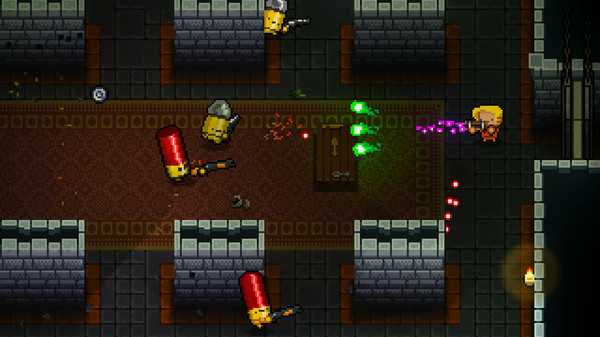 I have been excited about Enter the Gungeon for a long time, and now that it has been released with day-1 Linux support I took a look at it.
Disclaimer: Copy personally purchased, the publisher Devolver and the developer never replied to me.
The game started on the correct monitor for me as I have two, which is still quite rare. That's always a good way to start!
I've long been a fan of fast paced action shooters, and while Enter the Gungeon isn't massively different in gameplay to other shooters it is
extremely
fun to play. Even the tutorial was great, and it's literally hooked me in from the first moment of loading it up.
In gameplay terms it does feel a bit like Nuclear Throne when it comes to the action, which is another recent action shooter with random generation. However, I already prefer Enter the Gungeon in visual style, sound effects, weapon choice and so on. I do love Nuclear Throne too, but for me Enter the Gungeon is just a better and more enjoyable experience.
You can flip tables over for cover, kick barrels at enemies, do a roll over bullets and it just keeps getting more entertaining the more I play it. It has a bit of freedom to it too, you pick what rooms you enter and when, and you get to buy items if you manage to find a shop.
The mix of different weapons, and different characters to choose is certainly keeping the game spicy for me. Each character has a different starting weapon, and starting items or abilities. So you can pick one that suits your play style, I am becoming quite fond of the girl that starts with a revolver and a crossbow, who also has a pet following her.
Here's an example of an awesome weapon, and a fun boss. I picked up the Proton Backpack, which made easy work of this rather muscular bird-man:

The enemies of course come in all shapes and sizes, some weird, some downright annoying. There's a self-aware hand grenade that appears in certain rooms, and when it appears it makes a kamikaze run at you. They kill me quite often.
Here's another example of how delightful the bosses are in this game, I present the Bullet King, and yes that's a throne of guns:

Everything about this game has me screaming "on more run, just one more run!".
Issues
Like all day-1 releases, it does have an issue.
When you alt+tab the sound will mess up with static and other weirdness. That's the only issue I have found.
The default Steam Controller bindings are quite terrible. I've tried a community config with quite a few people subscribed to it and it does make it better to aim, but still not amazing.
It's probably one of, if not the best 2D shooter I think I've ever played.
You can
get it on our Games Republic store
which credits us a little, or on these other stores below.
GOG
,
Humble
or
Steam
.
Some you may have missed, popular articles from the last month: