Since its Linux release last week, I've been building up my empire and crushing all those who would oppose me in Thrones of Britannia. I've got a few thoughts to share about this latest entry in the Total War franchise.
Note: Key provided by Feral Interactive
If you're not familiar with the Total War series of games, they combine a large strategic-level map where you move around armies, build up settlements and occasionally play at diplomacy with tactical real-time battles that occur whenever armies clash. Total War Saga: Thrones of Britannia [Official Site] follows the same basic formula but pares back a lot which players have become accustomed to in the more sprawling entries in the series. As you might have guessed, it's set in the British Isles and covers a period during the Early Middle Ages where the cultural hodgepodge that was Britain was faced by external threats in the form of Viking invaders.
Players can pick from a variety of factions divided up into culture groups that include the Gaels, Welsh, Anglo-Saxons and Scandinavian invaders. This affects your starting position on the map as well as a few unique cultural group mechanics such as a levy limit or legitimacy but, for the most part, you can expect gameplay to be by and large the same. This is probably the biggest general critique of the game and is worth pointing out right away. Sure, there are unique cultural buildings and faction units, but there is no significant deviation in playstyle no matter who you choose. There is a shared tech tree and gameplay mostly consists of conquering until you're blue in the face.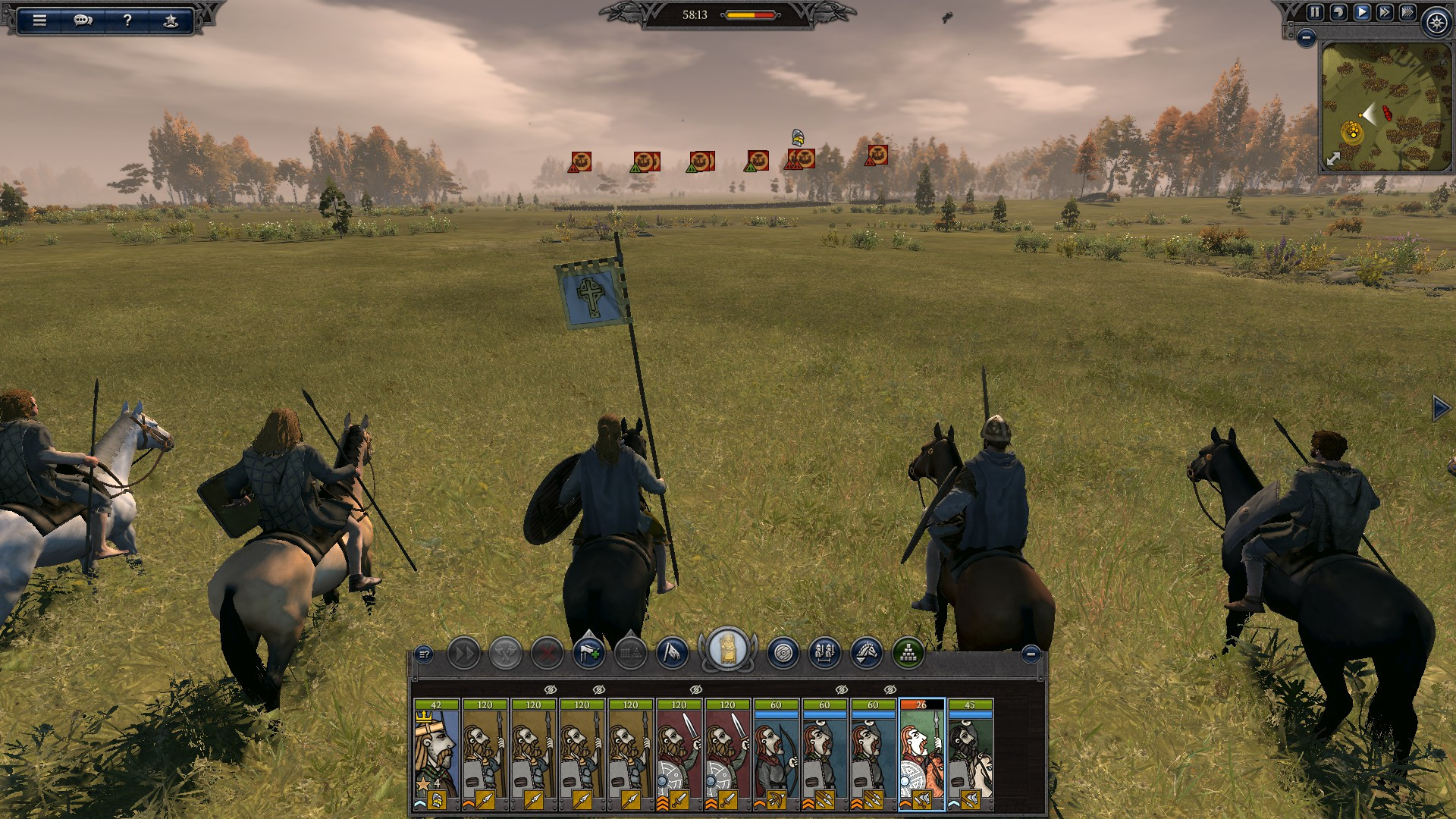 I know that that may come off as a tad reductionist, as you can sum up most Total War games in a similar fashion, but Thrones of Britannia seems like a game that struggles to find its own voice and identity. I get the feeling that there's an attempt to be different to other entries but these changes are so timid, so inconsequential, that the good bits of the game are easily overshadowed. As an example: every province has a major settlement with walls that has to be besieged and taken. They are of a fixed settlement type, meaning that the buildings you can construct there are unique to the type of settlement it is and not to your faction. Take over a Norse city and you get to build Norse buildings, in short. It makes it so that no matter who you play as it always feels like you're doing more or less the same thing with each city once you take it over. There's no real reason to diverge in strategy at all.
Another thing that weighs heavily against the experience are the victory conditions. There are both short and long victory types in three categories and an additional ultimate victory. The problem is that they all basically boil down to taking land from people until you win the game. Even the fame victory, which is ostensibly the "tall" victory type in the game, is accomplished far more easily when you have more cities and the resources that come with that. It's just easier to invest in special buildings or get the techs that give you fame bonuses. It really doesn't matter what victory type you're really going for, you're basically going to have to expand and attack people for it. It's possible to trigger every victory type in a single campaign and I ended up getting every single one in all of my games thus far without really trying for one in particular.
Don't get me wrong, the game can be quite challenging. For most of the early game you're surrounded by various factions, some of which are quick to ally themselves to one another and risk opening up a multiple front war against you. Income and food supplies limit the size of your standing army at first and those first few battles and declarations of war can legitimately be nerve-wracking. Once you can afford another army or two and have enough income to deal with some of the random negative events comfortably, however, most of that challenge quickly fades away. There is a serious problem with snowballing and bigger nations are always tougher than smaller ones but, once you're on equal footing or the biggest contender in your region, it's just a matter of willpower to keep on expanding as best you can. Higher difficulties don't really improve the strategic AI much I found and instead just heap more bonuses to them so that they can rebound from the decisive defeats you'll likely be inflicting upon them turn after turn.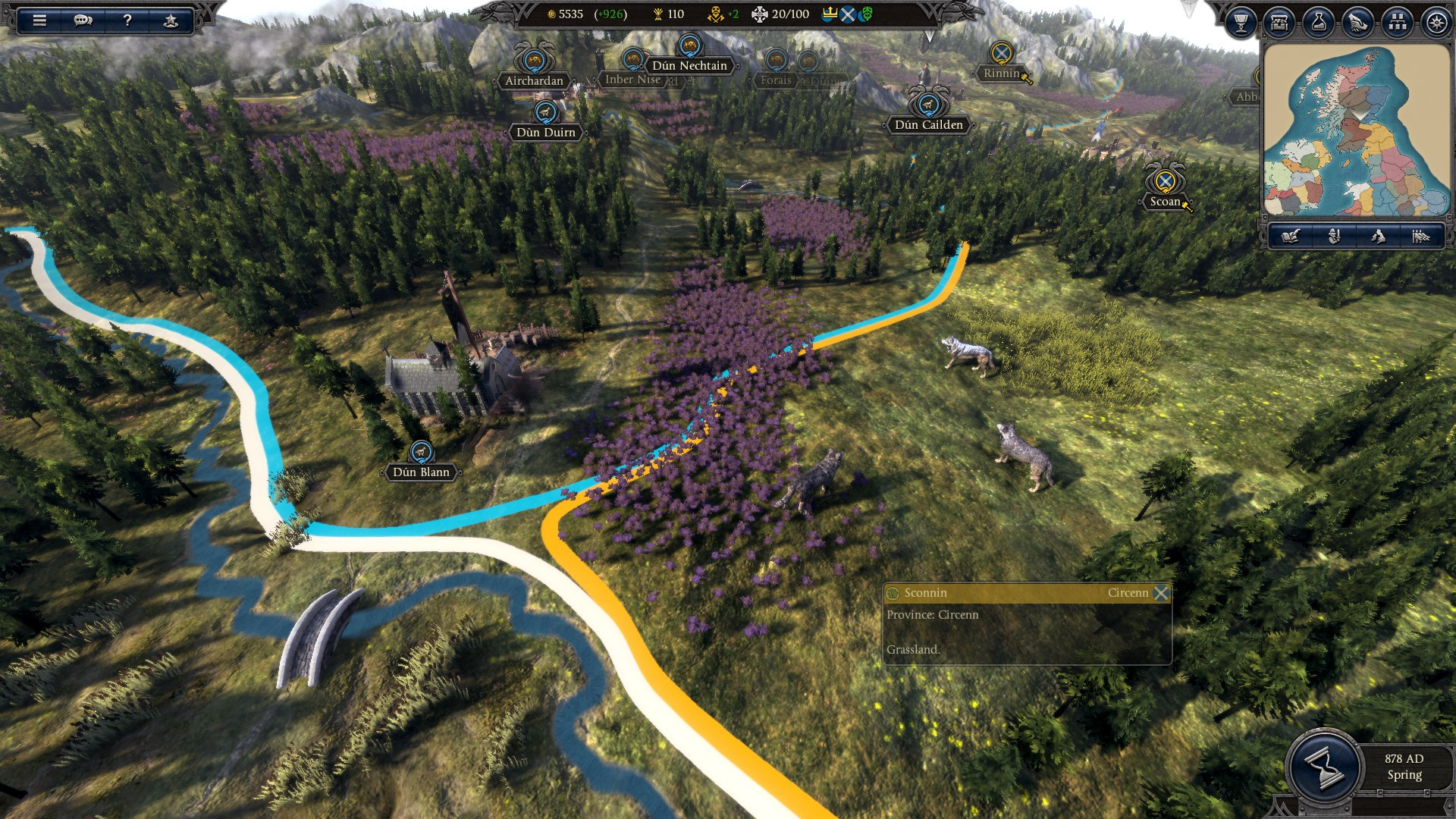 There's a few more aspects of the strategic gameplay that bear a little more scrutiny. Diplomacy has never really been very deep in Total War titles and Thrones of Britannia does a decent job at providing the bare minimum. Things like trade deals are now automated and declaring war or building alliances is straightforward enough. You can create client kingdoms and coordinate war targets but this isn't a game where you can rely too much on the AI's strategic vision. Allies are more often than not an excuse to get involved in a new war or convenient buffers to keep the enemy away from a side of your kingdom for a while. There are some special diplomatic actions like Gaelic factions being able to annex other Gaels when they have enough legitimacy but it's more of a novelty than an efficient alternative to simply conquering and snowballing your way to the top. You gain legitimacy mainly by defending allies and conquering other people so you may well see to how you just might as well never stop conquering and fighting.
An attempt was made to provide some internal politics to each kingdom. All of your governors, family members and generals have abilities and traits as well as a loyalty rating. Anger them and they could rebel. Usually, though, they're more than happy to leave you alone so long as you parcel out your estates to them. You'll occasionally get events that involve characters wanting to get married or plotting against you. Those can be mildly interesting but there isn't enough depth to the system to warrant micromanaging characters much. Every action you can take involving a character outside of events boils down to spending gold to do something, like find them a bride or assassinate them. I don't think that an overly complex system like in Crusader Kings II might have been the best fit but something a little more engaging than merely spending gold would have been nice to have.
One of the game's marketing lines is that branching dilemmas and unique events add more spice to both the historical immersion factor and gameplay. Most of these are as generic as the character interactions. A Welsh faction may get a gold bonus for taking a specific target hamlet or a Gael may get a chance to intervene in the conflict involving their neighbors. Some thought was put into the flavor text but very little actually changes for the flow of the game. Alfred the Great claiming the throne of Mierce sounds like a good event chain but it comes down to pressing it through force or backing down. I imagine you're seeing a pattern here where everything is just… more war with yet another faction. I was surprised at just how much of a step back this was from the first Warhammer game in the series, as that at least had special story battles or artifacts that you recovered. The only real reward here is owning more land.
Speaking of owning land, what bothered me the most about Thrones of Britannia is how territory is captured. You need to besiege the major settlement in a province to conquer it but you only need to move an army to a smaller settlement to take it as they have no garrison. Even the smallest one-unit stack can conquer a minor settlement right away. Presumably this was a design choice to incentivize attack instead of turtling and building up defenses, though the more cynical side of me thinks it's a way for covering up questionable strategic AI movements. The result is that, especially in the early game when you can afford only a single army, anyone can just take large swaths of your territory with minimal force. They can't hold it and you can readily beat them back but you need to waste time moving your armies back to take a city that shouldn't have fallen to a single unit that came out of nowhere. Oh and you generally have the same movement range as your enemy. That is, unless your general has a lot of points in a specific skill or you've researched late-game tech that grants bonuses to movement ranges. This means that chasing a single stack is often akin to a ping-pong match between you and your foe, with territory being conquered back and forth and being just out of each other's movement range.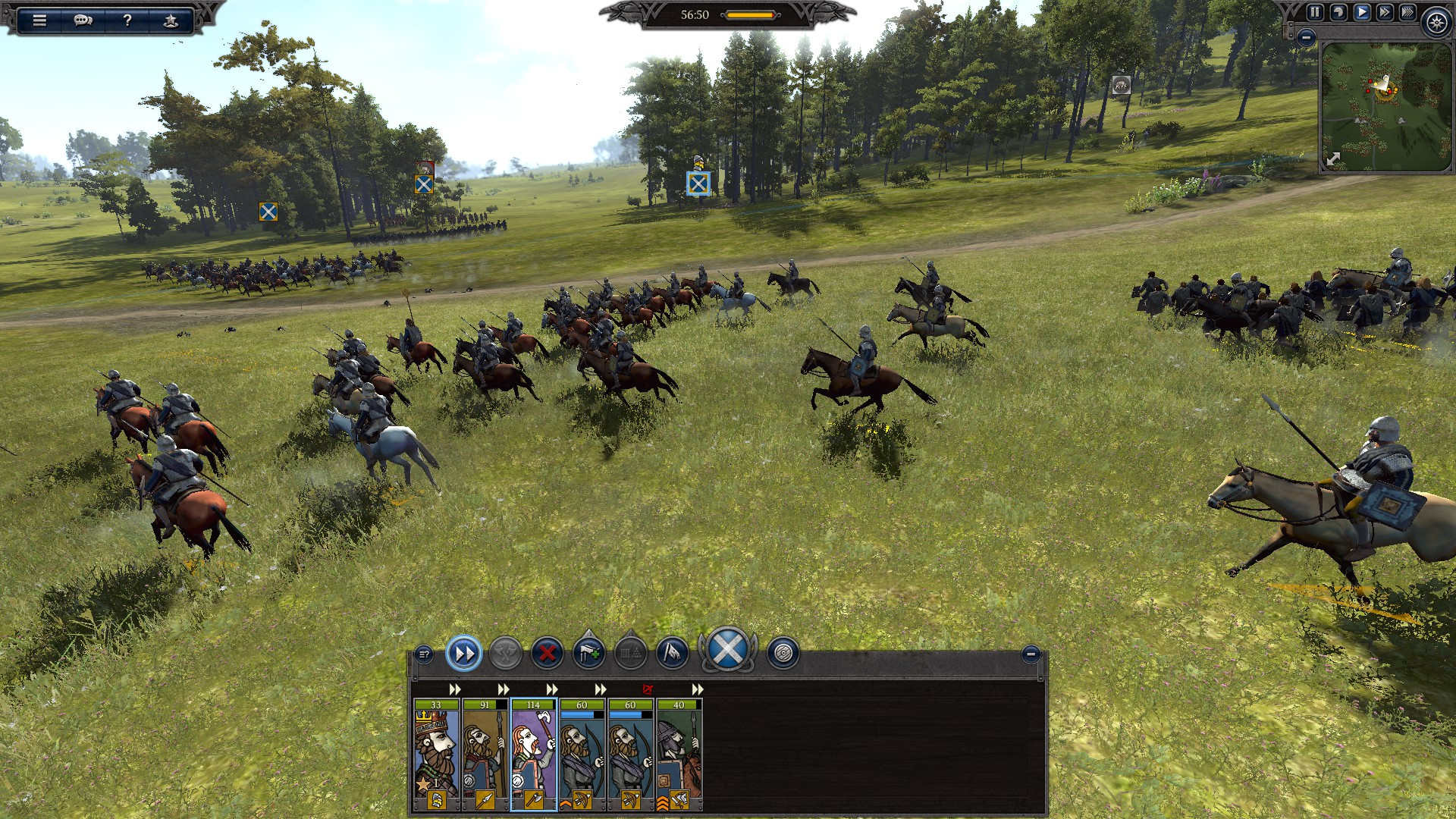 Hit and runs and raids have long since been a part of military strategy but I'm hard pressed to think of examples where territories and resources spread out in large areas changed hands so easily and annoyingly in real world history. If these distractions were followed up with coordinated attacks elsewhere or were a ploy to buy time to build up forces, I wouldn't mind them so much. Instead you'll spend a turn or two without that income, possibly suffer attrition or some other penalty until you can retake what was yours.
The tactical battles in the game are as impressive as ever with several thousand men being able to partake in pitched, siege or naval battles. Thrones of Britannia borrows the best bits from the Total War titles here, allowing you to set formations, use abilities or even delegate a part of your forces to AI control. Mastery of both terrain and timing are key here and despite the general AI shortcomings in tactics it's a joy to command your armies to victory. Naval battles are somewhat dull in this game with Vikings more or less dominating the seas due to a lack of penalties when transporting their armies by sea.
I'll readily admit I'm a history nerd and that I take joy from authenticity and attention to detail. The Total War games have always taken liberties with history and toyed with the fantastical (or used a "rule of cool" in justifying decisions) but Thrones of Britannia is far more subdued than the typical entry. There are anachronistic things here and there but the types of units and special tactical abilities are more in less in line with the warfare of the region at the time. This does mean that there isn't that big of a difference between the unit rosters between factions aside from the names and a few stats as they're all engaging in more or less the same type of tactics with the same kind of equipment. Yes, you'll get Viking berserkers and Welsh longbowmen but the majority of every army is your bog-standard axe or sword infantry sprinkled with some spears and cavalry. This does ultimately undermine replayability as the thrill of upgrading units and seeing unique variants is rather limited.
That said, the variants you do see are visually pleasing. The same could be said for the game at large. This is likeliest the prettiest Total War campaign map to date with the rich wildlife and varying terrain of the British Isles lovingly rendered and detailed. The change between seasons is beautiful to observe and the animations for wildlife and other effects certainly are pleasing. The same goes for the unit cards and character portraits, which are reminiscent of illuminated manuscripts and other art from the time period. Cities grow as you build them up and there is plenty of visual feedback on just how rich and special they become over time. I also really enjoyed that these cities all used their period-appropriate names; much to the chagrin of modern-day Nottingham, I imagine.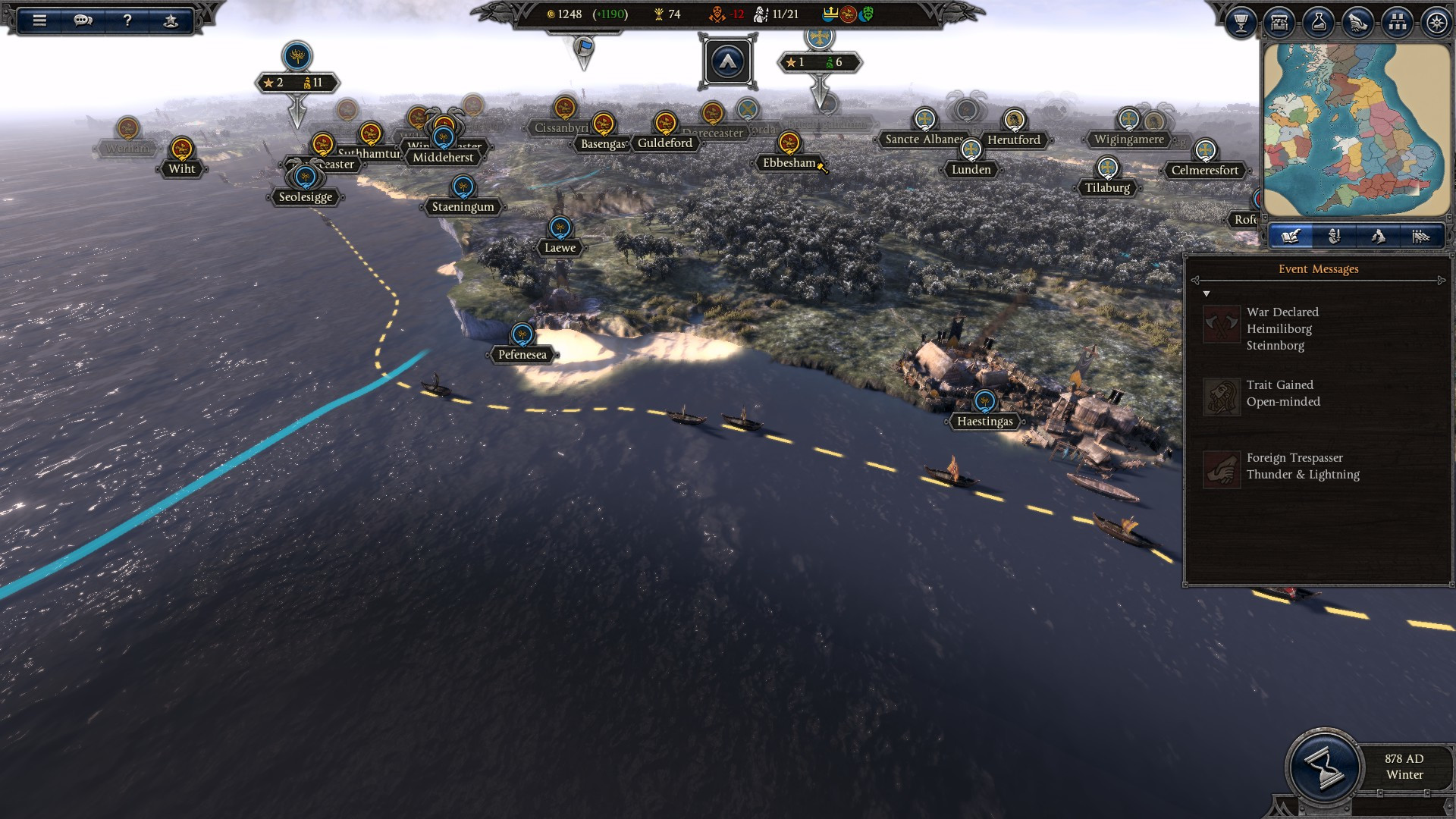 Feral Interactive really knocked it out of the park when it comes to the technical aspects of this port. I won't provide detailed benchmarks as Liam already included a few but, as an AMD user running an RX 480 with a Ryzen 2700x, my framerate stayed close to 60 on ultra settings in both battles and the strategic map. There were drops here and there but the minimum FPS never dipped much. This is noteworthy because Thrones of Britannia runs on the same engine as Total War: Attila. That older title wasn't ported by Feral, and I get drastically worse performance there than I do in Thrones of Britannia. As for stability and bugs—the game ran perfectly with nary an issue encountered.
I know I've been harsh in this review but, despite all my complaints, I still had loads of fun with Thrones of Britannia. I've spent the last day or so trying to figure out exactly why. I think a good part of it is that the battles are solid and that the breakneck tempo of warring and fighting on the strategic map doesn't give you that much time to linger over the more half-baked ideas they tried out. I think as well that there's a lot of beauty in both the strategic map as well as battlegrounds and occasionally I would zoom in to appreciate the little things in the game. The only factions that play differently to the others are arguably the two Viking factions and so I found myself taking a break from conquering and instead setting up tributaries and sacking wherever I could whenever I was done with the campaign for another faction. They'd be boring if they were the only thing available—mind you—but as is they form enough of a contrast to break up the occasional monotony.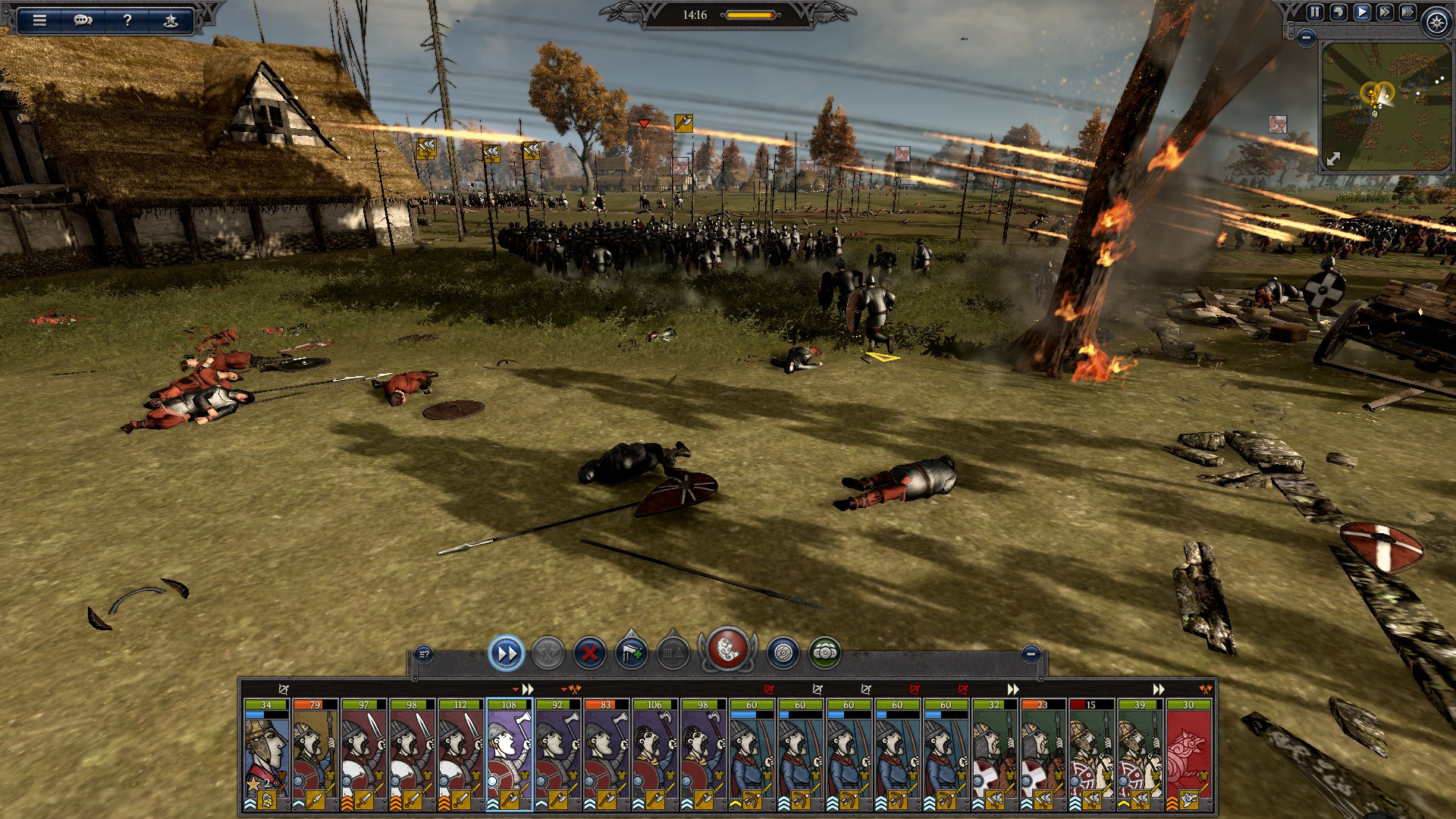 Some of my complaints have been made elsewhere by now and the developers also seem intent on addressing them. The Linux launch version includes the first big patch that does a lot of balance passes and I can only hope that there is more to come in the future. Other complaints can be minimized or outright fixed with mods as well. The Total War games always have a lively mod scene and there's already everything from small mods that change move distance or income to more ambitious balance or even overhaul mods. While I think that games ought to have the best vanilla version possible, it's something to keep in mind if you're on the fence about this one.
Well, most importantly, do I recommend this game? Not really. At least not to the typical newcomer who doesn't know what they're getting into. As an introduction to Total War it's not the best impression and the various advice tooltips are sorely lacking. There's also nothing larger-than-life or truly unique about the factions which was something of a hook in the other games. These gamers are better off starting with Shogun 2 or Warhammer 1.
To both Total War veterans and the more dedicated newcomers I'd conditionally recommend Thrones of Britannia. It ultimately depends on how strongly you feel about the specific bits I've criticized here. There's a lot that's half-baked here but there are also moments of joy and satisfaction as you paint the map. Additionally, if you're a fan of something like the Radious series of mods for Total War games, then you might find a more reason to stick by it. Your interest in the time period will also likely be a big factor here as my interest in history definitely made me a little more willing to overlook some mechanical shortcomings. Even after more than two dozen hours of game time I put in for the purposes of this review I could see myself coming back for a bit more from time to time.
You can get Total War Saga: Thrones of Britannia on the Humble Store, Feral Store and Steam.
Some you may have missed, popular articles from the last month: