Gabe Newell owner of Valve the company behind
Steam
did a keynote at LinuxCon 2013 inside is a video and the info.
Video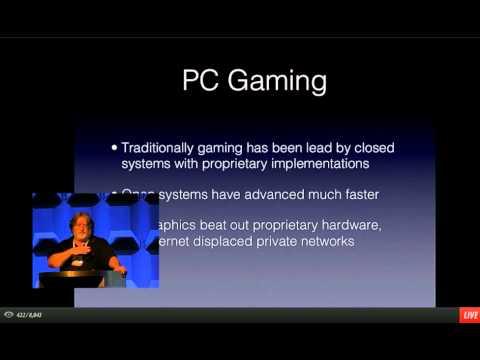 The video isn't ours, sorry about the quality.
Gabe Newell ValveLinux is the future of gaming
It was great to see Gabe talk about Linux and gaming and gave some nice insight into Valve. Here are just a few points I managed to pick up on:
They haven't been happy about the way closed systems have been heading for several years, most likely pointing towards things like Windows Store, App Store etc where approval can take ages and can cost a lot money.
Gabe gave an example of an update they put out on the apple store that took 6 months to get approved.
They feel like if they can get games out like Left 4 Dead and more that it can remove issues for other big name developers by them doing the work for them (speaking to nvidia, sorting other drivers out etc).
Several Valve developers actually work on
SDL
itself (it was also started by a current Valve employee) so we should steadily see decent improvements to that project thanks to them.
They are co-developing a Linux debugger in addition to the work they do with LLVM. This should help a lot of developers.
They say the next step for them is to release some work they have done on the hardware side.
Next week they will give more info on bringing Linux into the living room, so it looks like a Steam Box is getting closer to being a reality.
Some you may have missed, popular articles from the last month: